Going Back to School While Raising a Family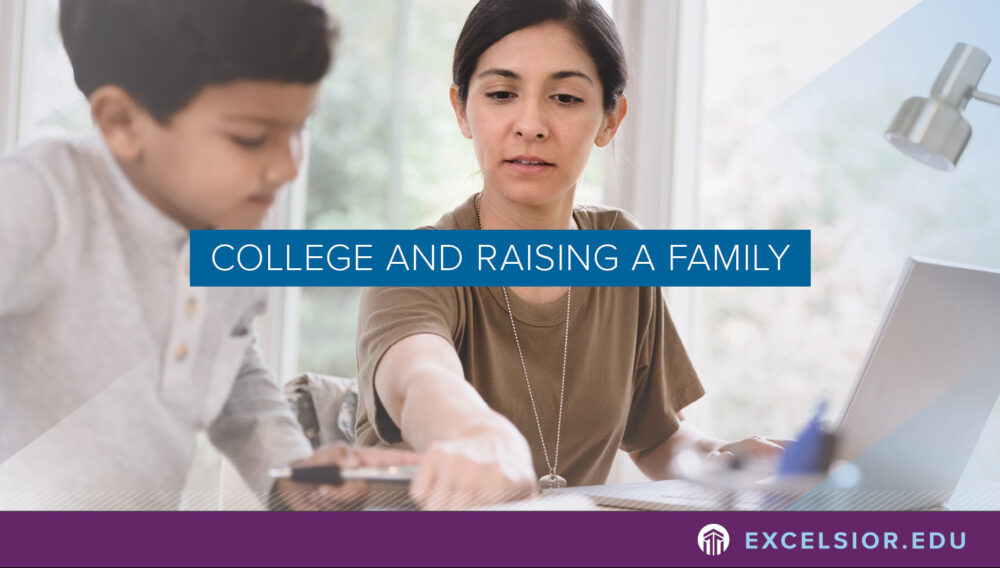 People apply the phrase "it's never too late" to many aspects of life, including earning a college degree. But before the emergence of online college degree programs, most parents found the idea of going back to school while raising a family highly unrealistic.
That's no longer the case. High-quality, 100 percent online college degree programs offer parents and working adults the flexibility to earn a degree on their own schedule, allowing them time for family and work.
Excelsior University is a pioneer of online learning. Excelsior offers a wealth of online degree programs in business, health sciences, liberal arts, nursing, public service, and technology. Each one features experienced staff, rigorous curriculums, and an online environment designed for non-traditional college students, like those going back to school while raising a family.
In recent years, such non-traditional students have become the new normal.
The Growing Popularity of Going Back to School
Every year, more working adults and parents across the United States return to college. Recent data reported by the Institute for Women's Policy Research shows that parents make up 22 percent of all undergraduate college students.
That translates into about 3.8 million parents going back to school. Of those, about 2.7 million are mothers and 1.1 million are fathers. Also, the Lumina Foundation reports that 40 percent of today's college students are 25 years or older.
Data also shows that more people than ever are enrolling in online degree programs. Federal data shows that 3.4 million students enrolled in 100 percent online degree programs in 2019–2020, or 17.6 percent of all college students. More than 37 percent took at least some online courses.
Characteristics of Parents Who Become Students
Parents who go back to school are typically motivated to succeed because they want to improve their children's lives, according to the Institute for Women's Policy Research. And despite the obstacles these parents face, they tend to do well in college.
For example, student parents typically achieve a higher grade point average than other students. About one-third of parents enrolling in college have a GPA of 3.5 or higher. In comparison, about 31 percent of independent non-parents and 26 percent of dependent students attain a 3.5 GPA, the institute reported.
Student parents also have a clearer idea of what they want out of college. Author Rebecca Klein-Collins, who recently wrote a book about adult college students, told National Public Radio that working adults entering college come from many different backgrounds. Some started but did not finish college after high school. Some went straight from high school into the workforce or joined the military. And some decided to start a family.
"These are all people who are really good candidates for going back to school," she said. "And these are the kinds of people you see in classrooms these days. It's not that unusual."
How Excelsior Helps Parents Who Become Students
Excelsior University designs its online degree programs with adult students in mind, including parents returning to school. Excelsior's online programs are flexible, allowing parents to schedule time to focus on school around their work and family responsibilities.
Excelsior also offers a generous transfer policy allowing parent students to transfer credits from a variety of sources:
Courses taken at accredited colleges
Credit for college-level exams
Business and professional certifications
College and university professional training
Criminal justice training
Educational and vocational programs
Health care credentials and certifications
IT certifications, training, and exams
Military training
Nuclear utility-accredited training programs
Nursing licenses and certifications
Professional and workplace training
Excelsior University also assigns every student an advisor who collaborates with them throughout their time at the school. This partnership ranges from guidance during enrollment and orientation, to advice on choosing courses, and support in finding a job as graduation approaches.
Taken together, these services from Excelsior University increase the chances of academic success for working adults ready to enter college. For the growing number of parents going back to school while raising a family, Excelsior's comprehensive services and curriculum make a significant impact in their ability to reach life-changing academic and career goals.