Hooked on Volunteering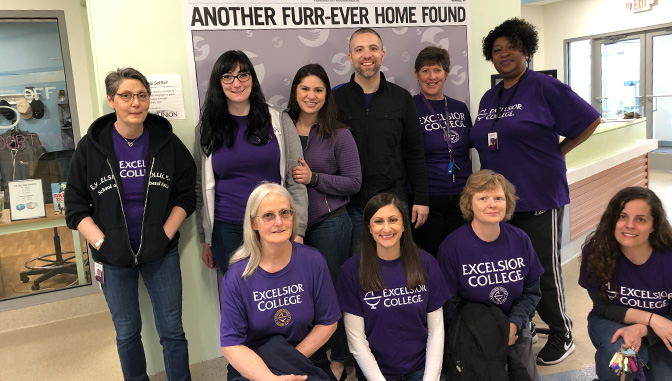 My parents instilled in me the importance of volunteering and giving back to those less fortunate as a sign of love, compassion, and support. When I was growing up, every Christmas morning, my family would help at the Schenectady City Mission soup kitchen before opening presents. In doing this, my parents showed me from an early age the value and importance of volunteering.
I cannot say I had done a lot of volunteering as I grew older until my dad passed away from brain cancer in 2013. To honor him I started to participate in a local walk to raise money for the National Brain Tumor Society. This was a way to honor my father, keep his legacy alive, and help those families that will encounter this hardship in the future. Doing this sparked a renewed desire and passion to branch out and help others.
I reached out to Alicia Jacobs, who leads Excelsior's community engagement efforts, back in 2016 to tell my story of why I volunteer and to spread the word about the annual brain tumor walk. Little did I know that would open a whole new world for me and volunteering. After that conversation, Alicia asked me to join the Community Engagement Group and as they say, the rest is history. Since then, I went from an active member of the group to now serving for two years as co-chair of the committee. I have volunteered for many organizations in this time and helped with the planning and implementation for others in the Excelsior College community to do so as well.
Over the years, I have volunteered with such places as the Special Olympics, Habitat for Humanity, Mohawk Hudson Humane Society, Ronald McDonald House, and 518 S.N.U.G. The reason I am a part of the Community Engagement Group and volunteer as much as I can is because of the feeling I get when I do so. There is no better feeling than knowing you are making a difference in someone else's life. Every act of volunteering makes a huge difference to the people you are helping, regardless of the scale in which you are helping.
Another amazing benefit of volunteering is the relationships you build with your fellow colleagues. I have had the opportunity to build many great relationships with amazing people here at Excelsior that I may have never known if I hadn't chosen to volunteer with them as a group representing the College. Volunteering as a group builds a strong sense of community and togetherness that makes the College stronger in our day-to-day activities in helping our students achieve their educational goals.
I am so thankful for Excelsior College and the work Alicia Jacobs, the Community Engagement Group, and all the many volunteers within the Excelsior College community do every day to help those in need both locally and nationally. Having this opportunity to be a part of the Community Engagement Group has truly enriched my life in a way words could never describe, and the joy I get from helping others is priceless.