Defending Against Hackers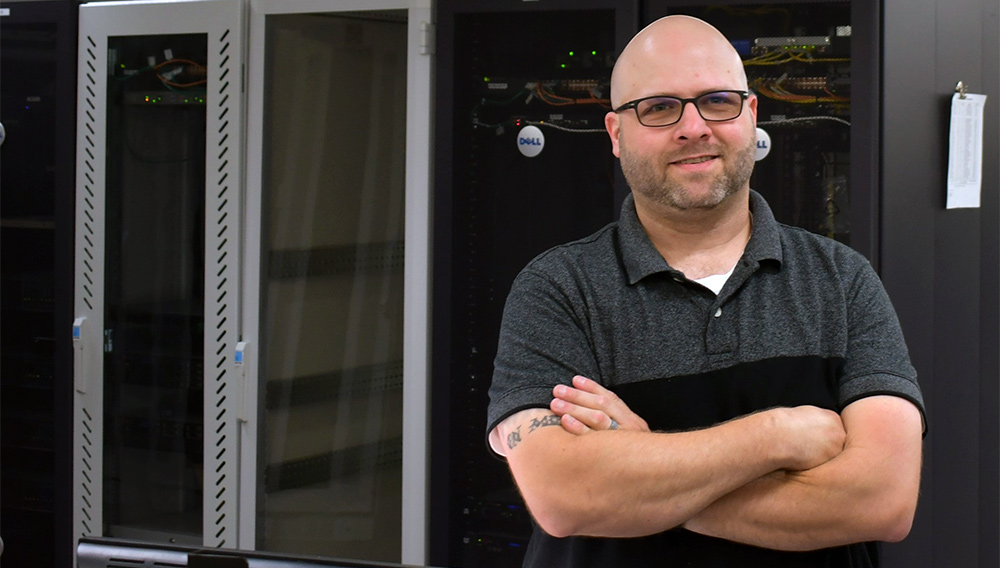 Dustin Van Dame uses his degrees to protect his company's IT infrastructure
Like many millennials, Dustin Van Dame, of Aliquippa, Pennsylvania, grew up with the MS-DOS computer operating system, which is where his love of computers developed. He spent 10 years in the Navy, but it was his interest in technology that led him into cybersecurity. He completed Excelsior College's dual degree Bachelor of Science in Nuclear Engineering Technology to Master of Business Administration program in November 2019 and his degrees have already opened up new opportunities for him in his career at a nuclear powerplant.
Van Dame had been finishing up his associate degree when he decided his academics weren't stimulating enough and he wanted more challenges. That's when a friend suggested he enlist in the Navy's nuclear power program. Van Dame joined in 2004 as a nuclear engineer for chemistry and radiological controls where he maintained and operated the equipment in the Naval Nuclear Propulsion Program. After 10 years, Van Dame began hearing about companies that hired trained professionals to try to hack their computer defenses and the job appealed to him. He was beginning to think about his post-Navy career and that kind of job fit with his interests, stemming back to his love of tinkering with computers when he was younger. "It's a lot of troubleshooting and thinking outside the box," he says.
When he heard about Excelsior's combined bachelor's in nuclear engineering technology /MBA program, he thought it could be a potential opportunity to bring his love and knowledge of computers to the nuclear industry. The MBA part of the program has a concentration in cybersecurity. So, he was happy to learn his military training translated into degree credit. Van Dame later used a portion of his GI Bill® to pay for his master's degree.
Van Dame completed his enlistment and transitioned from the Navy in 2014 and began working full-time at the Beaver Valley Nuclear Power Plant of Energy Harbor Corporation in Akron, Ohio. He was promoted to the radiation protection superintendent and monitored the workload and manpower of the department but earning his MBA with a focus in cybersecurity allowed him to move into cybersecurity. Now he is a cybersecurity specialist, working on the plant's cybersecurity infrastructure. He tests the plant's new computer systems, essentially trying to break through the firewalls before hackers can.
The education and degrees Van Dame earned from Excelsior and the experience he gained in the Navy all play into his role at the nuclear plant. Van Dame often uses the leadership and interpersonal skills he learned in the Navy in his job, as well as many things he learned in the various Excelsior business courses, like IT Risk Analysis and Management. He also participated in the spring season of the National Cyber League, the cybersecurity competition that uses defensive and offensive puzzle-based and capture-the-flag style challenges. Van Dame's team, Excelsior_FTW, achieved 84.11% accuracy and Van Dame says the competition was a unique experience he would recommend to anyone. It also helped him decide that he was making the right decision for his career. "It kind of solidified that's what I wanted to do and that I wanted to finish my degree," he says.
What Van Dame likes most about his job is "being able to apply what I've learned at Excelsior and my external training to strengthen our cybersecurity." Sometimes it's hard to keep track of the different computer systems and to keep up with the new vulnerabilities to systems, but testing the security is a big responsibility that he doesn't mind.
Van Dame has also begun training to earn several certifications necessary and required for his job. He's taking the penetration testing course offered by the International Council of E-commerce Consultants and is working on the certified ethical hacker certification. With these certifications under his belt, he will be able to move up in his career as well as better defend his company's infrastructure.
GI Bill® is a registered trademark of the U.S. Department of Veterans Affairs (VA). More information about education benefits offered by VA is available at the official U.S. government Web site at benefits.va.gov/gibill/.