Nursing Students Inducted into Sigma Theta Tau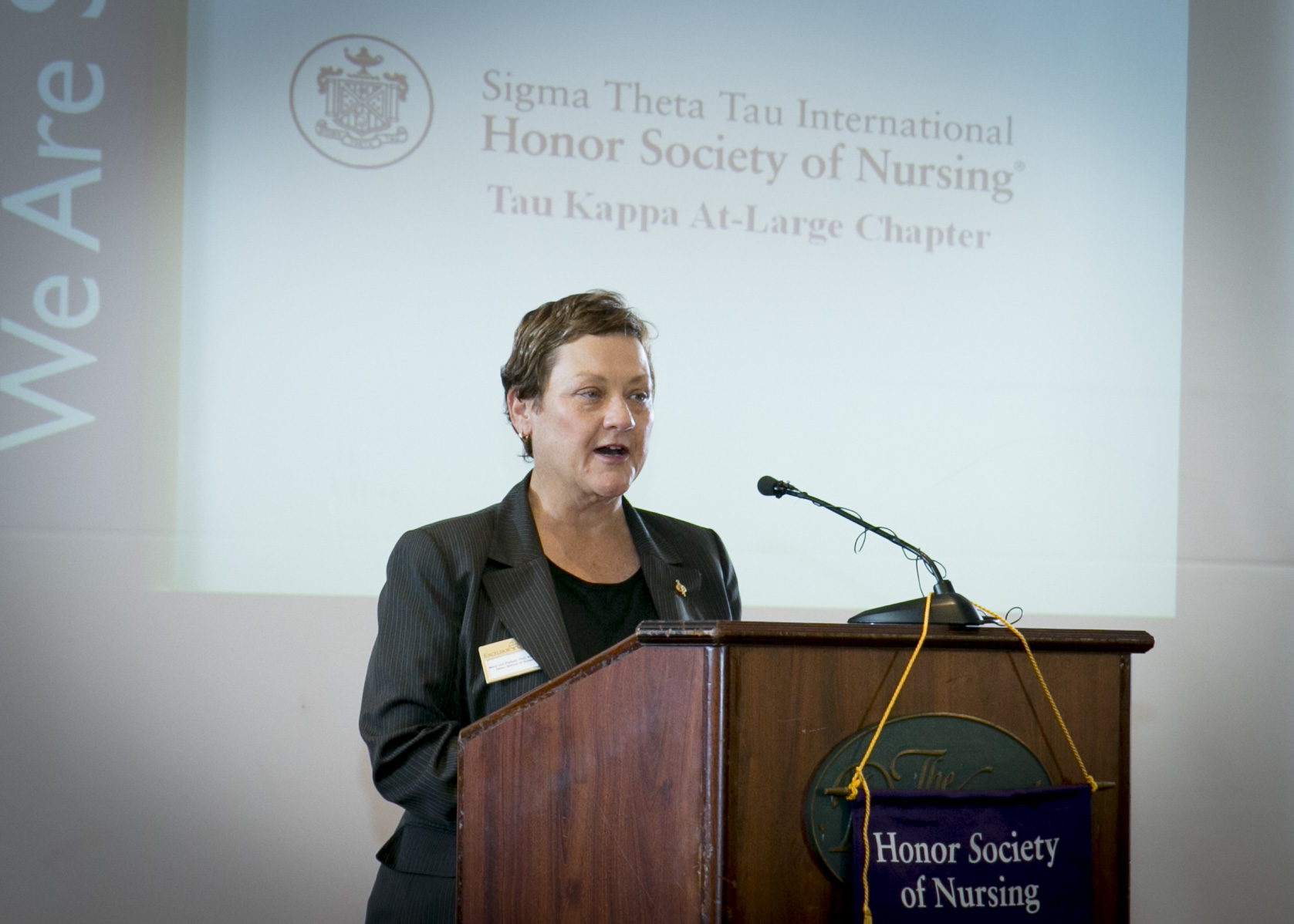 "You are Sigma Theta Tau; we are Sigma Theta Tau." With these words spoken by honor society president Jennifer Pettis, the nurses gathered in the Fort Orange Ballroom at The Desmond Hotel in Albany, New York, on July 13, 2017, were inducted into the Sigma Theta Tau International Honor Society of Nursing.
Founded in 1922, Sigma Theta Tau International (STTI) has recognized excellence in scholarship, leadership, and service in nursing. Its diverse and global membership includes more than 500 chapters worldwide, with members ranging from nurse executives, clinicians, educators, researchers, policymakers, and many others. The couple dozen new members—and those not present—joined these ranks of more than 135,000 other honor society members in more than 90 countries around the world.
Guest speaker Lynda Dimitroff, Ph.D., opened the ceremony with discussions on the positives and negatives of nursing school, the importance of mindfulness, and several techniques to deal with the stressors nurses come across in the profession. She emphasized the art of humble inquiry (less telling, more asking) and introduced the idea that most nurses are human doings as opposed to human beings. She ended by reminding the honorees to take strength from what they value.
Chair of the Awards Committee Patricia Edwards introduced the recipient of the Excellence in Leadership Award, Karen Cox, Ph.D. The executive vice president and COO of Children's Mercy-Kansas City, Cox showcased exemplary leadership qualities in her years with the hospital. Thanks to her leadership creating environments that enhance nursing care, Children's Mercy-Kansas City was the first hospital in Missouri to receive magnet designation in 2003. Under her guidance, the hospital received magnet re-designation in 2007, 2012, and 2016.
Cox congratulated those inducted and reminded all in attendance of the special time for the honorees who are also part of the 2017 graduating class. "My Excelsior experience is what really set me on a path of really aspiring to have clinical excellence in the workplace and in academic excellence," she said.
The moment everyone was waiting for finally arrived. In front of their friends and family, the honorees recited the pledge to be inducted into STTI, promising to uphold the values at the root of the nursing profession: love, courage, and honor.