Portable Careers for Military Spouses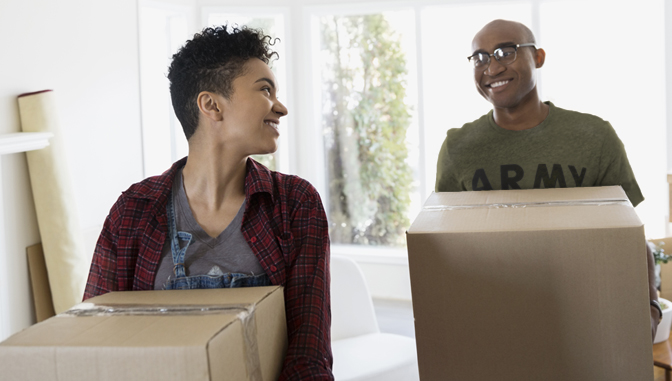 It's not always easy for spouses of active-duty military members to maintain successful careers when dealing with the uncertainty and fluctuation of frequently moving from base to base. So, selecting jobs that are portable and skills that are transferable is crucial for those spouses looking to work while their partners are serving.
Individual skills are often what drive portable careers, which makes a sound, well-rounded education even more valuable should you have to shift to a new market and new employers. When looking for a portable career, it's usually best to start with what interests you most and what experience and skills you possess (or are interested in learning). Make sure to consider the value of transferable skills such as communication, leadership, information management, organization, project management, research, and data analysis.
Ranked the No. 4 best college by Military Times in 2018, Excelsior College has a proven track record helping military spouses apply portable skills to degrees that support flexible jobs and either allow people to work from home or are available in most communities.
Whether you're thinking of working as an independent contractor or looking for a career that travels, the following areas of study at Excelsior support some of the most portable jobs for military spouses.
Business
Excelsior's business degrees provide an excellent foundation that can apply across various jobs and give you the expertise, leadership skills, and business sense you need to either start or scale your own company or provide value for small to large businesses across a host of different sectors.
These Excelsior business concentrations are frequently considered among the best for portable jobs for military spouses: finance, accounting, and marketing.
 Health Sciences
Rooted in the connection of science to health, the field of health sciences is becoming increasingly popular for students looking for jobs that transfer across multiple markets. For instance, the job market for pharmacy technicians is expected to grow 12 percent from 2016 to 2026 according to the U.S. Bureau of Labor Statistics.
If you love exercise and healthy living, job opportunities for therapists, trainers, and nutritionists are plentiful in many communities, and would fall under Excelsior's Bachelor of Science in Health Sciences (Health and Wellness emphasis) program.
Liberal Arts
A liberal arts degree will give you experience and knowledge that is diverse enough to provide options should your location change throughout your career. Writing, especially, is valuable in virtually every job, so a Bachelor of Science in Liberal Arts with a concentration in Professional and Technical Writing would prepare you for a variety of work environments.
Most importantly, according to the Economic and Fiscal Impact Report from CGR Inc., a liberal arts degree pays for itself in 1.8 years. So it's a worthwhile investment in your personal and professional future. Among the degree options in Excelsior's Liberal Arts program, concentrations in logistics, psychology, and professional and technical writing, as well as a degree in psychology, are excellent options for those looking for transferable jobs.
Nursing
The U.S. Bureau of Labor Statistics reported that employment of registered nurses is expected to grow by 15 percent from 2016–2026, more than double the rate of all occupations. With hospitals and health care systems often among the largest employers in many markets, this field is one of the country's hottest right now.
Designated a 2016–2021 Center of Excellence in Nursing Education, Excelsior offers accredited nursing programs, from associate to master's, and is especially popular with nurses wanting to advance their careers.