Rewarding Work and Changing Lives: Excelsior Employees Celebrate 30+ Years of Longevity Working at Local College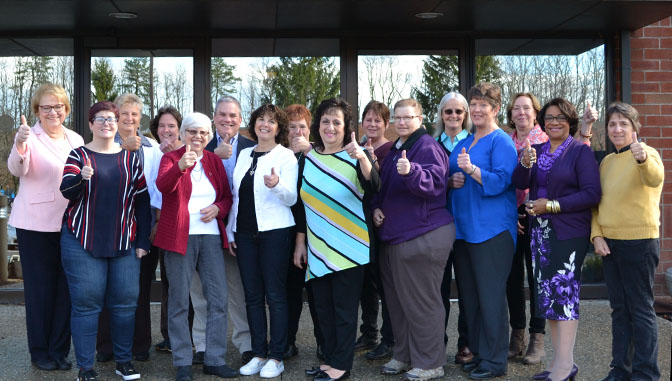 Workplace employee retention has changed over the years, but for more than a dozen Excelsior College employees, celebrating over 30 years with the College is attributed to rewarding work and their confidence that education changes lives. Terry, Anne, Betsy and Jennifer are just a few employees who celebrated a work anniversary and share their story.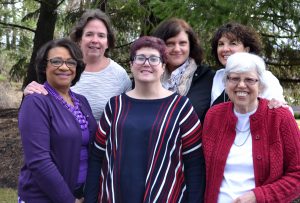 Terry Brown–34 Years of Rewarding Work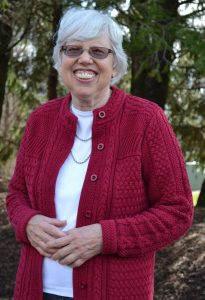 Terry Brown has worked for Excelsior College for 34 years in eight different jobs: academic advisor for the technology degrees, team leader, senior academic advisor, academic evaluation specialist, assistant director for advisement and evaluation, director for advisement and evaluation, assistant dean, senior director for special population services, and director for academic advisement
Terry had many careers before coming to the College. She learned over time that no place or job is perfect. However, at Excelsior, she believes in the mission and that, along with a sense of purpose, is part of her reason for staying. Brown says, "The best things about working here are my co-workers and our students. Our students are inspirational. They are persistent and don't give up. They find a way to succeed and receive their degrees." Her co-workers are also bright, hardworking, dedicated and caring and she learns from them daily.
She further explains, "Work has always been an opportunity to help others. I believe that we are each on this earth for a reason… to try to make it a better place. Excelsior College has helped to change the lives of many students in a very positive way. I'm proud to have been a part of this for over 34 years."
Anne Connor–From A Temporary Job to A Rewarding Career of 34 Years
Anne Connor never expected to stay at Excelsior College more than four or five years, but now she's celebrating 34 years. "Since I started here, I have found my work with students and my fantastic colleagues to be engaging and energizing — and most of all, important."
Connor had always wanted to work in education, although her interest was not in teaching. She began at Excelsior College on a temporary work assignment at Regents College in 1984, as a transcript evaluator, filling in for a person on maternity leave.  The assignment turned into a permanent position in 1985, which lead to a variety of jobs at the College.
Over the years, she served as a transcript evaluator for liberal arts, nursing, and business programs in the Office of the Registrar, an academic advisor for business and liberal arts, academic evaluation specialist, and director of advisement and evaluation for the School of Business & Technology. Today, she is a director of academic advisement at the College. She has also been an instructional faculty member for the past four years.
"Helping students who had previously seen the doors of higher education closed to them achieve their degrees is the perfect fit for my values and goals," says Connor. "In addition, I have had wonderful mentors and supervisors who have helped me to grow personally and professionally, and so the years have sort of slipped by without my noticing it much."
Taking advantage of several advancement opportunities has kept her motivated. She stated, "I've learned so much about higher education and human behavior. In addition, I'm extremely fortunate to have been employed at the College during a period of expansion and innovation, and thus able to take advantage of certain benefits that allowed me to achieve an acceptable life/work balance.  I'm very grateful for the way the College has shaped my career and life, if I had not been afforded the opportunity to work part-time when my family was growing, I would not be here today."
Connor reflected on what her career has meant personally and if she gave career advice to others it would include: don't settle for a job/career that doesn't match personal values; take the risk if something sounds intriguing; your colleagues matter a lot, and they can keep you motivated even through trying times – cherish your relationships with them! A career in education can be very rewarding.
Betsy Brennan–Celebrating 37 Years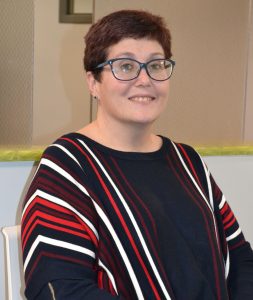 Betsy Brennan has worked at Excelsior College for 37 years, starting as Navy campus secretary and moving on to such roles as clerk typist, an administrative assistant and scheduling coordinator for the Clinical Performance in Nursing Examination, certified Quality Matters course review manager, to her role today as data quality specialist.
Excelsior has empowered her to try things that others —and she— thought she couldn't do. When she graduated high school, she decided not to go to college for fear of failure. Throughout her time working at Excelsior, she proved to herself, that she could do much more than she thought she could. Now, 35 years after starting work at Excelsior College, and 36 years after graduating from high school, she is enrolled as a student. She shares that she finally had enough confidence to be successful and working at Excelsior is a part of the reason.
Brennan explains there are reasons she has lasted so long at the College. "First and most importantly, I truly believe in what the college does. Second, the people.  We are a family here. I have lifelong friendships. People who have seen me through the death of a parent, my first marriage and divorce. The birth of both of my children. The newer people who have come to work here have given me pathways to new ideas and ways of thinking.  I have been involved in many community organizations throughout my lifetime and never have I experienced the friendship and dedication as the people who work for Excelsior."
For Brennan, part of successfully working in one organization for over 30 years is about being able to reinvent yourself and the future. Brennan says, "I have watched both Excelsior College and myself reinvent ourselves from the inside out. I know that I am better for that experience. "
Jennifer Wise–Celebrating 33 Years
Jennifer J. Wise has worked for Excelsior College for 33 years as a remote employee in roles such as team leader to her role today as senior academic advisor in both business and technology.
"Before I came to Excelsior, I worked in both human service jobs and marketing jobs," says Wise. "I viewed my role in advising as a cross between the two aspects of my background.  I feel that advising does require some human service skills, as we never know what kind of problems our students may bring to our ears."  As a college advisor, she feels she helps students improve their lives.
In celebrating her work anniversary, Wise states, "The motivation to stay here is that the job is never boring. I feel like I am serving the public good when I do my job. We help the best of students and those in the dire situations. Many of our graduates have been the first in their families to earn a college degree. Excelsior serves to bring education to many who might not otherwise be able to attain it.  Since I started working here in 1986, hundreds of institutions have sprung up that try to mimic what we do, and that points to how important Excelsior's mission has been to our society.  It fills a social need."
Wise has advice for the younger generation entering today's workforce, "A job is more rewarding when you feel like you are doing it for more than the money, and to give back some of what you were so lucky to attain for yourself."