Alumni Receive Awards in Recognition of Achievements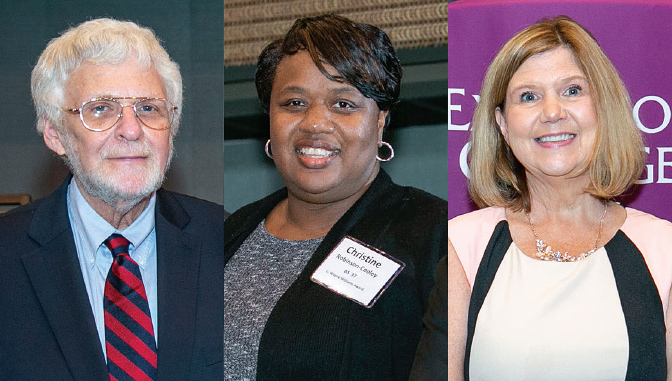 Alumni Award Recipients are (left to right) Jeffrey Baker, Christine Robinson-Cooley, and Greta Kostac.
Three alumni were honored for their outstanding achievements at the College's annual Awards Convocation on July 11, 2019. Dwayn Hanford '05, Alumni Association president, and Mark A. Bowman '00, chair of the Awards Committee of the Alumni Leadership Council, presented the awards.
The three award recipients shared anecdotes from their educational journeys, including observations from their time spent with Excelsior College. A common theme was that each felt they would not be where they are in their careers if it hadn't been for their Excelsior experiences. Alumni Achievement Award recipient Jeffery Baker said he would not have been able to go on in his career teaching at many universities and volunteering at various non-profit organizations if it hadn't been for participating in the former Regents External Degree Program. C. Wayne Williams Award recipient Christine Robinson-Cooley was grateful to the College for allowing her to work and go to school at the same time, saying, "Having a career and a family should not bar a person from getting an education. It should enhance that experience." Carrie B. Lenburg Award recipient Greta Kostac added, "I wouldn't be here if it wasn't for Excelsior College. Excelsior made me feel that I could succeed; that I could get to do what I wanted to do."
Read more about the recipients:
Jeffrey Baker, Alumni Achievement Award Recipient: Jeffrey Baker '73, '75, of Fairport, New York, is an adjunct psychology professor at Monroe Community College in Rochester and has taught for several universities, including Rochester Institute of Technology, Walden, Buena Vista, and Thomas Edison State. He has worked as a learning specialist for students with disabilities and has worked for Excelsior College in a variety of capacities. He is president of the New York State Conference of the American Association of University Professors, president of the Learning Disabilities Association of New York State, and a member of the American Psychological Association. Before becoming involved in higher education, he had a more than 20-year career in broadcast technology. Baker has an Associate in Arts in Liberal Arts and a Bachelor of Science with a major in psychology from Excelsior College, a master's degree in counseling from Syracuse University, and a PhD in psychology from Capella University.
Christine Robinson-Cooley, C. Wayne Williams Award Recipient: Christine Robinson-Cooley '97, of East Greenbush, New York, is an assistant re-entry manager with the New York State Department of Corrections. She has held a variety of positions within the state criminal justice system, working with inmates, parolees, victims, and their families, and continues to volunteer her time with mental health advocacy groups. She is a teacher for National Alliance on Mental Illness (NAMI) Rensselaer Family to Family, a free educational program for family, significant others, and friends of people living with mental illness. She is a member of the New York State Corrections & Youth Services Association, American Correctional Association, and National Association of Blacks in Criminal Justice. She is a walk volunteer, conference presenter, and ribbon cutter for NAMI New York State, and a crisis intervention training panel presenter. She has a Bachelor of Science in Liberal Arts from Excelsior College, an AAS from Hudson Valley Community College, and a master's degree in social policy from SUNY Empire State College.
Greta Kostac, Carrie B. Lenburg Award Recipient: Greta Kostac '91, of Fond du Lac, Wisconsin, is a family nurse practitioner with Aurora Medical Group in Fond du Lac and a visiting professor in the nurse practitioner program at Chamberlain University in Downers Grove, Illinois. She has been a nurse for over 40 years. She is a member of the Wisconsin Nurses Association and American Nurses Association and is a past member of both the National Organization for Nurse Practitioner Faculties and Sigma Theta Tau. She volunteers extensively, and in 2015, received the Graduate Teacher of the Year–Marian University award for her excellence in teaching and service to the university and students. She earned an Associate of Science from Gogebic Community College, an associate degree in nursing from Wisconsin Indianhead Technical College, a Bachelor of Science in Nursing from Excelsior College, a master's degree in nursing from the University of Wisconsin–Milwaukee, and a Doctor of Nursing Practice from the University of Minnesota–Twin Cities.

View the Awards Convocation and hear the remarks of the award recipients.
---