CPNE & Me: Alexis Rodgers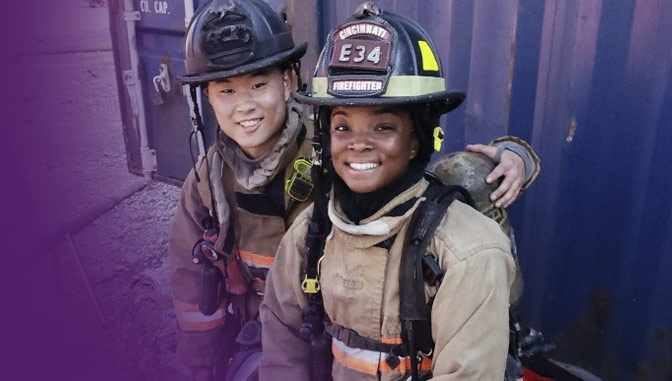 Alexis Rodgers of Cincinnati, Ohio, has been a firefighter, emergency room paramedic, and a paramedic with the Poison Control Center and, although they may seem like different careers, they have one thing in common: helping others. Now she hopes to further that caring career by earning her associate degree in nursing with Excelsior College.
Rodgers graduated high school when she was 16 and, after a plan to become a pharmacist didn't pan out, enrolled in nursing school. When she was younger, her niece had many health problems as an infant. "I remember visiting her in the NICU and thinking how cool it would be to be a nurse, just to be able to help someone," Rodgers recalls. Rodgers was hired with the fire department shortly after she started nursing school, but eventually stopped attending because of the job's demands. She then landed a job as an EMT with the Cincinnati Poison Control Center, where she still works today.
Rodgers works two 24-hour shifts a week, which can include taking phone calls and making emergency visits to peoples' locations. "When it comes to fire and EMS and really just medical care in general, I love to be able to see the results of my work," she says, adding that she likes to be able to ease peoples' minds, whether their problem requires treatment, intervention, or another kind of action. Being able to see the impact she has on people is very rewarding, says Rodgers.
Rogers loved firefighting and being a paramedic, but the desire to do something more was always there and lead her to become emergency room paramedic in the trauma ER on her days off from the Poison Control Center. She discovered Excelsior via a coworker at the ER and took a hybrid of courses and exams to complete her Associate in Applied Science in Nursing in June 2019.
Rodgers initially applied for the Clinical Performance in Nursing Examination (CPNE) in July 2018 and was placed on the wait list. "Being with Excelsior for as long as I had, I knew what to expect as far as wait time…I was okay with it. I said I would take this time to prepare," she says. About seven months in, she began calling for cancellation dates, and suddenly, on a Tuesday in the last week of March 2019, she was informed she could accept a cancellation date for the following Friday.
Things were a whirlwind. Rodgers had plans to take her children to Disney World for the first time during days and she wondered if she was prepared enough to accept the exam date. That's when she thought, "There hasn't been anything else in my life that I really, really wanted, that I've known that I wanted, and that I wanted to push through to get." Plans to take off work, transportation, and caring for her kids all seemed to fall into place, too. All she had left to do was to keep studying.
Rodgers made sure to enjoy her time with her children in Disney World but studied into the night when the kids were tucked in. She practiced her care plans, AOCs (areas of competencies), charts, and more to ensure she was prepared for the exam. It all paid off, says Rodgers, when she passed the CPNE at Aurora Medical Center in Summit, Wisconsin. "I was just ecstatic. I could not have imagined that would be what I would consider the grand finale to my Excelsior journey," she remembers, adding that Excelsior was with her every step of the way: "I couldn't imagine a more supportive school, especially knowing this journey is unconventional for what people are usually used to. But just by having the resources available and wanting to succeed, you will."
Rodgers studied hard to make sure she understood all the material. She says, "It was just me, the Excelsior resources, and some darn good discussion board posts." She interacted with other students a lot in her nursing courses. They would discuss care plans, patient scenarios, and share their charts and grids. Rodgers thinks that creating a network of people who have taken the exam is beneficial because you can talk to people who have been there and know what to expect.
Rodgers says, "The knowledge that you need is there. The guides are excellent resources…Everything's written out for you, even down to the paperwork that you're provided during the CPNE. If you utilize the resources and put time and effort into it, you'll be fine." She says that a lot of the challenge of the CPNE is that people psych themselves out, and adds, "I think the easiest way to fail is to not be mentally sound with your ability to pass."
Rodgers passed the National Council Licensure Examination on July 15, 2019 and can officially say she is a registered nurse. She is looking into bachelor's and RN to master's programs in nursing, including those at Excelsior, but for now is going to stay at the Poison Control Center. She isn't ruling out a career change, though. What got her through the CPNE and what will get her through the next steps is her determination and grit. As she says, "My profession as a firefighter has trained me to be able to know it's go time and there's no turning back, and okay, yes, failure can happen, but you can't let that happen."
More CPNE Advice from Alexis Rodgers
On preparing for the CPNE:
Use the AOCs and town hall meetings videos that are available on Excelsior's nursing website. "If you watch those videos that they have provided, you will not go wrong," says Rodgers.
On taking the CPNE:
Rodgers suggests having an organized approach and to write down steps you have to take. "Well, I have to do abdominal, I have to do neurological assessment, and oxygen management. I'm going to do them in this order," she says. Knowing and going with your own personal flow will help. Unless you're doing something wrong, no one is going to interrupt you, she adds.
"Having that template, having my PCS [patient care scenario]—this is what I was given, and this is how I'm going to execute. That was a huge help for me."
Don't make things more complicated. Rodgers says, "If you know you have the AOC assigned, why are you looking for extra interventions? I heard that in a town hall. If you have an AOC that's been assigned to you, that you can use as an intervention for your nursing diagnosis, then you should use it. Don't think far out of the box…Interventions for the patient should coincide with their needs."