Combining Business with Nursing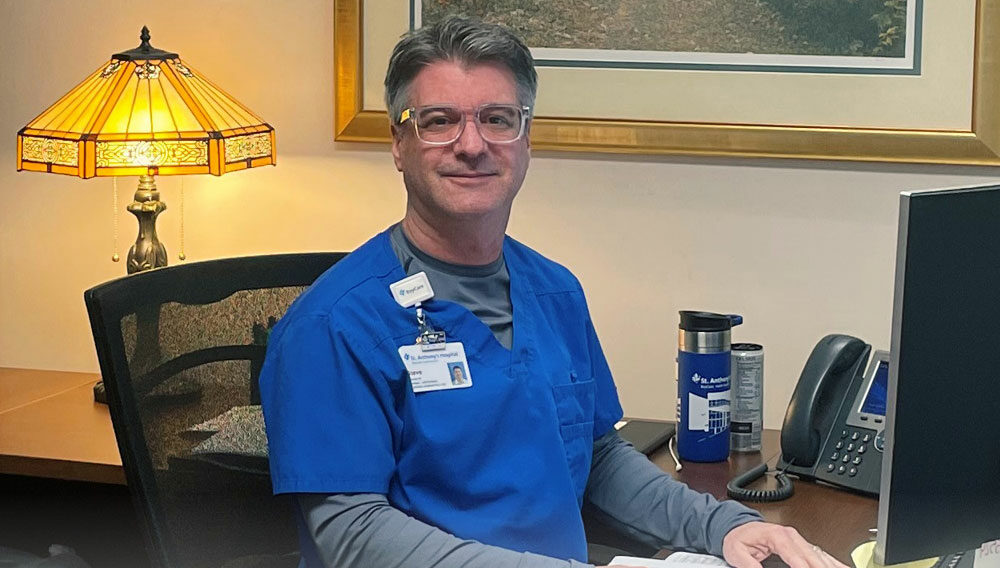 Steven Marciano's business background helps him thrive in his career in nursing administration
2018 Bachelor of Science in Health Sciences graduate Steven Marciano, of Tampa Bay, Florida, is the manager of business operations at Saint Anthony's Hospital in St. Petersburg, where he oversees and provides business support to 17 nursing units throughout the hospital. Although he is now strictly in the health care field, it is his experience in business management that has helped to propel him to where he is today.
As the manager of business operations, Marciano collaborates with nurse managers to maintain the productivity of each unit. Marciano meets with these managers and executive staff in a 9 a.m. meeting each day and then follows up with smaller meetings for specific projects and hospital operations. He also "makes the rounds" by visiting each unit and assessing employees' efficiency and needs. In addition, Marciano is in charge of preparing financial reports for executive leadership.
Marciano's business background has prepared him for his current role. When he first moved to Florida in 1986, he worked for a family construction company for 12 years. His last role with the company was as the business manager, and he oversaw multiple insurance policies. Working closely with insurance agents made him interested in earning his insurance licenses so he could start his own insurance company in 2007.
A self-described lifelong learner, Marciano decided that he wanted to change careers and expand his knowledge base. He had several friends in the health care field who encouraged him to pursue nursing. His first job in health care was as a bedside nurse on a progressive care step-down ICU unit. Marciano was an LPN but over time, he wanted to return to school. He desired to further his education and to combine his interest in business with his new career in nursing. "My transition to health care required a nursing program, and thereafter, a bachelor's degree was required for many promotions, such as management," says Marciano, who initially enrolled in Excelsior's bachelor's in nursing program in 2014.
Marciano decided to transition from bedside nursing to nursing administration. He desired to be part of the new public health approach to health care, emphasizing community needs and implementing community interventions for disease prevention management and overall health and wellness. "I received an email from Excelsior announcing the health sciences [with an emphasis in] public health degree program and immediately transferred out of the nursing program into the new program."
Marciano earned his bachelor's degree in health sciences with an emphasis in public health in three years, while working full-time and juggling family priorities. He maintained a demanding workload of four courses per term and even had some health issues during his academic journey, but he is thankful for what he has learned from his experience. "Earning my degree provided me the opportunity to acquire my current role. In addition, the multitude of courses I've completed have provided an abundance of knowledge to apply to health care," he says, easily listing courses such as Ethics of Health Care; Our Environment, Our Health: An Introduction to Environmental Health; Health Education and Promotion for Diverse Communities; and Global Health as some examples of courses with lasting impact. Marciano enrolled in the master's in healthcare administration program and is on track to complete the program at the end of August 2021.
Landing his current job as a manager of business operations was a long journey, says Marciano, and it required hard work and earning respect from his co-workers. Thanks to his background in business, though, he has proven he has been able to transition seamlessly from a nurse into the administrative side of health care. He says his business background and skill set have been instrumental in his current role and choosing to pursue this career is "the best decision I ever made, the most rewarding work I've done in my professional career."  
More from Steven Marciano
What is the best piece of business advice you've received on the job so far?
The best business advice I received is always to keep an open mind, diversify, and ask for what you want.
What are the most important traits/skills for someone to succeed in your field?
The ability to collaborate and interact professionally with a diverse, multidisciplinary group of individuals and be flexible. In addition, the ability to listen to others, lead by example, fostering trust, dignity, respect, and teamwork. 
What networking tips would you give to current Excelsior students?
Networking has been an essential and instrumental aspect of my success throughout my professional career. My suggestion is to get involved with respective professional organizations, work-related special projects, and all of the wonderful resources available from Excelsior, including the alumni network.
What time management tips do you have for current students juggling activities outside their Excelsior studies?
Time management tips include schedule your study time, choose quiet study settings with little to no distractions, leave phone and electronic devices away from study spaces, develop rituals to maintain balance and concentration, and take breaks to avoid burnout.