Impacting Others: Walter Were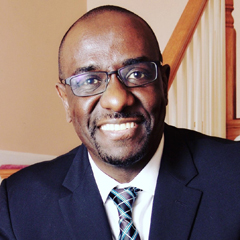 When Walter Were was young, he wanted to be a successful businessman and community leader when he grew up. Were says his definition of "success" doesn't equal the material possessions he's acquired, but rather how well he can answer the question: "What is your contribution to society?" The 2005 Excelsior graduate has contributed much as an employee of PDC Pharmacy and as an active member of the Excelsior College alumni community.
Were, of Pittsburgh, Pennsylvania, works for PDC Pharmacy, a subsidiary of Passavant Memorial Homes Family of Services (PMHFOS), a nonprofit organization based in Pittsburgh that supports persons with disabilities. PDC Pharmacy has locations in Erie, Philadelphia, and Pittsburgh, Pennsylvania, as well as in Colorado, and also offers services in Delaware, New Jersey, and Ohio. It is a long-term care pharmacy that caters to agencies and families supporting people with intellectual disabilities.
"In general, it is my job to grow the business by promoting high quality consumer driven services," says Were. His job requires him to travel often to different states to participate in conferences and conduct meetings with other companies in order to establish new partnerships. His path to his current position as the director of business development and marketing has been a long but accomplished journey made possible through hard work and an educational foundation built with Excelsior College.
In 2003, Were was a residential assistant with PMHFOS, in which he provided direct support to residents covered by the company. To advance in his career, he needed to further his education. While researching colleges and universities, Were came across Excelsior College and felt it would be the right choice for him. At the time, says Were, he could not find many reputable colleges that were offering flexible distance learning programs. With Excelsior's independent study for credit-by-exam option, he maneuvered his way to graduation and earned a BS in Liberal Arts in 2005. In 2006, soon after receiving his degree, Were received a promotion to regional program director.
Were earned a MA in Adult and Community Education from Indiana University of Pennsylvania in 2007 and, received a promotion the following year, which he attributes to earning his degrees. In his new role, he oversaw one of the company's four behavioral health programs. As the company continued to grow, so did the opportunities and, by 2012, Were was a program operations director, overseeing all behavioral health programs as well as billing processes of PMHFOS.
In 2014, Were became the assistant executive director, working directly under the executive director, in which he oversaw PMHFOS's day-to-day operations. During this time, Were continued to share his educational journey with acquaintances and colleagues. "I was encouraging them to continue their studies because they needed to be competitive…You can't really grow so much by promotions without also improving on yourself," says Were, adding how happy he was that one woman he told about Excelsior ended up enrolling and pursuing her degree with the college.
Were was invited to become an alumni ambassador and became more involved in the Excelsior College community. He says it was an even bigger opportunity to promote his alma mater and the unique ways in which it allows students to earn their degrees. "Critical institutions like Excelsior are few and far to come by," he says, adding that he continues to advocate for the college any chance he gets.
Earlier this year, in Pittsburgh, Were attended a state gala for the Kenya Women in The USA where he shared his educational journey, including the credit-by-exam process. He also spent time explaining how students can gain credits at other accredited institutions and transfer them to Excelsior. "The response was quite unexpected—positively," says Were. He was so surprised by the flood of comments and questions he received that he decided to update a book he wrote in 2006, "Guide to Earning College Credits by Testing." In it, he describes the ins and outs of how students can use credit by exam to earn credits toward their degree. Were himself earned 117 credits through CLEP, DANTES, and Excelsior exams which were all applied toward his degree.
"After speaking to members of the Kenyan immigrant community, I found that so many still had not heard how they could save money and stay in college by [the] independent affordable means of credit by exam." This time around, in addition to publishing as a paperback, Were published the guide in e-book form, which allowed for greater distribution through the web and social media channels. After spreading the word through social media, Were distributed more than 150 free copies.
In addition to his advocacy for Excelsior College, Were has also joined the Greater Pittsburgh YMCA board of directors. Participating on the board, being involved in the Excelsior alumni community, and sharing information about independent learning opportunities through his book and speaking opportunities makes Were feels like he is contributing to society.
The future holds many opportunities for Were. "I see myself more involved in the community…I want to be more involved in a way that I volunteer my time. I want to have an impact that benefits other people." Though he can't define what position it would be, he knows he wants to be in a leadership position that has a positive impact on the community. So far, Were has likely left a positive and lasting mark on those who have crossed his path.