Career Spotlight: Financial Manager
Set Yourself Up for Success as a Financial Manager with an MBA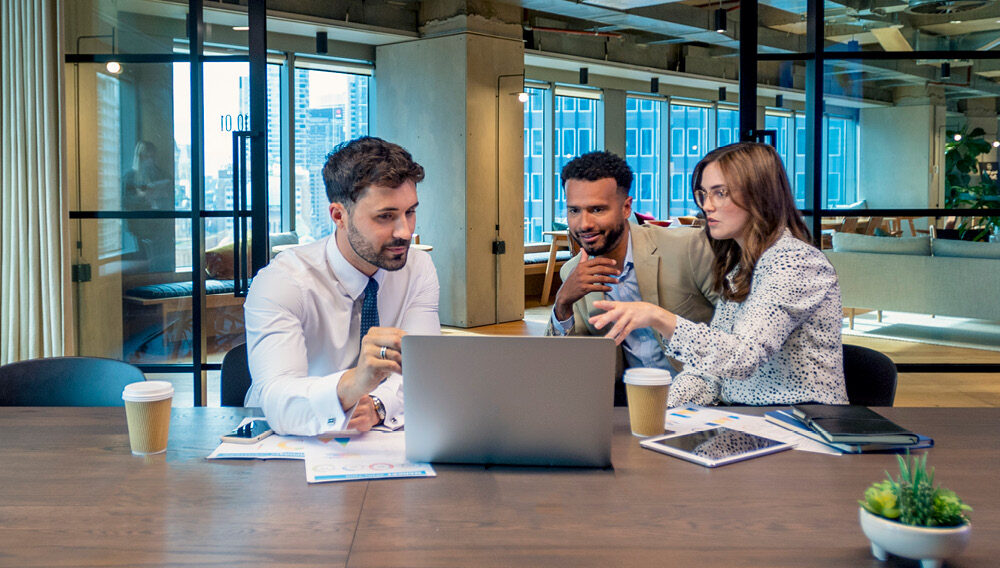 Businesses large and small need someone to oversee their financial health. Financial managers are responsible for the financial management of businesses including but not limited to insurance companies, banks, and manufacturing companies.
Read on to see if a career as a financial manager aligns with your goals.
What Is a Financial Manager?
Financial managers are responsible for overseeing the financial health of a business or organization. They develop financial reports, create and implement strategies to improve the business' finances, and manage investments. They often analyze market trends to make strategic decisions and make sure the company's financial decisions align with the most up-to-date laws and regulations.
Financial management is a broad field, and there are several types of financial managers. These include:
Corporate financial managers. These financial managers are responsible for managing the finances of corporations.
Investment managers. These managers work in investment firms, banks, and other kinds of financial institutions, making important decisions that benefit their clients.
Risk managers. Risk managers work in many settings, developing risk management strategies and monitoring the financial performance of an organization.
Financial controllers. Financial controllers are responsible for overseeing financial accounting and reporting for an organization.
Treasury managers. Treasury managers oversee an organization's cash flow management and manage debt and financing.
What Does a Financial Manager Do?
As mentioned, financial managers create reports and develop plans and strategies for an organization's long-term financial goals. Their specific duties may vary depending on which type of financial manager they are and where they work, but overall, they:
Understand a company's economic condition
Monitor and analyze cash flows
Analyze competition and market trends
Identify and manage potential risks that could impact financial health
Oversee financial accounting and reporting
Ensure that financial statements are accurate
Ensure investment decisions are aligned with an organization's objectives
Manage debt and financing
Manage relationships with banks and other financial institutions
Research factors influencing the business performance
Arrange new sources of finance
Keep up to date with financial laws and legislation
How to Become a Financial Manager
If becoming a financial manager sounds like the career choice for you, there are certain steps you must follow to become one.
Your financial management career starts with earning a bachelor's degree in economics, accounting, business administration, finance, or a similar field. Participating in an internship can give you important job experience and earning further higher education is a must. Earning a master's degree in finance or business can give you the educational knowledge necessary to become a financial manager. Also, employers look for candidates with 5–10 years of professional experience in a related occupation such as a financial analyst or securities sales agent.
Though not required, some financial managers also pursue certification and licensing. For example, many financial managers choose to become certified public accountants.
Financial Manager Qualifications
As mentioned, a master's degree is required if you want to become a financial manager. Excelsior University's Master of Business Administration program is especially designed for professionals wanting to grow their careers in strategy, global development, operations, human resources, and digital transformation. The online program has specialty accreditation from the International Accreditation Council for Business Education (IACBE). The finance and accounting concentration teaches you accounting principles and tools and helps you learn how to prepare and evaluate financial statements and reports for corporations, government agencies, and nonprofit organizations. This concentration is an appropriate choice if you are looking to become a financial manager.
Financial Manager Skills
In addition to the proper education, you must possess certain skills to be a successful financial manager. Some of these include:
Analytical skills
Accounting skills
Decision-making skills
Leadership skills
Communication skills
Interpersonal skills
Attentional to detail
Math skills
Financial Manager Salary
According to the Bureau of Labor Statistics (BLS), as of May 2021, the average annual salary of financial managers was $131,710. The BLS also reports that this position is expected to grow 17 percent from 2021 to 2031, which is much faster than average for all occupations.