Career Spotlight: Management Analyst
What Is a Management Analyst and Is It the Right Career for Me?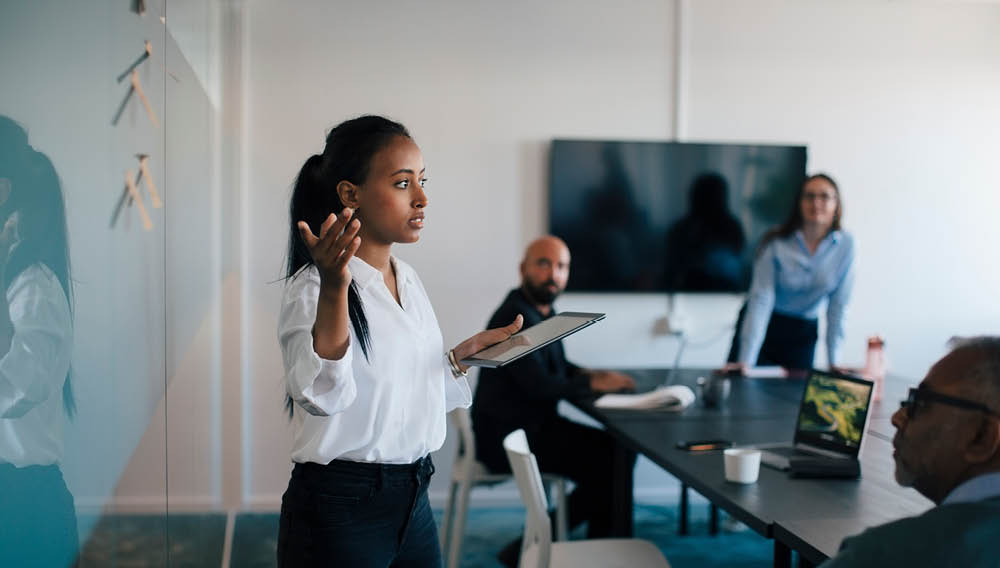 Businesses are complex structures. There are various components and personnel involved. As such, sometimes organizations turn to management analysts to help them find ways to improve the business' efficiency and profits. Management analysts do this with their ability to look at problems from a fresh perspective and present their findings and recommendations in presentations and reports to upper management.
According to the Bureau of Labor Statistics, management analysts make an average of $93,000 a year and the position is expected to grow 11 percent from 2021 to 2031, which is much faster than all other occupations.
If you think becoming a management analyst could align with your career goals, read more to learn about this exciting position.
What Does a Management Analyst Do?
Management analysts are adept at understanding the various aspects of a business, including the challenges it may face. They study the innerworkings of a business, interviewing personnel, analyzing financial records, reviewing employment data, and completing other assessments to put together recommendations on how to create a more efficient business model. An analyst's job obviously various depending on which business they work for, but generally they perform the following duties:
Identify and prioritize the organization's needs
Analyze large data sets
Collect data and organize information to solve problems
Conduct interviews with personnel
Compile charts, tables, and reports
Create financial models to support business decisions
Conduct financial analyses
Conduct inventory management
Facilitate meetings with executive team members
Recommend new procedures, systems, or organizational changes
Where Do Management Analysts Work?
Management analysts work in a variety of settings. You can find management analysts in both public and private organizations.
Some analysts are self-employed and develop their own client base on a contract basis while others work with various agencies. Some management analysts can be found working for government agencies, banks, insurance companies, manufacturing firms, transportation companies, health care organizations, and human resource firms, among other employers.
How to Become a Management Analyst
Do you think you want to become a management analyst? The first step is to earn at least a bachelor's degree in a field such as economics, finance, statistics, information management, or a related discipline. You may even consider pursuing an MBA, as well. You will also want to sharpen your business analytical skills, particularly your business knowledge, communication, and data analysis. Taking courses or earning certifications can help you increase your knowledge base and get potential employers to take special note of you.
It's important to also gain industry experience. Taking an entry-level position in accounting or financing or even participating in an internship can give you the valuable experience you need to advance to higher-level positions. Most employers like management analysts to have three to five years of experience in the business field before jumping into a higher-level management analyst position.
Management Analyst Education Requirements
Employers vary between their requirements for entry-level management analyst positions. Some require at least a bachelor's degree and several years' experience while other require a master's degree. Excelsior's Master of Science in Management program equips you with knowledge and skills in managerial practice that you can use on the job today. Courses cover subjects that managers must master to successfully guide direct reports and develop employees, build effective teams, oversee projects, create budgets, manage corporate finances, manage organizational change, solve business problems, and communicate clearly with people at all levels of an organization. Graduates of this program are prepared to advance in their careers as managers, executives, and consultants at international corporations, nonprofit organizations, and other types of employers.
Management Analyst Certifications
If you are looking to improve your skills as a management analyst, there are several certifications you can pursue to increase your knowledge. Some of these certifications include: The Institute of Management Consultant's Certified Management Consultant Designation, IIBA's Entry Certificate in Business Analysis (ECBA), IIBA's Certified Business Analysis Professional (CBAP), IIBA's Certification of Capability in Business Analysis (CCBA), and PMI's Professional in Business Analytics (PMI-PBA).