Career Spotlight: Network Technician
Is a Network Technician the Right Career Path for You?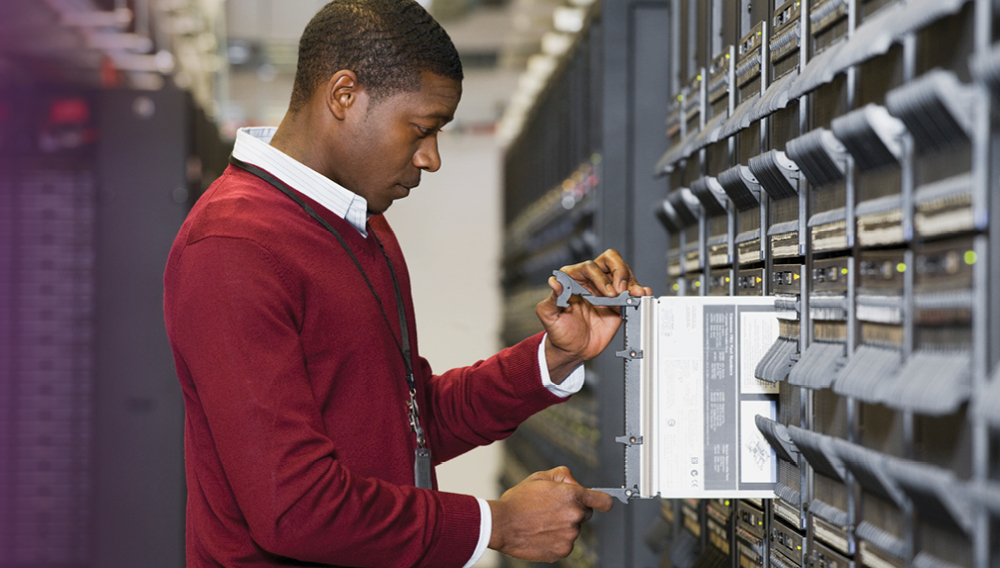 Ever wonder who is on the other side of the phone of the IT department you call when your computer doesn't want to work anymore? Network technicians. Check out this guide to learn more about network technicians and how to pursue this career.
What Is a Network Technician?
Network technicians analyze, test, and evaluate existing network systems. They implement, maintain, and repair computer networks for the organization for which they work. While the job description can vary depending on where they work, most network technicians are responsible for:
Maintaining any necessary upgrades and repairs to networks
Protecting network and computer system security
Performing regular maintenance to ensure that networks operate correctly
Adding users to a network, and assigning and updating security permissions on the network
Training users in the proper use of hardware and software
Troubleshooting any questions or concerns from end users
Network technicians guide customers through the recommended problem-solving skills needed when issues arise with their computers or networks. Depending on the organization, customers can be people who work at the organization or clients that use the software that network technicians work with.
What Skills Does a Network technician Need?
Network technicians tend to spend their time behind the scenes; however, they must be able work with people from all different departments and places to ensure the network stays safe and protected. The following skills are necessary to be successful as a network technician:
Communication skills: Network technicians must be able to clearly explain information, both verbally and in writing. They need to describe situations in a way that nontechnical users and leadership can understand.
Listening skills: Network technicians spend a majority of their day working with end users to help solve their computer issues. Being able to listen and understand what their customers are describing is key.
Problem-solving skills: Network technicians are always solving a puzzle. They must be able to identify both simple and complex problems and find solutions to them in a quick and efficient way.
Analytical skills: Network technicians need to evaluate networks and systems to make sure they perform correctly.
Where Do Computer Network Technicians Work?
According to Zippia.com, network technicians currently hold more than 579,101 jobs in the United States. Most network technicians report they work for computer system design companies and related services. However, other areas included educational services at the state, local, and private sectors, information services, finance and insurance, and management of companies and enterprises.
Many network technicians work full-time, where overtime is offered often. Because network support may need to be available 24 hours a day, some technicians work nights and weekends.
Depending on where you work, remote opportunities are available and encouraged. In some cases, a network technician may need to work in an office when routine maintenance is needed or if there is a network or systems emergency.
Education for Network Technicians
Entry requirements can vary for network technicians, but in most cases a bachelor's degree in information technology, computer science, or a related field is required. Computer knowledge and skills are needed to be successful in this position regardless of where you end up working. The fully online Bachelor of Science in Information Technology program at Excelsior University prepares you with the knowledge, skills, applications, and practices needed to make an immediate impact in the information technology field.
Network Technician Certifications
In addition to a bachelor's degree, network technicians must stay up to date with new technologies and processes throughout their career. One way to do this is through certificate programs. These are short programs that allow you to develop your skills in certain areas. Network technicians should focus on the certificates in CompTIA and Cisco CCNA.
In today's tech-driven world, it is imperative to participate in trainings to grow in your career. Trainings and certificate programs will help you secure leadership roles and expand your earning potential as a network technician. According to Payscale.com, network technicians earned $52,450 in 2022. Connect with an admissions counselor at Excelsior University today to start your career as a network technician!