Career Spotlight: Oncology Nurse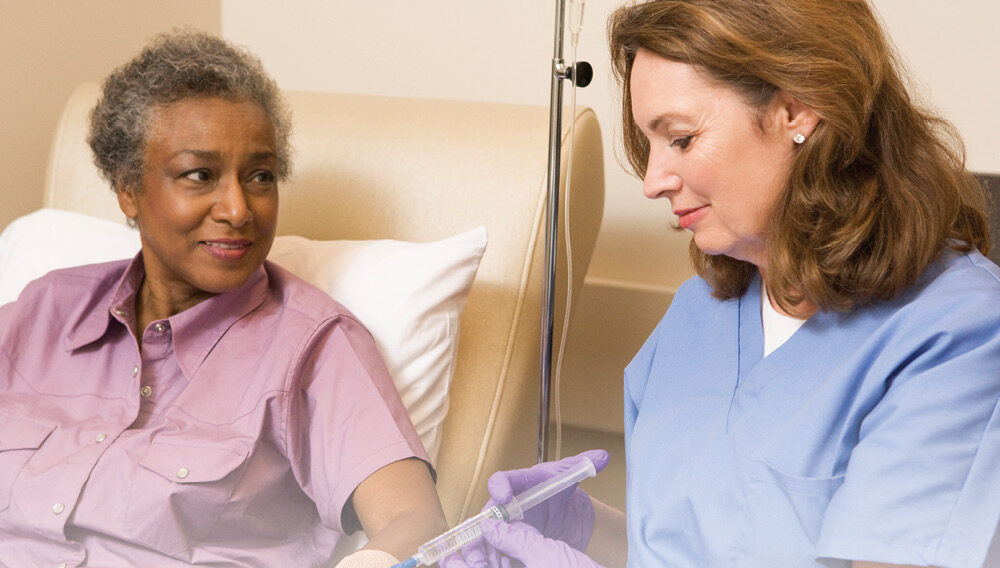 The number of cancer patients in the United States continues to rise, so oncology nurses are always in demand. Oncology nurses work with patients who have or who are at risk of developing cancer. They make assessments, administer treatments, and communicate with patient care providers to help develop a plan tailored to a patient's needs. Oncology nurses often form strong relationships with the people under their care and their families because they often spend one-on-one time with their patients.
The best oncology nurses are adaptable and emotionally capable. Hospitals and cancer care centers want oncology nurses who are compassionate and clear communicators, and who can handle the emotional toll when patients are terminally ill. These nurses must be able to assess and anticipate their patients' physical and mental needs, and must be able to create a safe environment for their patients.
Oncology Nurse Job Responsibilities
Oncology nurses hold a range of daily responsibilities, from clinical care to emotional support. Tasks vary depending on work location and specialization.
Hospitals: Oncology nurses in hospitals assist in coordinating cancer care, preparing for surgery, and addressing patient questions about procedures or treatment measures.
Doctors' office: In oncology physician offices, oncology nurses are patient educators. These offices often work with the nonsurgical management of cancer, such as administering chemotherapy, to reduce or eliminate cancerous threats.
Outpatient care center: In oncology-focused outpatient care centers, oncology nurses aid in administering treatment, providing support, and ensuring their patients are informed about their treatments and what they might expect moving forward.
For an oncology nurse, it's important to be in tune with support techniques that work best for each patient. This may feel challenging, so when in doubt, they are an active listener.
Oncology Nurse Qualifications
Higher education is the key to gaining skills and knowledge needed to become an oncology nurse. You must first become a registered nurse. Excelsior's online associate degree in nursing program helps LPNs, LVNs, paramedics, and certain military personnel build their knowledge of nursing theory through educational experiences to demonstrate their RN-level competency in a clinical setting. After earning your degree, you must take the NCLEX-RN, the National Council Licensure Examination to become a registered nurse. Once you pass this exam, you can apply for your first RN job.
To pursue a career in oncology nursing, the path is typically to choose a patient population as your focus, with a subspecialty in oncology. For example, some master's programs in adult or gerontology nursing offer the oncology nurse practitioner subspecialty.
You may also choose to earn a certification in oncology. The Oncology Nursing Certification Corporation offers six different certifications. Certification boosts your confidence, keeps your knowledge up to date, helps you provide good patient care, helps you compete for jobs, and can enhance your salary.
The following certifications are available, depending on your interests and experience:
Oncology Certified Nurse (ONC®)
Certified Pediatric Hematology Oncology Nurse (CPHON®)
Certified Breast Care Nurse (CBCN®)
Blood and Marrow Transplant Certified Nurse (BMTCN®)
Advanced Oncology Certified Nurse Practitioner (AOCNP®)
Advanced Oncology Certified Clinical Nurse Specialist (AOCNS®)
Why Become an Oncology Nurse?
All nurses should be compassionate, detail-oriented, and tough. Oncology is a challenging subset of nursing due to the nature of the disease. There are many benefits to being an oncology nurse, though, and these include:
Helping to take care of patients in a difficult time
Building ongoing relationships with patients
Helping patients make the most of the life they have
Having standard office hours instead of long, round-the-clock shifts
Having the opportunity to become a travel nurse
If you'd like to make a difference in your life and career, considering becoming an oncology nurse.