CPNE and Me: Andrew Lieberman, Paramedic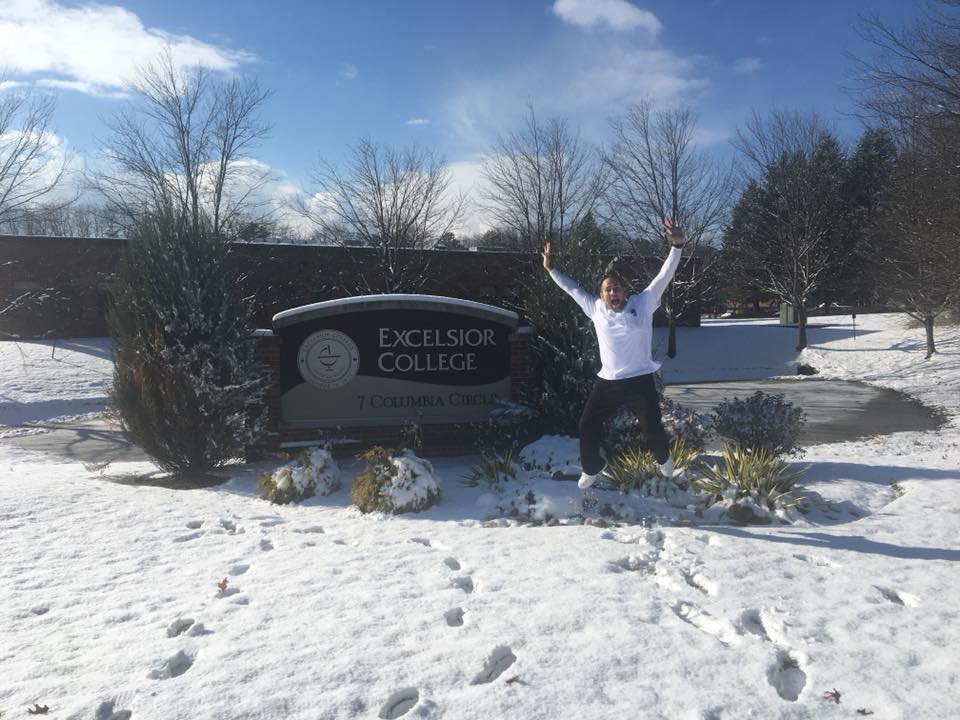 Making the leap into the nursing field takes time, dedication and determination. It also requires passing of the Clinical Performance in Nursing Exam (CPNE), a comprehensive performance examination that validates a student's competency to enter professional nursing practice.
But for United States Marine Corps paramedic Andrew Lieberman, the exam was reasonable and doable in large part to the right resources, assistance and investment from Excelsior College.
Working as a paramedic while teaching part-time in the Emergency Medical Services (EMS) Program at Coastal Carolina Community College in Jacksonville, North Carolina, Lieberman had designs on becoming a registered nurse, but needed to find a program that accommodated his full-time paramedic schedule. Thankfully, he found that opportunity at Excelsior's School of Nursing, with flexible scheduling conducive to his weeks of demanding hours.
"Excelsior College gave me the opportunity to advance myself as an adult," says Lieberman.
Once through coursework, it was time for Lieberman to master the CPNE, an 8-credit performance-based test that measures on-the-job competence over two and a half days in an acute care hospital. With the help of research materials, faculty advisement and study groups that stressed vital attention to detail, Lieberman absorbed all he could before approaching his exam at Albany, New York's St. Peter's Hospital in December 2017.
The Lieberman-described "extreme preparation" paid off. He passed on his first try, which ushered him toward a new realm of professional opportunity.
"It gave me a sense of freedom and accomplishment," says Lieberman. "As an RN, I now have recruiters calling me. I'm currently weighing my options, and have now fielded offers that can more than double my salary. That's what [passing the exam] did for me."
While surveying his possible career directions, Lieberman has determined his next educational move: He's in the process of enrolling in an RN to Bachelor of Science in Nursing (BSN) program, then plans to continue onto graduate school. After successfully juggling the demands of full-time employment with pursuing an education to become a registered nurse, he finds no reason to quit his climb—and he doesn't think other prospective students should, either.
It's all about commitment, and it's a goal that any dedicated student can achieve.
"It's a choice," says Lieberman. "If you made it through to the point where you are eligible for the test, then you can do this. There is never a great time to do it, because stuff will always get in your way if you let it. If you decide to start, know that it takes commitment to sacrificing now for a better tomorrow."
More CPNE tips from Andrew Lieberman:
 Schedule faculty advisement
Stressed as vital to his CPNE success, faculty advisement calls helped Lieberman prepare for the competencies he'd need to master for eventual exam success—but he wishes he'd utilized these sooner. "I would've liked maybe an initial faculty advisement call at the time of registration for the CPNE, and at that time, [have them] spend 30 minutes explaining the examination. I think that would've been helpful."
Start a study group
No one understands CPNE-prepping students better than their fellow students. That's why finding a study group that's relentless about preparation is essential. Lieberman found a small group of determined individuals all united in a common goal, and ones he could depend on for the strict evaluation necessary for exam success. "What was different about these people from the others?" asks Lieberman. "The difference isn't that they were smarter or better. It's that they looked inside and committed to completion. That's it."
 Get organized—and relax
Success on the CPNE requires utilizing resources and available time to eventually achieve on-the-job readiness. This takes organization, whether with resource materials or scheduling calls with faculty. But according to Lieberman, you need to know that everything at your disposal is there to set you up for exam success. "Calm yourself down, go relaxed and realize the examiners aren't allowed to be monsters," he says. "They want you to pass, but they can't pass you if you can't prove that initial RN-level of competence."