CPNE and Me: Patricia Posey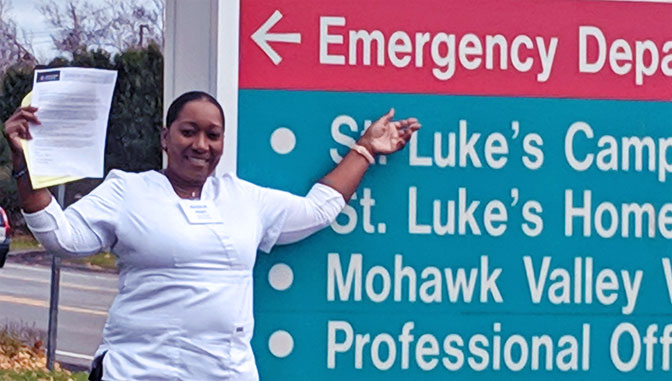 Patricia Posey will never forget the day that she passed the Clinical Performance in Nursing Exam; it was on what would have been her grandmother's birthday: November 11.
Posey's grandmother was the one who had encouraged her to become an RN. She told Posey to pursue the nursing path when Posey was a young girl. Sadly, she never got to see Posey reach her goal. "For years, I kept telling myself If I had just known how to do CPR, I may have been able to save her life," Posey recalls, remembering her grandmother dying in front of her. Posey was then determined to pursue nursing. The path was not easy, however. She became a LPN and immediately knew she wanted to pursue her associate degree in nursing. Unfortunately, life threw some stumbling blocks in her way and she needed to focus on family instead of school.
Soon, however, Posey was ready to return to school and decided on Excelsior. "I decided Excelsior would be a good choice for me because it would allow me several options of obtaining my degree." Posey took advantage of every way she could receive credit; she registered for courses, took exams for credits, and transferred in credit from her time at a community college.
She also took advantage of the resources Excelsior offered to study for the CPNE. Posey says she reviewed her study guide, watched the School of Nursing's webinar series, "Conversations with Kim," and other related videos, used the messaging system to ask questions, and attended a workshop.
Her biggest support, though, was her husband. No matter how much she struggled or how exhausted she was, Posey says her husband was right there, cheering her on. In summer 2018, Posey experienced a series of personal challenges when her daughter briefly went missing and then her brother, whom she had recently reconnected with, was murdered. "Without my husband—even though I was so close to finishing—I probably would have given up. I just didn't have the energy to continue with anything at that point," recalls Posey. He encouraged her to keep studying and to finish what she started.
And she did just that. Posey passed her CPNE on November 11, 2018 at Faxton St. Luke's Hospital in Utica, NY. She says her associate degree in nursing means advancement in her career and she isn't done learning, either. She plans to pursue her bachelor's and then her master's. She wants to become a nurse practitioner or focus on education. "Maybe one day I will have the opportunity to be a CE or CA for Excelsior College. How awesome would that be?"
CPNE Tips from Patricia Posey
"Reach out and ask for help. Excelsior staff is there to help you. They respond very quickly and can point you in the right direction to get you back on track with whatever you are struggling with. You didn't come this far to fail…. don't give up…. If I can do this, so can you."
"I recommend utilizing all the material that Excelsior College gives you. This will prepare you for what you are trying to accomplish."
"Make mnemonics according to the way you learn and can remember them. This will help you when you're under stress while performing your CPNE."
"I recommend that you do not use social media during your testing weekend. Only focus on your goal."
"Eat healthy, get plenty of rest, and go into the testing site with confidence, determination, and compassion."
"You will most likely never meet these patients again, but treat them as if they were one of your family members. Trust me, it will help ease your nerves [and] at the same time [you will] provide competent nursing care."