Degrees at Work: Stephanie Jump's Path from Pre-Law to Entrepreneur and Mom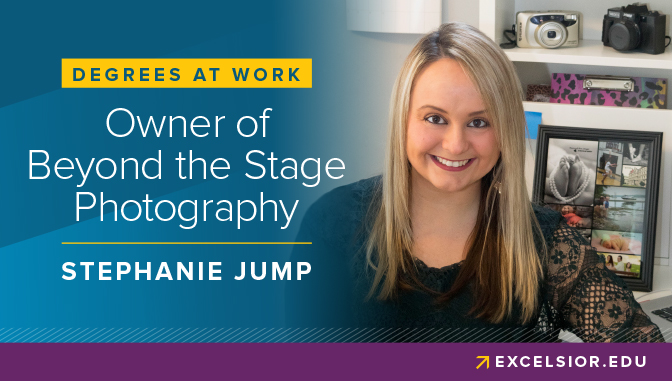 The scene should be familiar to many Excelsior College students: Stephanie Jump is feeding her baby boy with one hand, and completing her homework on her laptop with the other. It's 1 a.m., and she's exhausted, but her motivation is clear. "I wanted my son to see me graduate," she says.
She completed many challenging assignments in the quiet overnight hours as her son slept. But after she graduated from Excelsior with her Bachelor of Science in psychology, Stephanie knew it was worth it.
"It was for him," she says. "I wanted to be able to say to him some day, 'You were at mommy's graduation, and you can do it, too.'"
Stephanie's journey to her Excelsior graduation, and her professional life, have been marked by unexpected, sometimes difficult circumstances.
After graduating from high school in 2007, Stephanie attended SUNY Broome, a community college in Binghamton, N.Y., to attain her associate degree in criminal justice, a field she'd always held a deep interest in. This drove her to Binghamton University in 2013, where she pursued a bachelor's degree in pre-law.
But life had different plans. While studying at Binghamton, she became pregnant with her son, Braydon. Pursuing higher education became more difficult, but Stephanie knew remaining in school would help her provide the best life for herself and, most importantly, her son. She remembered her SUNY Broome academic advisor Terri Fadden mentioning Excelsior College and the convenience, accessibility, and affordability of its online curriculum.
She knew it was the right fit for her, and seamlessly continued her education without taking time off. After taking a few prerequisite classes at SUNY Broome, she enrolled in Excelsior's online program for psychology.
"Excelsior is so great because of the flexibility it offers in your course work," Stephanie says. "I was able to work around being a mom, which was incredibly important. You can't really take a baby to class, but you can take him to the computer."
With Braydon to care for, it was challenging. But she did it. After hard work, dedication, and many hours of late-night multitasking, Stephanie graduated from Excelsior College in 2016 with her Bachelor of Science in psychology.
"On graduation day, I felt relieved. I was finally done with my degree, and I did it with many obstacles in my path," says Stephanie. "Becoming a new mom made it a struggle, but Excelsior made the challenge a little easier. When I got my degree, I saw my son and my son's father cheering me on. It was the best moment of my life."
Armed with her degree, Stephanie embarked on the job search. She wanted to use her psychology skills and training with children in the foster care system, a field she was drawn toward after having her son.
Even though Stephanie had her hands full raising Braydon and looking for a job, she also volunteered to photograph performances at the Endicott Performing Arts Center (EPAC), a local theatre organization where she also performed. Not one to do anything half-hearted, she taught herself the best practices and nuances of photography through YouTube videos and online articles — and would actually run between acting on stage and photographing the same performances.
Stephanie continued to search for jobs in foster care, but opportunities in the Binghamton area were scarce. However, as she continued to volunteer at EPAC, her photography evolved into much more than she could've thought.
"People at the theatre started asking me 'Do you do this outside of here?'" she says. "I told them I did it as a hobby, and they started asking me to take pictures for them."
So, rather unexpectedly, Stephanie began taking photos for the people she knew through EPAC. She photographed their children, families, weddings, birthday parties, and more. As word spread about the quality of her services, Stephanie grew a large enough client base to officially start her own business, Beyond the Stage Photography.
Though Beyond the Stage is still relatively new for Stephanie, its early success has been promising. As her business continues to grow, Stephanie plans to establish a physical location for a studio, hire a full-time assistant, and construct a brand that will help her reach an even wider audience.
Professional photography may not have been what she originally had in mind – and she's continually learning about the craft and entrepreneurship – but Stephanie uses her Excelsior education every day to grow and strengthen her business.
"My psychology degree really taught me how to talk to different kinds of people," she says. "Knowing how the human mind works helps me get people to feel comfortable when I'm taking their picture. Excelsior also prepared me to be a business owner. You have to be a self-starter and hold yourself accountable to be successful in online classes, and the same holds true as an entrepreneur."
Stephanie had a much different plan coming out of high school, but now well-equipped with the education and support she received from her Excelsior instructional faculty members, she uses her psychology degree every day and she's loving the flexibility of her life as a solopreneur and young mother.
Her journey, one of versatility, tenacity, and ingenuity, is well-summarized by her slogan for Beyond the Stage Photography: "Life's a stage. Go beyond it."
Professional Advice from Stephanie Jump:
On time management:
Don't wait until the last minute to do things. I was the queen of that. Plan accordingly for your deadlines so you're not rushing to finish everything right before it's due.
On having thick skin:
Have a strong backbone. There will be some people who like your work, and some people who don't. You have to learn not to take things personally. You also have to be willing to put in the work. Things don't happen overnight. I spent hours photographing shows, editing pictures, and learning the trade. You have to be dedicated to find success.
On balance:
Take a day that you don't do any schoolwork. You need a day for you, a brain break.
On entrepreneurship:
I had to Google everything. I had no idea what I was doing, especially at tax time. I can't be afraid to ask questions. I know self-management from Excelsior, so that really has helped me run a business. I like to do my own thing and be in control of what I'm doing and how I make my money. I also prefer to make my own schedule, especially with a three-year-old.
On her psychology degree:
I know how to talk to people because I know how people's brains work. I know how to talk to people with certain anxiety disorders or depression. I can get people to open up because I know how they're feeling.
On improving as a photographer:
Learn how to utilize different camera setups for various situations. For example, learning how to use manual mode on your camera will help when you're taking pictures in low-light situations. Being able to adjust your approach for different light hues and intensities is incredibly helpful. You should also familiarize yourself with where you're shooting pictures, because many times that will dictate what photography techniques will be most effective. If you're looking for a good place for photography tips, I learned most of what I know through YouTube videos.
On her Excelsior experience:
My Excelsior professors were always very encouraging. Any time I had an issue with an assignment, they were always very helpful and understanding. They truly make you feel good about yourself and the classwork you're doing. My experience at Excelsior has helped me learn to manage myself and my business, and I would recommend it to anyone.
Stephanie Jump transferred all the credit she earned at SUNY Broome to Excelsior College as part of our 3+1 bachelor's completion program.