Dr. James Baldwin appointed President of Excelsior College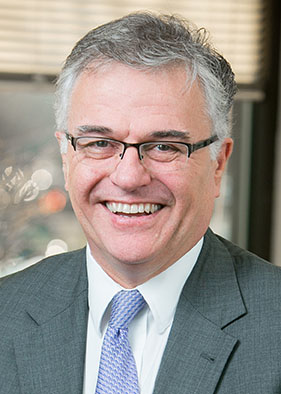 Dr. James N. Baldwin has been named president of Excelsior College, the institution announced today. Baldwin had been serving as the College's acting president following John Ebersole's decision to step aside in May due to health reasons. The announcement of Baldwin's appointment was made by Brigadier General (Retired) Jerry Neff, chair of the College's Board of Trustees, during a campus-wide address Wednesday morning.
"Jim admirably stood up when called upon and has helped navigate the College during a very challenging time in our history," said Neff. "The sense of mission here at the College is unparalleled, and Jim reflects the type of values-based leader that we need to carry the institution forward."
"For more than four decades, Excelsior has served an essential public purpose – helping adults obtain a college degree – and that will remain paramount," said President Baldwin. "Moving forward we will focus on providing adult learners with continuing education, degree completion, and career readiness opportunities while affirming our commitment to our core values of academic integrity, accessibility, and affordability."
Before assuming the role of acting president in June, Baldwin served as Excelsior's executive vice president.
Prior to arriving at the institution in September 2014, Baldwin served as CEO and district superintendent for Questar III BOCES, where he led the agency in the development of innovative and cost-saving programs and services and was responsible for the oversight of 23 school districts in the region on behalf of the commissioner of education. He also served as chief of staff and acting deputy commissioner for higher education in the New York State Education Department and as executive deputy secretary of state for New York.
Baldwin earned a Doctor of Education in organization and leadership from Teachers College of Columbia University, a Juris Doctorate from Albany Law School of Union University, and a Bachelor of Arts in political science at Union College. He is admitted to the bar in New York State and the U.S. District Court.
Baldwin is Excelsior's third president in its 45-year history. The College's first president, C. Wayne Williams, was succeeded by Ebersole in 2006.
-30-
Excelsior College (excelsior.edu) is a regionally accredited, nonprofit online college focused on helping adults complete their degrees and advance their careers. The College contributes to the development of a diverse, educated, and career-ready society by valuing lifelong learning with an emphasis on serving individuals historically underrepresented in higher education. Founded in 1971, Excelsior meets students where they are – academically and geographically –  removing obstacles to the educational goals of adults pursuing continuing education and degree completion. Our pillars include innovation, flexibility, academic excellence, and integrity. Learn more at excelsior.edu.