World Kindness Day : Thanks for Giving a Helping Hand
November 13 is World Kindness Day, but it doesn't take an official date on the calendar to make the world a better place. Everyone can make a difference in the life of someone else with a thinking-of-you text, a nice gesture, or doing something to make life a little sweeter.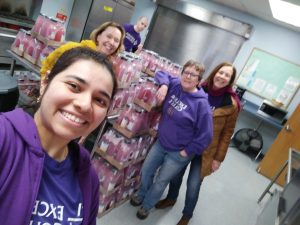 Acts of Kindness Through Excelsior Cares
At Excelsior College, employees help with community events, drives, and fundraisers to expand the College's mission of service to the underserved by assisting with critical needs of the community.
Throughout the year, employees support a variety of causes and volunteer individually and collectively to show Excelsior Cares. Employees are also offered Volunteer Time Off (VTO) to participate in community activities during the workday. In 2018, 138 staff members helped 52 organizations and donated 541 VTO hours.
Looking back at 2018, Excelsior employees also made an impact on some large community projects. During Excelsior Cares Volunteer Week this past April, 108 volunteers helped with 23 community projects at such organizations as Veterans Miracle Center, Ronald McDonald House, Crohn's Colitis Foundation, Salvation Army, Cystic Fibrosis, Mohawk Hudson Humane Society, Alzheimer's Association, American Heart Association, Special Olympics, and JDRF. The National Volunteer Week projects included sorting inventory items, cooking, promoting upcoming charity events, painting, feeding the hungry, and cleaning. This was significant as both the size and scope of projects increased from a year ago when 57 employees helped with 9 community projects during Volunteer Week.
Excelsior Cares
Why is the Excelsior Cares culture of giving so important? For employees, helping the community is a chance to learn about themselves and others. It is a chance to appreciate what they have when you see firsthand others who are less fortunate. It is also an opportunity for employees to learn about services provided by many non-profits in the community and perhaps refer others to. It is also a chance to meet and work with colleagues from various units across the College while serving great causes.
Beyond feeling good and helping others, the feedback we receive from organizations is inspiring. For example, Nancy Pechony, logistics director from Veterans Miracle Center, stated, "It was wonderful having your group here. They were a great blessing to us, enabling us to get so much more humanitarian aid packaged to go out than we ever could have with just our own staff. Thank you more than words can express!"
Carolyn Braunius, associate director of development, Capital District Region, Special Olympics New York, shared, "Thank you so much for letting Special Olympics New York be a part of Excelsior Cares volunteer day! We had such a great time working with the volunteers from the College, and they made such a huge difference for us here at our organization! Five volunteers worked seamlessly with staff and five of our athletes to clean out and organize our equipment storage facilities."
In addition to Volunteer Week, in 2018, employees raised more than $3,000 from a themed gift baskets fundraiser to support local community projects in need of assistance throughout the year. They donated to special collection drives like Adopt a Family and Toys for Tots and collected 646 pounds of food for the Regional Food Bank's inaugural Hunger Action Challenge.
Planning for 2019 community engagement activities has begun, and Excelsior employees look forward to lending a helping hand on world kindness day and beyond throughout the Capital Region.