Excelsior College Announces Founding Director of the Center for Social Justice and Chief Diversity Officer
Albany, New York—Excelsior College is pleased to announce Daniel Pascoe Aguilar, PhD, MDiv, as the founding director of the Center for Social Justice and chief diversity officer.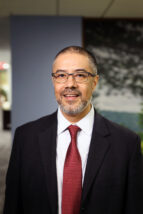 Pascoe Aguilar brings a holistic view of social justice and diversity, equity, and inclusion to this role and is committed to developing a diverse and interculturally developed next generation of leaders. He has extensive experience as a leader in higher education and has served on think tanks and strategy groups like the Future Talent Council. His thought leadership on social justice has both national and international reach.
"Daniel brings great experience and a rich perspective to this role," said David Schejbal, president of Excelsior College. "His collaborative approach to both the student and employee will be important to the work of DEI and social justice at Excelsior."
Pascoe Aguilar has more than 30 years of leading and managing a diversity of higher-education, social service, and religious organization professional teams and programs. He also has more than 20 years of progressive performance in student development systemic leadership, proactive collaborations, tactical administration, strategic planning and assessment, technology innovation, and theory/data/practice-informed management.
"I am deeply honored to become part of the leadership of an institution with such a keen and moving focus on equitable access to higher education, on the integration of the student story into their curriculum and development, and on our necessary collective and individual fight for social justice," said Pascoe Aguilar.
Excelsior's commitment to social justice and diversity, equity, and
inclusion are deeply rooted in the mission, vision, and values of the institution. For more than 50 years, Excelsior College has opened doors for those who haven't seen themselves reflected in traditional higher education. Through a Center for Social Justice, Excelsior will have a hub for its efforts to elevate the understanding and appreciation for diversity, equity, and inclusion and social justice among the College's stakeholders, and incorporate the principles of social justice into the College's culture and operations so that they are reflected in the student experience and in the day-to-day running of the College.
# # #
 Media Contact Excelsior College:
Erin Coufal, ecoufal@excelsior.edu, 518-608-8498
 ABOUT EXCELSIOR COLLEGE
Excelsior College is an accredited, not-for-profit online college focused on helping adults complete their degrees and advance their careers. The college contributes to the development of a diverse, educated, and career-ready society by valuing lifelong learning with an emphasis on serving individuals historically underrepresented in higher education. Founded in 1971, Excelsior meets students where they are — academically and geographically — removing obstacles to the educational goals of adults pursuing continuing education and degree completion. Our pillars include innovation, flexibility, academic excellence, and integrity.