Excelsior College a "Best for Vets" institution for the seventh time in a row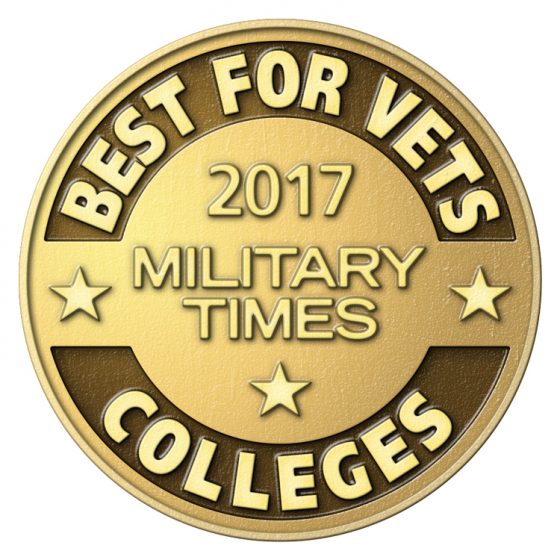 Excelsior College has been recognized as a "Best for Vets" College for the seventh consecutive year by Military Times. The eighth annual rankings factor in the results of Military Times' comprehensive school-by-school survey of veteran and military student offerings and rates of academic achievement.
"This is a recognition of Excelsior College's commitment to meeting the unique needs of our servicemembers and their families," said Susan Dewan, assistant vice president for Center for Military Education at Excelsior College. "Excelsior's core values of accessibility, affordability, and academic excellence guide our work every day as an organization and we're proud to have been honored once again by Military Times."
As with all Best for Vets rankings, Best for Vets: Colleges 2017 is an editorially independent news project that evaluates the many factors that help make colleges and universities a good fit for service members, military veterans and their families. More than 500 colleges took part in this year's detailed survey.
"We limit our list to encourage competition, and we genuinely hope this helps raise the bar for veterans on campus," said Amanda Miller, editor of Best for Vets.
Military Times' annual Best for Vets: Colleges survey asks colleges and universities to meticulously document a tremendous array of services, special rules, accommodations and financial incentives offered to students with military ties; and to describe many aspects of veteran culture on a campus. These institutions were evaluated in several categories, with university culture and academic outcomes bearing the most weight.
Military Times also factors in data from the Veterans Affairs and Defense departments, as well as three Education Department sources: the IPEDS Data Center, College Scorecard data and the Cohort Default Rate Database.
For the full Best for Vets: Colleges 2017 rankings, and survey methodology, go to: www.militarytimes.com/bestforvets-colleges2017.
Among the more than 37,000 currently enrolled students, over 17,100 are current or former servicemembers. For each of them, Excelsior College's Center for Military Education serves as an essential support resource as they pursue their degree. The array of financial, mental health, and wellness services offered through the Center also helps veterans with the transition back to civilian life. A popular degree program for military and veterans is the Bachelor of Science in National Security.
-30-
About Excelsior College
Excelsior College (excelsior.edu) is a regionally accredited, nonprofit online college focused on helping adults complete their degrees and advance their careers. The College contributes to the development of a diverse, educated, and career-ready society by valuing lifelong learning with an emphasis on serving individuals historically underrepresented in higher education. Founded in 1971, Excelsior meets students where they are – academically and geographically –  removing obstacles to the educational goals of adults pursuing continuing education and degree completion. Our pillars include innovation, flexibility, academic excellence, and integrity. Learn more at excelsior.edu.
About Military Times
The Military Times digital platforms and print products are the trusted source for independent news and information for service members and their families. The military community relies on Army Times, Marine Corps Times, Navy Times and Air Force Times for reporting on everything important to their lives, including: pay, benefits, finance, education, health care, recreational resources, retirement, promotions, product reviews, and entertainment. Military Times is published by Sightline Media Group. To learn more, visit www.militarytimes.com.