Excelsior College Embarks on Fall & Holiday Season of Community Engagement
Albany, NY – The fall is a busy season of giving back to the community at Excelsior College, as volunteerism is part of the work culture. From September through the end of the calendar year, employees donate hours during the workday to help with various service projects. Dedicated to the belief that a strong social fabric creates opportunity, Excelsior Cares expands the College's mission beyond the online classroom by helping to meet critical needs in the community.
During September, Excelsior College employees participated in the Regional Food Bank of Northeastern New York's 2nd Annual Hunger Action Challenge. More than 500 food and personal hygiene items, totaling 397 lbs., were collected for distribution to charitable agencies serving hungry and disadvantaged people in 23 counties of northeastern New York.
Employees are gearing up for the fourth year of fundraising with a GO PINK in October campaign. Excelsior College sponsors both the Making Strides in Albany (October 20) and the Making Strides in Glens Falls Walk (October 27) with employees volunteering at both events. Making Strides is the largest network of breast cancer events in the nation. This event helps the American Cancer Society fund groundbreaking breast cancer research and provide patient services like free rides to chemo appointments, free places to stay near treatment, and a live 24/7 cancer helpline. According to the American Cancer Society, about 271,270 new cases of invasive breast cancer will be diagnosed in 2019. We invite the community to join us at both walks.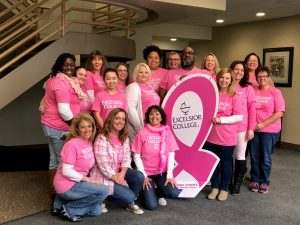 "Supporting and being actively engaged in activities like Making Strides is important to do in general, but it also supports and aligns with Excelsior College's mission of helping everyone succeed in their life goals regardless of their background and life challenges," says Mark Howe, vice president of human resources at Excelsior College.
In November, Excelsior College employees will help with the Annual Equinox Thanksgiving Dinner prep and contribute to 518 SNUG Annual Turkey Drive.
Excelsior College will once again hold collection drives for gifts and necessities for Toys for Toys, Things of My Very Own, and the Albany County Adopt A Family campaign. Last year, Excelsior College helped two local families with young children through the Albany County Adopt A Family program. Employees also filled multiple collection drive boxes for a grand total of more than 325 gifts and donations for these three causes.
For more information on the Excelsior Cares community engagement program, visit https://cares.excelsior.edu/
# # #
Media Contact: Alicia Jacobs, ajacobs@excelsior.edu               (518) 464-8531
ABOUT EXCELSIOR COLLEGE
Excelsior College (excelsior.edu) is a regionally accredited, nonprofit online college focused on helping adults complete their degrees and advance their careers. The college contributes to the development of a diverse, educated, and career-ready society by valuing lifelong learning with an emphasis on serving individuals historically underrepresented in higher education. Founded in 1971, Excelsior meets students where they are — academically and geographically — removing obstacles to the educational goals of adults pursuing continuing education and degree completion. Our pillars include innovation, flexibility, academic excellence, and integrity. Learn more at excelsior.edu.