Excelsior College Inaugurates Dr. James N. Baldwin as its Third President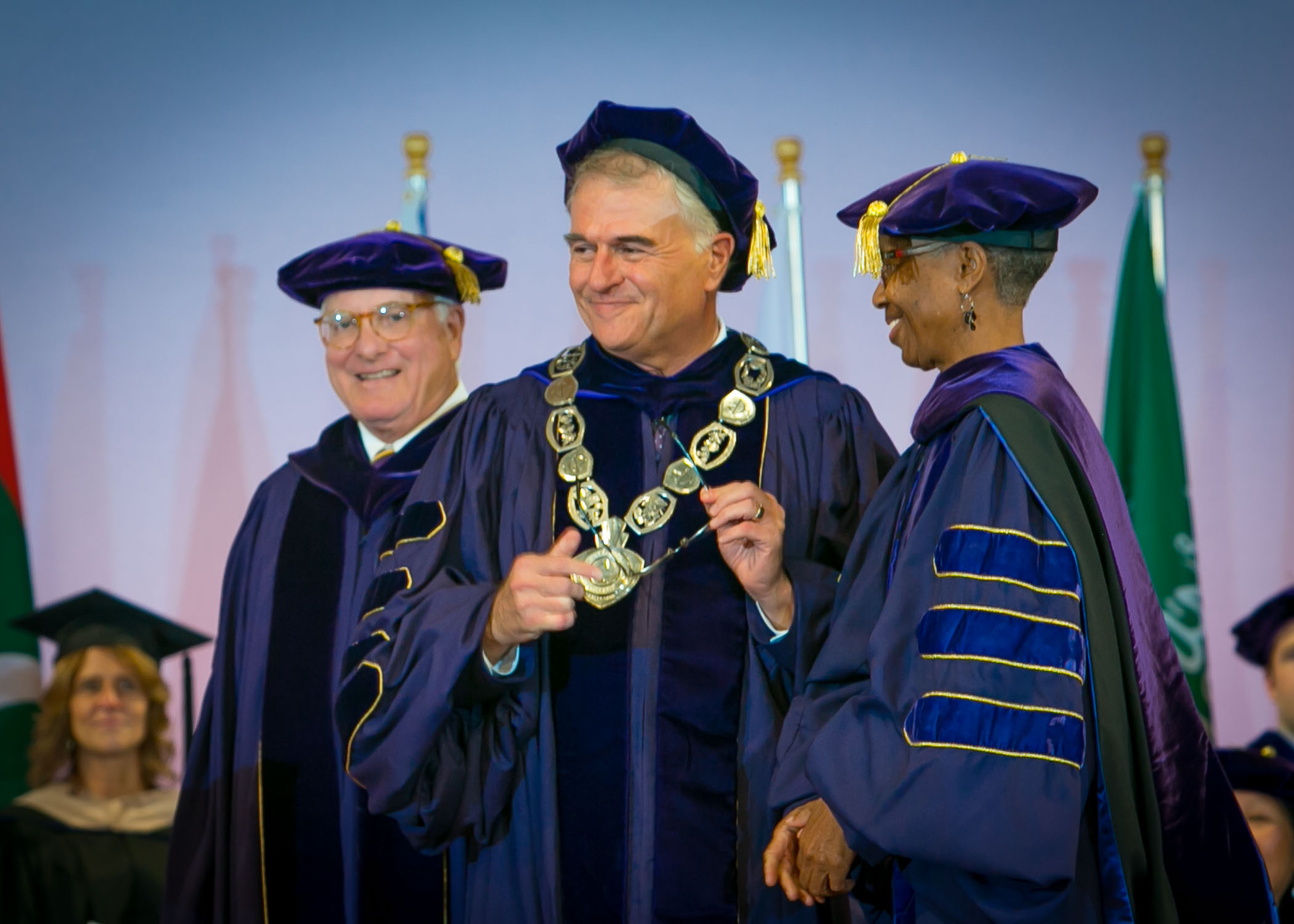 Excelsior College inaugurated its third president, Dr. James N. Baldwin, on Friday, July 14, as part of its annual Commencement ceremony in Albany, New York. Brig. Gen. (ret.) Jerry Neff, chair of the College's Board of Trustees, presided over the investiture.
"Human learning has, in effect, been our endless quest for the truth – and, despite what we read, see, and hear in the news today, the truth always matters," proclaimed Baldwin during a 12-minute inaugural address focused on his upbringing, the transformative power of education, and Excelsior's future. "Hold those you disagree with accountable for the truth – and hold those you agree with to an even higher standard of accountability and integrity."
Sharing his vision for the future of Excelsior, Baldwin, who has served as president since October 2016, promised to build on the College's past successes while placing a relentless focus on providing access, affordability, and an exceptional student experience. Excelsior, a private, nonprofit online college, is home to five schools and more than 32,000 adult learners.
"For 46 years, we have served as a beacon for those left behind by traditional educational institutions. I can promise you this…We will reclaim our place as a leader and innovator in higher education," said Baldwin, to wide applause from the more than 2,400 in attendance, including over 400 graduates, family, and friends.
In addition to the inauguration, the ceremony included the awarding of the President's Medal to Dr. Betty A. Rosa, Chancellor of the New York State Board of Regents, and the granting of honorary degrees to Dr. Carolyn A. Woo, former president, and CEO, Catholic Relief Services, and Dr. Karen Cox, executive vice president and COO of Children's Mercy-Kansas City. Cox also served as Commencement speaker.
Excelsior College is a regionally accredited, nonprofit online college focused on helping adults complete their degrees and advance their careers. The College contributes to the development of a diverse, educated, and career-ready society by valuing lifelong learning with an emphasis on serving individuals historically underrepresented in higher education. Founded in 1971, Excelsior meets students where they are – academically and geographically – removing obstacles to the educational goals of adults pursuing continuing education and degree completion. Our pillars include innovation, flexibility, academic excellence, and integrity. Learn more at excelsior.edu.