In the Patient's Corner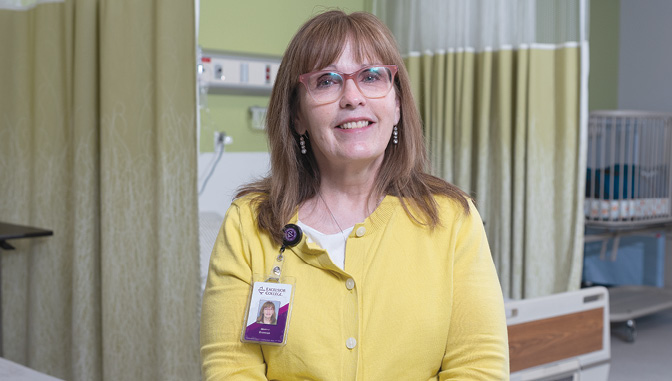 Marianne Brennan Believes Being a Nurse Means Advocating for Others
Marianne Brennan believes in advocating for people who can't speak up for themselves. Now a faculty program director for Excelsior College's associate degree in nursing program, Brennan has an extensive background as an operating room nurse, and throughout her career has always put her patients first.
Brennan spent the past 20 years as a director in Perioperative Services in Saratoga Hospital and Ellis Hospital, but began her career as a LPN working as a surgical technician, where her love of working in the OR began. She earned her associate degree in nursing from Excelsior College in 1991 and began her career as an RN. She then earned a bachelor's degree in community and human services from Empire State College, and began pursuing her graduate degree at the Sage Colleges. After a time, she returned to Excelsior College to complete a master's degree in nursing in 2013. She notes that as a single mother with a full-time job, Excelsior's distance—and later online—program was the perfect fit for her. She says earning an associate degree enabled her to better her life and her daughter's.
Brennan always wanted to be a nurse, especially one who works with patients in vulnerable states like being seriously ill or under anesthesia. "I thought I could make a difference…I chose my specialty because I could make a difference when patients couldn't advocate for themselves," she says, "I care about patients and I care about them when they're at a vulnerable state, when they can't speak up for themselves, when they can't say 'no, don't do that,' or 'this is wrong'…I've always gravitated to that."
Nurses in operating rooms fill the role of the circulating nurse and they also can scrub in to assist the surgeon. The circulating nurse meets and interviews the patient to prepare them for surgery. As part of the team, they are often the driver to make sure the right surgery is being performed on the right patient and that everything needed is in the room. Brennan explains, "They're the ones who are watching out for the patient. So, they make sure the patient is positioned correctly so there's no pressure injuries; they make sure everything is there and available for that patient; the nurse is there as the patient, physician, and organizational advocate."
Being in charge of the patient's safety and well-being is all part of the job to Brennan. It stems back to the basic principles of caring for someone else. Brennan believes caring for your patients means always doing the right thing. She says, "Treat that patient like you would want to be treated, like they're a member of the family." She even notes she has been in situations where she has had to stand up for her patient's rights in a difficult or uncomfortable situation, and hold up proceedings until all discrepancies were resolved. "If that was me on the table, would that be okay? If that was my mother, would it be okay? If the answer is no, then we have a problem and we need to fix it," she explains.
It's difficult to be an OR nurse, says Brennan, noting the physical, strenuous nature of the work. There is also a lot of pressure to turn over a room, with the competing priorities faced by OR nurses as they need to ensure completeness of equipment and set-up, as well as comprehensive review of their patient prior to entering the OR. She notes that it takes up to a year to train nurses in this specialty, so it can be challenging to commit to this timeline. "Excellence is an expectation, not an option…you can't be lackadaisical or cavalier," she says of the position.
Brennan hasn't been in the OR since last November, but that doesn't mean she is finished sharing her knowledge or learning from others. She has always wanted to do more. As a LPN, she wanted to keep progressing in nursing, so she became an RN and eventually moved into leadership roles. And then, she wanted to continue to progress and to keep learning. "I don't ever want to stop learning because there's so much out there," she says. In her role as faculty program director with Excelsior, a position she started in November 2018, she is excited to learn all she can and help nursing students navigate the associate degree in nursing program and prepare for the Clinical Performance in Nursing Examination, the culminating exam of the associate degree in nursing program, as well as move forward in their own careers.
If you want to be a nurse, notes Brennan, you have to find what's right for you and what fits your lifestyle. You'll know it is what you're meant to do, she says, because being a nurse is part of your personality. "It's your identity; it's who you are…I can't imagine being or doing anything else…I wasn't meant to do anything else," says Brennan.