Sharing Her Knowledge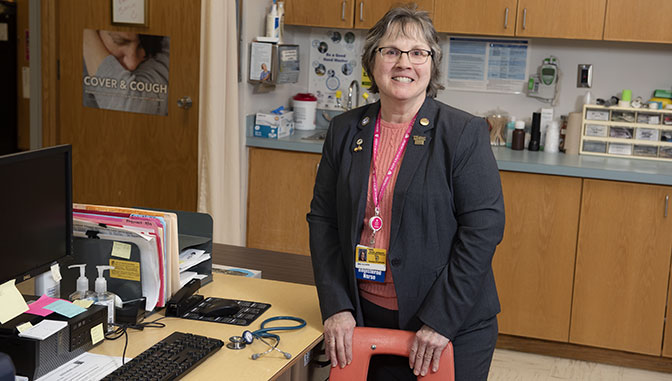 Lou Ann Gleason uses her three nursing degrees to help students and the community
Lou Ann Gleason of Ellisburg, New York, has been a part of the nursing team at the South Jefferson Central School District for more than 25 years, beginning her full-time career as a school nurse in 2004. She's a three-time graduate of Excelsior College who sought the next levels of education to move up in her career. Her career has now taken her to the role of president of the New York State Association of School Nurses where she is able to influence and teach new generations of nurses.
As president of the association, Gleason is proud to uphold its mission "to advance the practice of school nursing and enhance the educational success of students by promoting quality health services." Gleason has been a member of NYSASN since 2004 and since 2012, she has served as the zone representative, education chair person, as president-elect, and now as president.
NYSASN holds an annual conference and an annual School Nurse Orientation (SNO) for nurses to share and learn new nursing techniques, news, and information. The next NYSASN Annual Conference will be in November 2020 in Batavia, and will cover topics including PTSD, emergency care, "stop the bleed," and mass casualty triage. According to Gleason, "School nurses from across the state will have the opportunity to learn techniques to be better prepared for emergencies."
Gleason finds being a school nurse a rewarding way to make a difference in a student's life. "It gives me a chance to provide care and help teach healthy lifestyles to students, families, and staff," she says, noting that her master's in nursing education specifically has prepared her to do this. She's also able to deliver health education to the community. She says, "I think one other thing about the additional degrees—the bachelor's, master's—I think it gave me the knowledge not at the entry level, but more at the community level. And that was so valuable to be able to work with families and other agencies, even in our school community."
Gleason knew she wanted to be a nurse when she was a teenager. In her senior year of high school, she began attending BOCES Technical Center in Watertown to become an LPN and when she graduated, she went to work at the House of the Good Samaritan Hospital. She started a family and as her children entered the school system, Gleason became a substitute LPN for the South Jefferson Central School District and Belleville Henderson Central. In 1992, she took a full-time position at South Jefferson as a school LPN.
At that time, Gleason knew that to advance in her career, she needed more education. A traditional brick-and-mortar institution wouldn't fit in with her lifestyle, however; her husband and she both worked, and they had four children to care for. That's when she came across a flyer for Excelsior College. She was hooked on the ability to learn at her own pace, and that the College would accept her LPN experience as credit toward the degree. "I read that they would take my experiences as an LPN and…I guess I made it up in my mind when they said that you can learn at your own pace and be home," she says. Gleason earned an associate and a bachelor's degree in nursing from Excelsior College in 2004 and 2011, respectively. In 2015, she earned a Master of Science in Nursing Education, which has broadened her role as a school nurse and introduced new opportunities for making an impact.
She is also a member of the South Jefferson School District pupil services team, which addresses student needs to make accommodations for classroom learning, and she serves on the district safety team. Gleason personally provides educational trainings to teachers, support staff, and bus drivers, including anaphylaxis training. "I teach our school staff about chronic conditions so the staff can recognize warning signs of a problem earlier and alert the school nurse. This leads to improved student outcomes," she says.
Gleason continues to attend workshops conferences and has worked at Jefferson County Public Health in the past to keep her skills up to date and stay current on trends in the medical world. She is a proponent and advocate for lifelong learning and has used her various positions with organizations like NYSASN to teach others. She often tells her school staff to send in their transcripts to schools, particularly Excelsior, to find out if they are a good candidate for the nursing program. And though she has considered going back to school for a PhD, she says she's happy just where she is, helping students and staff in the South Jefferson School District.