Excelsior Welcomes New Members to Board of Trustees Vol 2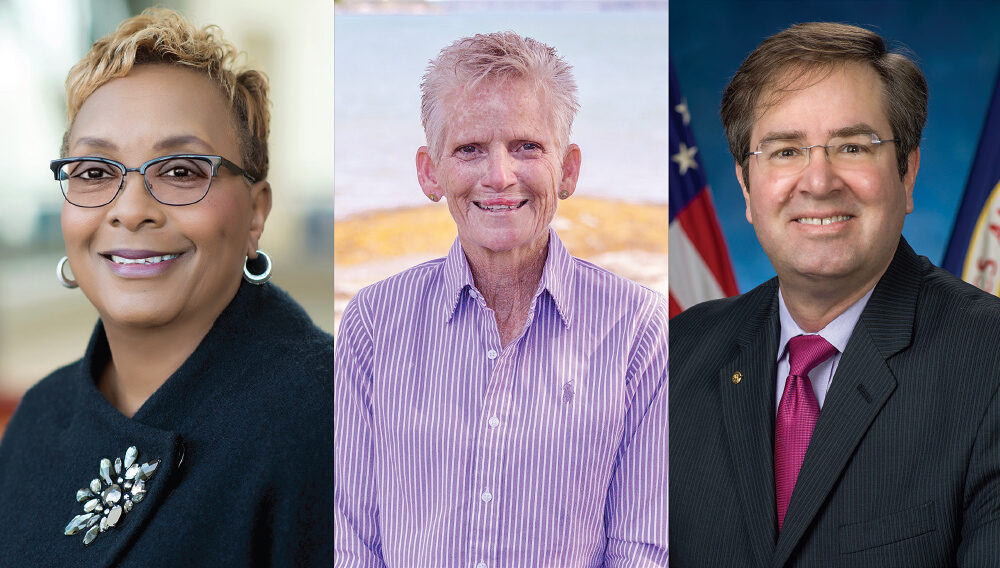 New members of the board of trustees include (from left to right) Charlene Dukes, Gretchen Evans, and Mark Bowman.
In January 2021, two new members joined the Excelsior Board of Trustees: Charlene Dukes, president emerita of Prince George's Community College and Gretchen Evans, a retired Texas command sergeant major and author/motivational speaker. In July, Mark Bowman, the newly elected president of the Alumni Association, joined the board as an ex-officio member.
Charlene Dukes was previously the first female president of Prince George's Community College. Dukes has held membership in a variety of professional organizations and served as chair of several others. She serves as chair of the board of the Meyer Foundation, secretary of the Greater Washington Community Foundation, member of the CareFirst Inc. Board of Directors, and immediate past convener of the Presidents' Round Table. She serves as a mentor for the Aspen Rising Presidents Fellowship Program, and was appointed in July 2020 by the county executive to serve as co-chair of Prince George's Forward, a taskforce charged with the post-COVID transformation of Prince George's County.
Dukes is the recipient of many awards and recognitions, including the 2020 Catalyst Award from the Prince George's County Chapter of Jack and Jill of America Inc., the 2016 Washingtonian of the Year, the 100 most powerful women in the metropolitan area in the 2013, 2015, and 2017 Washingtonian, the 2014 recipient of the Dr. Reginald Wilson Leadership Diversity Leadership Award, the Living Legacy Award presented by the Association for the Study of African Life and History (ASALAH), and the 2008 Distinguished Alumnus Award from Indiana University of Pennsylvania.
Dukes has an EdD in Administrative and Policy Studies from the University of Pittsburgh, an MA in Education from the University of Pittsburgh, and a BS in Secondary Education from the Indiana University of Pennsylvania.
Gretchen Evans serves veterans as a board member of several organizations and volunteers with the Guide Dog Foundation and America's Vetdogs.
Evans entered the U.S. Army in September 1979 and was assigned as an intelligence analyst for commander in chief, Europe. Following her time with the Counterintelligence Agent Program at Fort Huachuca, she studied German and Italian at the Defense Language Institute in Monterey, California. After graduation, she was assigned to the 66th Military Intelligence Group, Field Office Vicenza, Italy. She was directly involved in the pursuit and subsequent release of General Dozier from his kidnappers.
Evans joined a black operations unit and attended Basic Airborne and Advance Airborne training at Fort Benning, Georgia, and later oversaw all training for the counterintelligence agents and interrogators of the 519th Military Intelligence Battalion, Fort Hood, Texas.
She has earned many medals and awards, including the Combat Action Badge, the Bronze Star, the Presidential Unit Citation Medal, and Global War on Terrorism ribbons, 6 Meritorious Service Medals, and other awards. She was wounded in Afghanistan by a mortar round blast, which resulted in a traumatic brain injury, total hearing loss, and other wounds. Evans was awarded the Saginaw Valley State University Veteran Alumni of the Year in 2016 and was inducted into the U.S. Army Women's Hall of Fame in March 2021.
Evans earned a BA in Sociology from Saginaw Valley State University.
Mark Bowman works for NASA as the Soyuz spacecraft systems and crew operations lead, responsible for maintaining engineering knowledge of Russian spacecraft and launch vehicles to ensure the safety of U.S. astronauts during Soyuz flight operations. He serves on the NASA engineering team that is evaluating parachute systems on the Boeing and Space-X crewed vehicles. He is responsible for all voice communication with the astronauts in space.
Bowman's career has included positions as NASA's deputy director of human space flight programs in Russia and as an attaché at the U.S. Embassy in Russia. Prior to that, he spent nearly 20 years developing hardware for medical research and crew health support aboard the space shuttle Mir Station and the International Space Station. He spent more than six hours weightless in nearly 20 flights aboard NASA's zero-G research aircraft.
The 2014 recipient of the Alumni Achievement Award, Bowman earned a BS in Liberal Arts from Excelsior College in 2000. He also earned a MS in Technical Management from Embry-Riddle Aeronautical University. He speaks fluent Spanish and Russian.