Excelsior Welcomes New Members to Board of Trustees Vol 1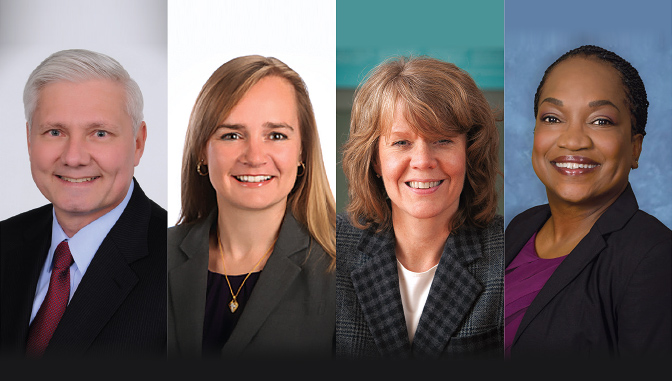 Trustees new to the board are (left to right) Kent Clark, Jennifer Gentry, Karen Kocher, and Quintessa Miller.
In January 2020, four new members joined the Excelsior Board of Trustees: Kent Clark, president and chair of the board of Clark Advisory Group and former CEO of AMVETS National Service Foundation; Jennifer Gentry, chief nursing executive, Providence Portland Medical Center; Karen Kocher, global general manager, skills and employability, 21st Century Jobs; and Quintessa Miller, a plastic surgeon practicing at Fort Walton Beach Hospital NWF Multispecialty Physicians LLC.
A military veteran, Kent Clark is certified in board and advisory work in cybersecurity, governance, finance, audit, strategic planning, and development for nonprofit and for-profit organizations. Prior to joining AMVETS, he was chief appropriations advisor and national security director for the office of U.S. Rep. C.W. Bill Young. Clark is the non-executive director of the National Association of Nonprofit Organizations and Executives and is the past national commander general in the Military Order of Foreign Wars. Clark earned a Master of Arts in Public Policy Management from Georgetown University. He earned a Bachelor of Arts in Liberal Arts from Regents College in 2000, after receiving an Associate of Arts in Industrial Technology and Business from Pierce College.
In her role as chief nursing executive, Jennifer Gentry is responsible for nursing strategic plans, quality outcomes, and caregiver wellness across the Providence Portland Medical Center facility. Previous to her current role, Gentry worked for Christus Spohn Healthcare System based in Corpus Christi, Texas, from 2012 to 2017, as a nurse manager, director of nursing operations, regional chief nursing officer, and chief nursing officer. Gentry is also an instructional faculty member and clinical examiner for Excelsior's associate degree in nursing program. She is a member of several organizations, including the American Nurses Association, Texas Nurses Association, and Del Mar College Nursing Advisory Board. A three-time graduate of Excelsior College, Gentry earned an associate bachelor's, and master's degree in nursing, in 2004, 2011, and 2015, respectively. She received her practical nursing education from Coastal Carolina Community College.
Karen Kocher has held senior human resources, health care, and sales leadership roles in insurance, information technology, consulting, and business outsourcing across the United States, Europe, and Asia. Prior to her current position, she was the chief learning officer and talent executive for Cigna Corporation; the global content executive, Software Division at IBM; and vice president/P&L leader at New England Learning Services Business for IKON Office Solutions. She is a member of six boards, including the Glint Advisory Council, Jobs for America's Graduates, and UpSkill America's Business Champions. She has received many awards, including the Women Super Achiever Award, a Global HR Excellence Award, 2015. Kocher has been featured in several publications, is the contributing author of three published works, and has earned the Chartered Property Casualty Underwriter (CPCU) designation. She earned a Bachelor of Arts in Political Strategy and Communications from DePaul University.
A highly decorated member of the Air Force, having achieved the rank of colonel, Quintessa Miller has served as commander for the 96th Surgical Operations Squadron. In addition to practicing at Fort Walton Beach Hospital NWF Multispecialty Physicians LLC, she is a staff plastic surgeon at Eglin Hospital, Eglin Air Force Base. Her areas of specialty include breast reconstruction, massive weight loss surgeries, wound care, body contouring, facial cosmetic surgery, Mohs reconstruction, generalized reconstruction, and injectables. Miller is board certified by the American Board of Plastic Surgery. She is a fellow of the American College of Surgeons and a member of the American Society of Plastic Surgeons, the American Society for Aesthetic Plastic Surgery, and the Florida Medical Association. Miller's honors include the Surgeon General's Award for Best Scientific Paper Presented in Plastic Surgery by The Society of Air Force Clinical Surgeons 50th Annual Meeting, the Paul W. Myers Award for Excellence in Resident Research Competition Award, and the Air Force Achievement Medal, among others. She earned an associate degree in mathematics from El Camino College, a bachelor's degree in mathematics from the U.S. Air Force Academy, and a medical degree from the Morehouse School of Medicine.
---