5 Takeaways from NY NECANN Cannabis and Hemp Convention
As conditional adult-use retail dispensary (CAURD) licensing becomes available, what's the state of the cannabis industry in New York?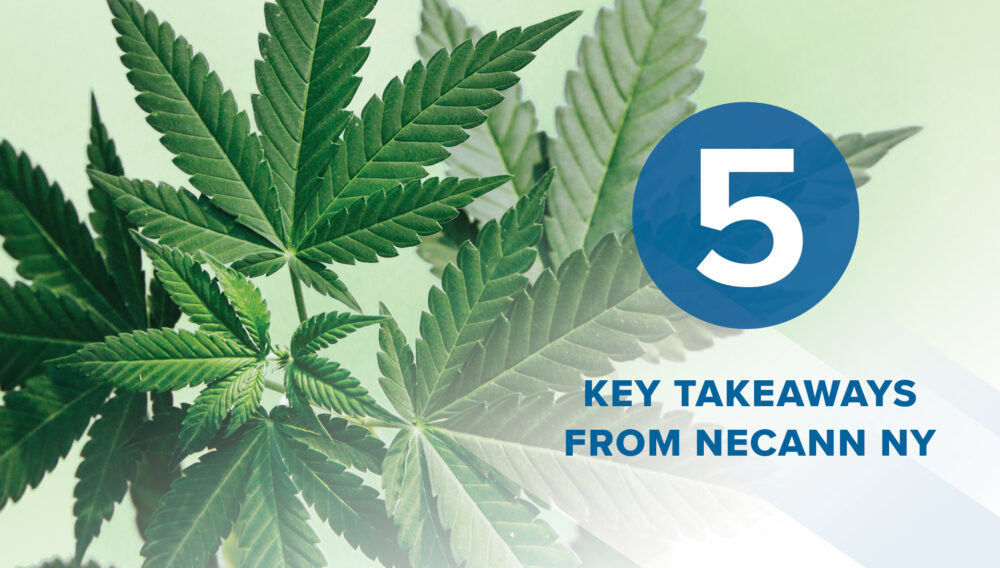 Since March 31, 2021, and the legalization of recreational adult-use cannabis in New York, the cannabis industry has continued to evolve. The opening of Conditional Adult-Use Retail Dispensary licenses has thrown yet another change in the mix.
According to Tremaine Wright, chair of the New York State Cannabis Control Board, the approach New York state has taken to the cannabis industry is as "uniquely New York" as a New York bagel.
5 Takeaways from NY NECANN:
1. New York is challenging businesses to think about cannabis holistically.
In her keynote address to open the conference, Wright urged individuals to remember that cannabis is an industry first and foremost, and it must be integrated into existing industries. The cannabis industry will be able to learn from and borrow from other industries, like the food industry, for example, when it comes to low-cost packaging or supply chain management for distribution within the state from New York farmers and growers.
When considering entering the cannabis industry in New York, Wright believes the key to success lies in staying authentic to the business you currently run. If you are a lawyer, consider including cannabis clients. If you are an accountant, get trained to be able to take on cannabis retail businesses. If you make skincare products, branch out to include CBD, hemp, and/or THC cannabis products. If you offer yoga and meditations, consider creating cannabis-infused experiences.
Less talked about is that with this creation of industry, regulations have changed for both CBD and hemp, and both substances are included under the purview of the Office of Cannabis Management. Hemp business registration has fewer regulations than THC cannabis, with a retail license fee of $300.
2. Social Equity is at the heart of the industry in New York state.
The first round of licenses, CAURD licenses, allow for those who are "justice-involved," meaning individuals who have prior marijuana convictions in New York state or family members impacted by marijuana convictions, to have the opportunity to start turnkey dispensary businesses. While some criticisms exist around this program, New York is the first state to adopt this approach to righting what the state and industry see as injustices. But it is just the first step. Still to come are retail application periods for women-owned businesses, minority-owned businesses, and disabled veteran-owned businesses before opening licensing applications to the general public.
At the end of the day, the need for social equity does not only lie on the business side of the industry but also on the consumer side through medical use. The proposed medical regulations that are currently up for public comment eliminate some of the stigma around cannabis use. Under these regulations, any provider who can write prescriptions can prescribe whole flower cannabis for any condition certified by the practitioner.
3. Banking and taxation continue to be a complex issue for cannabis business.
The original Marijuana Regulation and Taxation Act (MRTA) offered proposed taxation levels that would be levied on cannabis products. As the office has had a full year to get its bearings, more regulations are being released every quarter. As the development of the retail side of the industry begins, cannabis-trained accountants stress the need for specialty trained and experienced professionals as a part of retail business plans and strategy. These issues are not to be solved by federal legalization, but are only made more complex if and when federal legalization comes through. Federal legalization could add additional taxes on top of the state-imposed taxes.
Banking remains a challenge for cannabis businesses. According to a representative from Lighthouse Biz, a cannabis banking solution based in Massachusetts, the banking challenges stem from risk management and compliance. While the SAFE banking act has yet to fully pass through Congress and become law, it will go a long way in helping to make cannabis banking more accessible from other financial institutions and entities. For now, finding a bank willing to take the risk of doing business with cannabis business can be a challenge.
The commerce industry can be hard to wrap your brain around. In Excelsior's cannabis control certificate program course CBC 602 Complexities of Cannabis as Commerce, students learn to navigate the complexities of the cannabis industry and prepare real-world strategies as they relate to the shifting tax burdens.
4. Regulation is key. You need to know how to read it and understand it.
Every month new regulations are released on the New York State Office of Cannabis Management website for public comment. Most recently released were proposed regulations for laboratory testing, packaging, labeling, marketing, and advertising, as well as revised regulations for medical cannabis. According to Wright, New York is determined to learn from legalization efforts of other states and create a model that can be used as additional states legalize cannabis.
As new and revised regulations are released, it can be confusing for those entering the industry or the average layperson to understand what they mean and the impact the regulation will have on their individual businesses. Following the public comment periods, the state has either made changes to the regulation and re-published or added frequently asked questions documents to provide clarity. Keeping all of these regulations straight can be a full-time job in and of itself. In Excelsior's cannabis control certificate course, CBC 601 Implications of Legalization of Cannabis: Policy and Commerce, students learn about the impact of legalization regulations and attempt to navigate the dilemma between policy and current legal regimes.
5. There's room for legacy businesses to go legal.
Ignoring the fact that many cannabis businesses have operated in the shadows for decades would be a mistake. However, for those operating around the legalities of cannabis, it can be hard to make the transition from legacy businesses and learn the right strategies and steps to going legal. For many who have operated legacy businesses, they may not qualify for CAURD licenses or this type of license may not be the best choice for them as they lose control over many aspects of the business, including the branding of their products. Legal and accounting services exist within the industry to help these legacy businesses legitimize.