Getting the Most Out of a Job Fair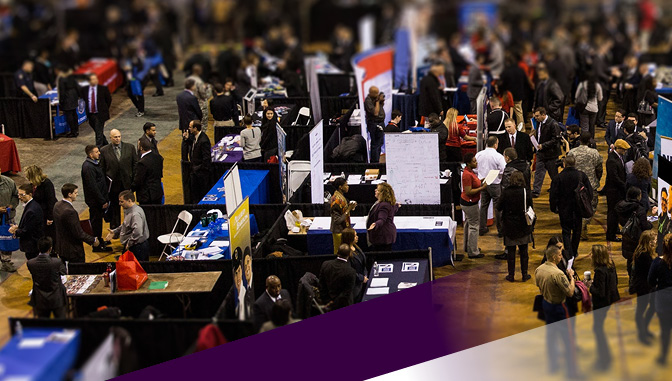 Whether you have a job and are looking to make a change or are currently unemployed, job fairs can be a great way to meet with recruiters. Navigating a job fair can be difficult, though, so here are some great tips to ensure you have a successful job fair experience.
Know Your Intention/Your Objective
At a typical job far, a recruiter meets hundreds of job or internship seekers. The ones who are prepared and concise stand out. Walk into the room with intention and with clear objectives. The registration or welcome desk will often have a list of employers and/or layout of the fair so you can have an idea of where to start. Be sure to check this list so you know exactly where you're going and aren't just wandering aimlessly without clear direction.
Bring the Necessary Collateral
Be prepared with collateral both for the job fair and your online presence. Be sure your items are professional and error free. Excelsior's Career Center has resources for current students that can assist with job search preparation. Have your items reviewed by someone you trust.
• Your resume. Most recruiters prefer an old-fashioned paper resume that they can read on the spot. Successful job fair applicants should bring plenty of concise and informative resumes in a neat briefcase or portfolio.
• Use social networks to your advantage. This can be LinkedIn, Twitter, Facebook, or Instagram. LinkedIn, which was created for the business community, is an ideal online network for job hunters. Many companies are using LinkedIn to research and find candidates. LinkedIn helps companies leverage the networks of their employees as well. Many successful job fair applicants connect with their recruiters on LinkedIn after their initial meeting.
• Business cards. At minimum your name, email address, and cell phone number should be on the card.
Perfect Your Elevator Pitch
This is a short statement — 30-60 seconds— of who you are and what you are looking for. Remember to mention what you have to offer. Savvy job fair attendees focus on how their experience benefits the company and offer tangible insight on how their skills benefit the employer. The key objective is for the recruiter to be compelled to want more time with you.
Research and Target Companies
The average job fair has 60–100 companies. There will be companies you are somewhat familiar with and others you have no idea what they do. Smart candidates take the time to thoroughly research the job fairs they attend. They find out what companies will be on the premises and decide which companies are of interest to them. They then read as much as they can about their favorite companies. When they arrive at the job fair, they have a short list of companies they want to make a personal connection with. Therefore, research is critical to maximize the event. From your research, have a short list of "must see" companies. Download a list of the companies you are targeting and put them into a central list.
Know:
• What they do
• Your elevator ppeech
• Why you are interested
• Two great questions for the recruiter.
Additional Tips to Maximize Your Experience
• Arrive early so you can review your research before entering the room.
• Go alone so you can completely focus on the event.
• Have your collateral ready.
• Dress professionally and conservatively. Even if you are applying for a position that will likely require a uniform or carpenter pants, wear a freshly pressed suit and comfortable yet professional shoes, and make sure that hair and nails are freshly groomed.
• Manners Matter. Never assume that Mr. Fred Johnson wants to be called Fred. Reference him as "Mr. Johnson" until he says otherwise.
• Recognize the social cues that your interview is over. Many candidates make the mistake of lingering at the booth, or returning to the recruiter repeatedly during the fair. Or they send daily emails to the recruiter asking for progress reports. While appropriate follow-up is important, pestering them will not land you your dream job.
Visit Excelsior's Career Center; to explore career exploration tools, conduct self-assessments, find careers best fit for you, and more.