Overcoming Obstacles: Kaneesha Roarke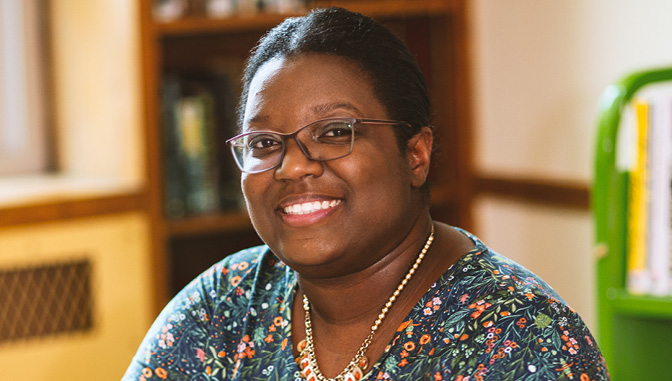 Kaneesha Roarke somehow always knew she belonged in the health care field. She decided to pursue higher education with Excelsior College to obtain a job in this career field, and although her educational journey has contained some hard obstacles to overcome, her dedication and support from instructors has helped her to earn two degrees.
Roarke, currently of Silverdale, Washington, originally pursued a path in law enforcement, following in the footsteps of her family members. She joined the security forces in the U.S. Air Force, but after serving for three years, she realized law enforcement wasn't her calling. "My dad told me for as long as he could remember I loved taking care of people and I should go to nursing school," Roarke says. Following her time in the military, she attended a vocational school called Career Care Institute and earned enough credits to become a licensed vocational nurse.
Kaneesha Roarke's Credit Story
Becoming a LVN wasn't her final goal, she says, but it was a stepping stone. "I wanted to do better and secure my future," she says. That's when she heard about Excelsior College from a family member who pursued her MBA with the college. "I could see she took her studies seriously so I thought I would see if Excelsior had options for me," says Roarke. Roarke enrolled in the Bachelor of Science in Health Sciences to Master of Science in Health Sciences dual degree program in 2015.
Roarke faced her share of challenges while a student. She and her husband were dealing with infertility issues, but Roarke did not want to hold off on taking classes when she started the in vitro fertilization process. "I didn't want to put my dreams on hold anymore," she says. A few months after she discovered she was pregnant, her husband, who is a nuclear electronics technician in the U.S. Navy, was deployed. This was difficult for Roarke, who was balancing being an expectant mom and full-time student. "I also had some medical issues along the way, worked full-time, [moved] from Hawaii to Washington, and was enrolled in classes full-time for the last year and half of my enrollment at Excelsior," explains Roarke. She says it was all manageable, though, thanks to open communication with her instructors.
At one point, Roarke was in the hospital for an extended amount of time during her pregnancy, but her instructors were understanding. "One of my instructors showed me kindness and even checked on me around my due date long after her class," she recalls, adding that although her daughter is now three, she remembers that moment because "it was a turning point for me; it solidified that I could do school and be a mom."
Despite the setbacks, Roarke still managed to complete her coursework and earned her BS and MS in Health Sciences in 2019. One of the most influential courses Roarke took was HSC 331 Psychosocial Impact of Chronic Illness on Person and Environment. "This class is what set me on the track to pursue my doctorate in psychology," she says. She is currently pursuing a three and a half-year doctor of psychology program with a focus on health and wellness at Ashford University. She hopes to show the medical community it's important to address the psychosocial parts of a disability and chronic disease to improve health outcomes.
The path to earning her degrees has been a hard road for Roarke, but it has been worth it. She has advice for others who may be in the same boat: "Going back to school can be hard, but remember your goals and the feelings you will have when you accomplish them."