In one word I would describe my experience with Excelsior College as _________.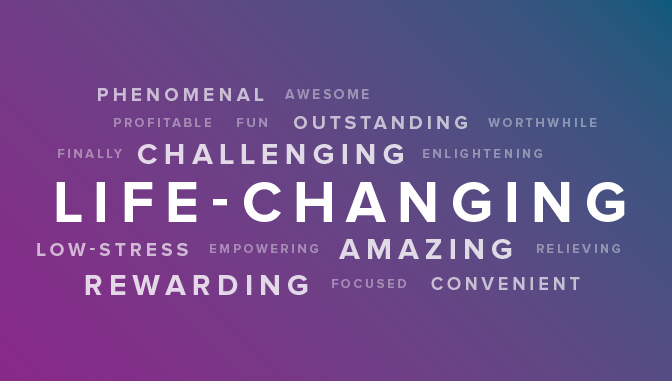 Our Excelsior College students come from all sorts of different backgrounds and experience levels, juggling a host of work, family and personal commitments while earning their degrees online.
Some students are changing careers, while others are looking to step up to the next level in their current industries. Some are getting additional degrees, while others are working on their first collegiate diplomas. Some transfer in credits from other institutions or receive credit for workplace training while others start from scratch at Excelsior.
It's a true melting pot of talent, so we thought we'd ask our dedicated Facebook followers to describe their Excelsior College experiences in one word. We were blown away by the volume and diversity in responses, so a sincere thank you to everyone who contributed. Here is a recap of the conversation.
Question: "In one word I would describe my experience with Excelsior College as ________.
Comments:
Jason Garmendiz Challenging! I got my degree in December 2017 and in March 2018 got a promotion! A college degree really makes a difference in the job market!
Takeah Fancy I'll soon find out…
Christopher Williams Phenomenal
Janet Huizenga Amazing!!!!
Tom Galliher Life-changing
Shannon Callaghan Chobert Empowering!! ❤
Joke Asubiaro Rewarding
Tracey Perez Rewarding!
Michael C. Antinucci Focused.
Tom Hoeg Enlightening
Helaine Goldenberg Berl Worthwhile
Dan McDonald Great !!
David Ward Rewarding
Tara Triassi Life-changing!
Clint Bailly Decisive??
Sterling Brown Amazing!
Dawid Catorce Fun
Silvia Gula For me over 25 years ago was an excellent way for me to complete my bachelor degree.
John Skid Markley Extremelyhelpfulforasuccesfulmilitarycareer!
Eric L Stockard Finally (a degree with 5 schools worth of credits and no degree)
Ermenita Zyka Kaçani Life-changing
Cheryl Natale Vitale Challenging!
Michelle M. Peters Low-stress
Scott Morton Outstanding
Jeff Gleason Convenient
Oscar Turner RN Profitable
Bry-Ant Harry Awesome
James Thompson Discombobulating. A little chaos and change is a good thing now and again.
Tory Robinson Deft.
Gary Vincent Relieving! Not a student here, but needed one more class in ethics to graduate on time with my college, so I took advantage of the Business Ethics excel exam, and now I'm graduating on time!