Graduates Benefit from Health Sciences Degrees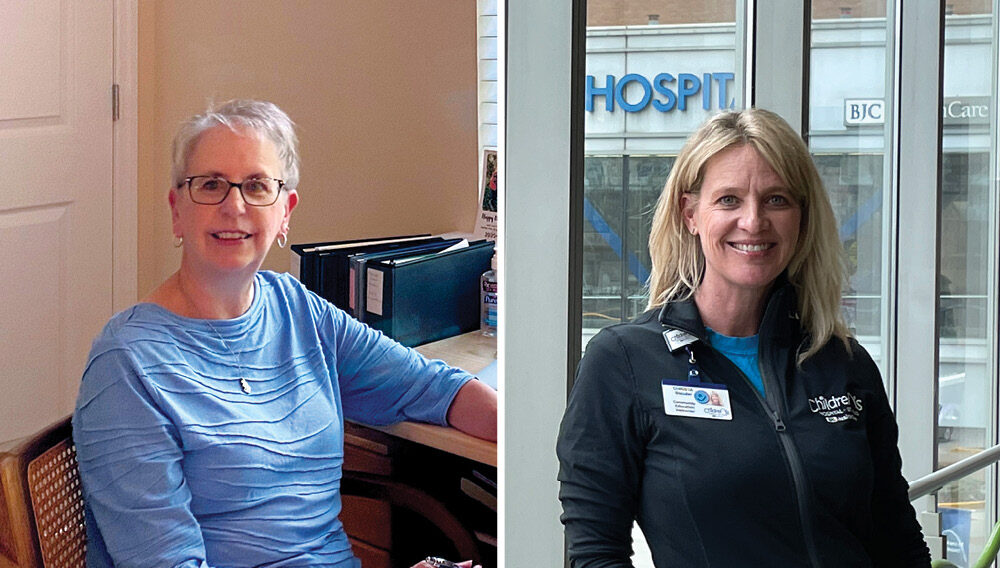 Laurie Cooper, of Rexford, New York, and Christa Stauder, of Kirkwood, Missouri, each chose to pursue a career in health sciences because they wanted to help people in need. Cooper and Stauder attended the Institute for Integrative Nutrition to gain a background in nutrition and then earned their health sciences degrees with Excelsior College before moving into rewarding careers. Cooper became a health and wellness coach, and Stauder works in the Safety Stop Program at St. Louis Children's Hospital.
Cooper and Stauder both got started down the path to their current roles thanks to the Institute for Integrative Nutrition (IIN), an educational partner of Excelsior College. The Institute is an online nutrition school that offers holistic education for students wishing to pursue a health coach training program. It provides students and graduates with the tools they need to become successful health coaches.
"Their academic schedule was a good fit for me, and the final item that clinched my decision was the fact that Excelsior accepted the studies as credit toward a bachelor's degree. IIN became my first step toward accomplishing goals that fit my life vision," said Cooper, in talking about her decision to take nutrition courses with IIN.
Stauder also was happy with her decision to take IIN courses: "I had looked into several wellness programs and wanted to get more information on nutrition to better serve my clients. It was much more than nutrition and was pretty life-changing," she says.
Following their time at IIN, Cooper and Stauder pursued health science degrees with Excelsior. When they applied, Cooper was able to transfer 26 credits and Stauder 15 credits from IIN toward their degrees, which helped them to save time and money. Cooper earned a Bachelor of Science in Health Sciences in June 2020; Stauder earned an Associate in Science in Health Sciences in June 2020 and is enrolled in the bachelor's program.
Cooper began her career in insurance and as she started to help people in her work as a resource specialist, she thought she might enjoy the world of coaching. That, together with her fascination about the effect of healthy living on chronic disease, made her realize that wellness coaching was the perfect way to use her skills to help others.
Now, Cooper is self-employed as a health and wellness coach, which has personal meaning for her. She has Type 2 diabetes and during some routine bloodwork a few years ago, she was diagnosed with splenic marginal zone lymphoma. Cooper dove head-first into learning about her diseases and prefers to help others instead of feeling helpless. "Health science and nutrition are personal for me, but I also want to give back to others who suffer from any malady or lifestyle challenge with the knowledge and skills I'm accruing," says Cooper.
Stauder is a doula, a certified childbirth educator, a prenatal yoga instructor, and a lactation counselor, and has an integrated health and wellness coaching certificate. She has always been interested in health and nutrition but became particularly interested in the field because of the changes she saw in school lunches from when she was a child to her children's time. "It really made me a little more passionate about our kids, and getting them healthier, and the diseases and the illnesses from the rates of diabetes and obesity in our children," she says.
Stauder's passion for caring for children led her to her current position working in the Safety Stop program at St. Louis Children's Hospital. The program is an injury prevention program designed to keep kids safe. In her role, she provides free car seats to parents in need and works with patients who have special needs who are unable to sit in traditional car seats and makes sure they can be transported safely.
Like Cooper, Stauder also opened a private health and wellness company. At Nourished From Within, she works with expectant mothers, teenage girls, and others using nutrition, exercise, meditation, empowerment classes, cooking classes, and yoga to help them reach their health and wellness goals.
Both Cooper and Stauder enjoyed their time in Excelsior's health sciences programs, and their experiences affected their outlook in their current careers. Cooper says Introduction to Health and Wellness Coaching really "opened her eyes" to the theories behind coaching. "Suddenly I was beginning to understand the questions I'd had for over a decade about how people approach their wellness in such different ways," she says. Cooper says an instructor directed her to a coaching certification process through Real Balance Global Wellness, which she completed while also studying at Excelsior.
Stauder shares that the associate program gave her a great starting point on her career path, and the experience made earning a degree possible. "It gave me a goal. And it didn't seem like too far of a reach. So, you know, it felt so attainable to me," she says. Now that she has accomplished earning her associate degree, she thinks earning her bachelor's is even more achievable. She feels she is on the right track to succeeding in her career.
Attending IIN and then Excelsior College were the first steps to successful careers for Cooper and Stauder. They agree that part of their success stems from having the courage to pursue their dreams. "Go for it," says Cooper. "That's kind of what I've done throughout; I kind of really pushed myself to go for my dreams."
More from Laurie Cooper and Christa Stauder 
What are some time management tips for students to succeed? 
Laurie Cooper: "My time management was centered around the days of the week. I always read/watched as much of the assignments as I could on Monday and Tuesday. I followed every requirement on postings and kept track of some of the more involved discussions on a tally sheet. I also kept a sheet (I used the back of saved wall calendars) to graph the resources each professor provided and the questions for discussion. That way I could reference the page/paragraph of the article with the question for quick reference. For statistics, I had pages of notes and equations that I taped to the door of my office for quick reference. As for writing essays and papers, I mapped out a plan so that by Saturday I was revising and correcting grammar or double-checking references. Sunday was left to the final copy and hitting 'send.'"
Christa Stauder: "For me, it was really important to sit down every Sunday night and look at the coming week, and write down what I had to do. I wanted to make sure I was on discussion boards on Monday, Wednesday, Friday. For me, to write it out was very helpful to have that visual and really schedule it out."
What's the best business advice you've ever received? 
Laurie Cooper: "Most anything from Michael Arloski (of Real Balance) gets my attention, but one piece of his teaching, in particular, has helped me—coaching as 'mindfulness in action.' It takes a great deal of energy to participate on a call, but I'm reminded every day about how I must be always present at a heightened state to understand the nuances of conversation and enhance my ability to read a client without seeing them."
Christa Stauder: "Make a vision board and hang it on the refrigerator. Now believe that anything is possible, follow your intuition, and trust the universe. Now go be great."
Learn about Excelsior's Master of Science in Health Care Administration.