Excelsior College Bids Farewell to Third President
Albany, NY —James N. Baldwin, the president and chief executive officer of Excelsior College, will retire on July 31, 2020. Baldwin was appointed to the role by the Excelsior College Board of Trustees in October 2016, after serving as the executive vice president of the College since September 2014. Baldwin was only the third president in the College's 49-year history.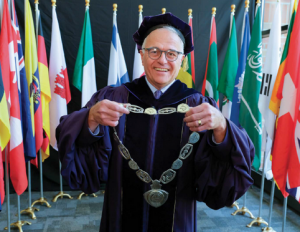 Baldwin's fundamental belief in the transformative power of education has shaped Excelsior College. His tenure introduced the concept of servant leadership to the College, where the leader has a service-first mindset and actively seeks to develop and align an individual and a collective sense of purpose with the mission and values of the organization.
Baldwin has spent most of his career working in education, first in public schools and then as chief of staff and acting deputy commissioner for higher education in the New York State Education Department. He was also the executive deputy secretary of state for New York from 1983 to 1995. Before joining Excelsior, he served as district superintendent for Questar III Board of Cooperative Educational Services. In that role, he was a regional representative of New York's commissioner of education and the CEO of the educational cooperative that helps school districts operate more efficiently and effectively by pooling their resources and sharing costs.
Baldwin came to the College during a unique time. "Jim was faced with challenges that, with the help of his team, he turned into opportunities and set the College on a path of transformation," says Helen Benjamin, chair of the Excelsior College Board of Trustees. "I could not be more pleased with the service Jim Baldwin has rendered on behalf of the College during his tenure."
Baldwin has left the next president of Excelsior College, David Schejbal, PhD, with a solid foundation on which to build the future and a team of capable leaders and colleagues committed to working with his successor.
###
About Excelsior College
Excelsior College (excelsior.edu) is a not-for-profit online college focused on helping adults complete their degrees and advance their careers. The college contributes to the development of a diverse, educated, and career-ready society by valuing lifelong learning with an emphasis on serving individuals historically underrepresented in higher education. Founded in 1971, Excelsior meets students where they are — academically and geographically — removing obstacles to the educational goals of adults pursuing continuing education and degree completion. Our pillars include innovation, flexibility, academic excellence, and integrity. Learn more at excelsior.edu.
Media Contact: Alicia Jacobs
Email: ajacobs@excelsior.edu
Phone: (518) 410-4624