John Caron Named New Provost at Excelsior College
Albany, NY — Excelsior College is proud to announce Dr. John Caron as the College's provost and vice president of academic affairs, effective July 19. More than ever, Excelsior is poised to move into a new growth period as a leader in adult higher education. Dr. Caron is an inclusive leader, educator, and champion of serving adult learners — all qualities that will serve Excelsior well.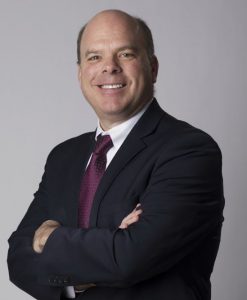 "Dr. Caron is a strategic, forward-thinking, and seasoned higher education administrator with two decades of extensive experience in leading, developing, and implementing innovative programs in higher education," said Excelsior College President Dr. James N. Baldwin. As provost, Dr. Caron will be a key driver in developing academic offerings and strategies that are aligned with the changing landscape of higher education, so that Excelsior may maintain positive growth and advance its position among peer institutions."
Dr. Caron will be the College's chief academic officer and second-ranking officer with strategic responsibilities that span the entire institution. He will report to the president, serve on the executive team, take a leadership role in the annual budget process, and implement the strategic plan. He will collaborate closely with faculty and staff on academic strategic planning.
With more than 20 years of experience in higher education, Dr. Caron comes to Excelsior from Endicott College where he served as founding provost. Prior to Endicott, Dr. Caron served as the associate dean of the Krieger School of Arts & Sciences at Johns Hopkins University. He taught graduate courses online. Dr. Caron is an inaugural member of UPCEA's National Council for Online Education and past chair of the International Leadership Network. Dr. Caron's research interests focus on two strands of inquiry: strategic management and online education. He is the first in his family to go to college, earning a bachelor's in sociology from Providence College. He earned a master's in sociology from the University of Connecticut and a doctorate in higher education management from the University of Pennsylvania.
# # #
Media Contact:
Alicia Jacobs, ajacobs@excelsior.edu                                  (518) 464-8531
ABOUT EXCELSIOR COLLEGE
Excelsior College (excelsior.edu) is a regionally accredited, not-for-profit online college focused on helping adults complete their degrees and advance their careers. The college contributes to the development of a diverse, educated, and career-ready society by valuing lifelong learning with an emphasis on serving individuals historically underrepresented in higher education. Founded in 1971, Excelsior meets students where they are — academically and geographically — removing obstacles to the educational goals of adults pursuing continuing education and degree completion. Our pillars include innovation, flexibility, academic excellence, and integrity. Learn more at excelsior.edu.