Kastur, The Power of One Woman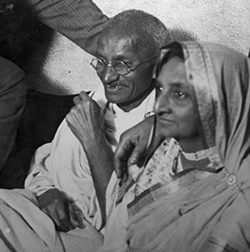 By Esther Bankert, PhD, RN
Faculty Program Director, BS in Nursing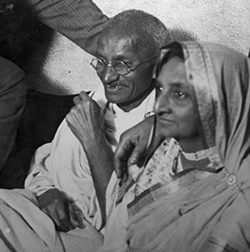 Kastur's life with Mahatma began as a young girl, marrying a man she never knew or chose to be with, as this was an arranged marriage. She devoted her life to this man and she became Mahatma's most avid critic as he devoted his life to righting the wrong of social injustices that plagued their country.
Kastur was lovingly known as Ba, mother to all who followed her husband. Ba was an extraordinary woman; she raised their children, sharing her world with her husband who was so passionate about saving his people from the ravages of poverty. Nonetheless, Ba chose to stand by her husband through all the trials and hardships he had endured, and she stood with him which also meant imprisonment for her and her husband.
Ba's legacy is no longer the forgotten woman who was a woman behind the man but one who stood alongside her husband. She had her own will, her own personality, her own identity; it was a true love story that her husband stated: "I learned the lesson of nonviolence from my wife. Her determined resistance to my will on one hand, and her quiet submission in the suffering my stupidity on the other hand, ultimately made me ashamed of myself and cured me of my stupidity."
Arun, the grandson of Mahatma and Kastur, said in his eyes his grandfather merged his personality with his grandmother and found an important aspect of his identity through her. Thus, the forgotten woman in history is no longer; Kastur was the partner to her husband that made him what he is and whom we all came to know around the world as, Gandhi!
The story of Kastur was told by Arun Gandhi, peacekeeper, the featured speaker at the Social Injustice Conference I attended in Geneva, New York (April 25) sponsored by Keuka College School of Nursing. Arun's writings include the book, "A Patch of White;" a compilation of Gandhi's Wit & Wisdom; a book of essays on "World Without Violence: Can Gandhi's Vision Become Reality?;" and most recently with his wife, Sunanda, the book on "The Forgotten Woman: The Untold Story of Kastur, The Wife of Mahatma Gandhi."
Image credit: London Express / Getty Images / Universal Images Group