Kathryn Elder: From Water Resource Engineer to Elementary School Teacher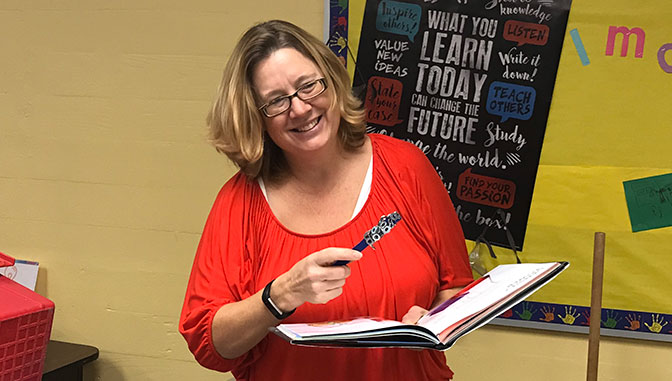 The word "serendipitous" can certainly describe a life.
But when it comes to Excelsior College alum Kathryn Elder, the term can also describe a person, one whose breakneck travels, colorful experiences, and career-focused education have transported her to exactly the place she needs to be.
Growing up in Cobleskill, New York, Elder started her ongoing adventure when she arrived at the Massachusetts Institute of Technology in the late 1980s. After four years at MIT, she earned her BS in Civil and Environmental Engineering before transitioning into a career as a water resource engineer with the Massachusetts Water Resource Authority (MWRA).
"I chose to take projects with the New England Aquarium, where I would go into classrooms and teach students about how to tell the difference between clean water and dirty water, how to keep water clean, and how to keep the environment clean," she says.
After living in Boston for six years, Elder and her husband, Brian, started to consider opportunities on the opposite coast. Winters had become rough; and with Brian being from the West Coast and a computer science major, jobs in Silicon Valley were a possibility. In 1995, Sun Technology came calling, and lured the young couple across the country to Northern California. Once there, Elder continued her engineering career at Carlson Design, then East Bay Municipal Utility District. The latter provided the opportunity for her to work on the Penn Mine Project in nearby Lodi, which remedied toxic runoff from an abandoned copper and zinc mine that was killing schools of fish within an East Bay Municipal-maintained reservoir.
But despite her professional satisfaction, Elder started to long for her New England Aquarium-set teaching days, surrounded by the faces of attentive children.
"Volunteering in schools and teaching kids about what I do was my favorite part of my [MWRA] job," Elder says.
With this realization, the eventual mother of two boys began plotting her next adventure, first inside courses at Oakland's Patten College to earn her teacher certification, then to the head of class inside elementary schools of her community.
And over the next few years, those communities would have varied locations.
California. Oregon. New York. Elder's husband's career kept her family on the move, but once she arrived back in her hometown of Cobleskill in 2004, the Elders finally settled in, with Kathryn teaching fourth and fifth grade inside her former stomping grounds of Cobleskill-Richmondville Central School.
Just one problem: New York State didn't recognize her graduate credits the same way as California and Oregon. In order to continue her now-fulfilling career as a full-time teacher, she needed to go back to school again—and she did so with Excelsior College.
"I actually received [an Excelsior] brochure in the mail," she says. "At the time, I was seriously considering SUNY Albany, and I almost committed when I was admitted into its program for curriculum development. However, the New York State regulations had just changed, which no longer led to professional certification of teachers from that program. That made Excelsior a no-brainer."
Elder began at Excelsior in 2007, taking online classes while expertly juggling responsibilities of teaching and, more importantly, caring for two young children. But in navigating her courses with students while also managing the complexities of a multitasking life, Elder found plenty of relatable company.
"A lot of students were working already just like I was, but everyone had their own story, and they were all so different," says Elder. "Someone in my class was doing his assignments from a tent in Afghanistan. After hearing this, I couldn't complain that I was doing my assignments from my kitchen table."
Eventually, Elder graduated with her MA in Liberal Studies in 2011. That same year, she was also the recipient of the Joshua L. Smith Award, which is presented to a graduate of the Master of Arts in Liberal Studies program who demonstrates outstanding achievement and has a career focused in education.
Today, that career entails days as a certified Cognitive Coaching Intervention instructor, one who helps third- to fifth-grade students struggling with math. Elder assists students and teachers from 20 different rooms, and provides intervention services for students in third, fourth, and fifth grade. She also performs cognitive coaching and curriculum consulting with the teachers in her district, and coordinates science, technology, engineering, and math (STEM) activities in kindergarten through fifth grade.
In addition to all this, she's working on her national board certification, while spending her summers online, but now as an instructor.
"I teach Tech-Infused Book Studies, where teachers simultaneously learn technology skills, such as using Google forms, social media for teachers, or creating surveys online," says Elder, who teaches as many as six online courses. "I do it through the context of interesting books about education, such as, "Quiet: The Powers of Introverts," "Lost at School," "Paraprofessionals Guide to Inclusive Classrooms," or "Yardsticks." I also teach about math fluency in elementary classrooms, using web quests and online resources."
Looking back at the education and training that's delivered her to her current state of contribution, Elder would certainly count Excelsior College as a vital online resource. According to the proud alum, Excelsior opened her eyes to a learning environment she's never experienced before, and taught her how to make connections through this environment. And because of modern education's current data-driven climate, utilized data must be more anecdotal.
"'The student doesn't get it' isn't the answer," says Elder. "Excelsior got me in the mode to think very critically, and this [has been] extremely valuable."
It's been a long and winding journey, one that continues in a way she planned once she enrolled in Excelsior more than 10 years ago. Some would've been exhausted and possibly frustrated by her career trajectory, but not Elder. She believes she's right where she's fated to be, touched by the mystery of serendipity—all while basking in the satisfaction of a career path she remains passionate about.
"I don't like to think of education as a business. It's more of a calling. I love what I do, and I can't stop doing it—even though it's the toughest job I've ever had," she says. "You really have to love what you do. This job lets you be creative and follow your passion while helping kids get excited about learning. What could be better than that?"
Excelsior graduate Kathryn Elder on:
Courses and exams with Excelsior
Students should ask questions, no matter what they're about. "I can't imagine how many times I asked my advisor questions," she says. "But no matter how many I asked, she was always responsive. At a normal college, you couldn't ask your advisor questions at 2 a.m. It seemed like they didn't have working hours [at Excelsior] because someone was always there."
Networking
Do as much of it while you can. "I wish I did more networking" says Elder. "Go to as many events as possible. You never know who you'll meet and what impact they could have on your life."
Education
The most important traits in the field? Confidence and flexibility. "You have to really know your content," says Elder. "When kids don't respond the way you want them to, you have to be prepared in order to react in that moment. You have to be responsive to what can influence good behavior, and ask yourself a lot of questions all the time."
Getting your degree—while life unfolds
Life doesn't stop while you go back to school. It's a juggling act, and Excelsior students should know this. "One thing I wish I knew while I was getting my degree is how much harder school is with children," says Elder. "I always wished I could have given even more time to my studies then I already did, but that's life and you learn from doing."
How Excelsior made it possible
But as much of a juggling act as college can be, Elder's experience was with a college that catered to her multifaceted lifestyle. "Excelsior was the only way I could handle two little kids while working toward my master's degree," she says. "In college, you're devoting all of your time to your education. When you go to Excelsior, you're not only giving time to your studies, but you're also factoring in a job and a family most of the time. Life happens, but there's no reason you can't get it done."