Keith Sloan Brings Military Expertise to National Security Program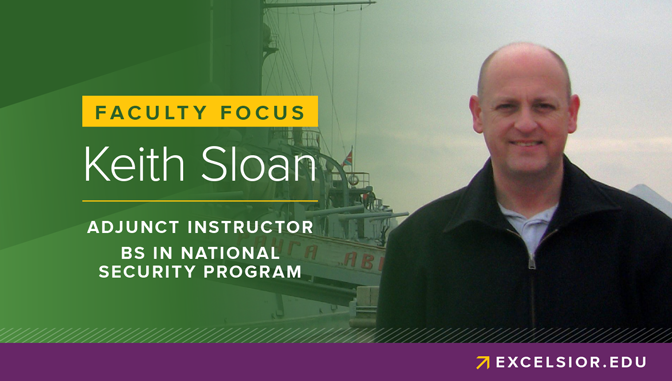 College courses can thrive with faculty proficient in an eclectic mix of environments. In the case of Keith Sloan, an adjunct instructor who teaches in the Bachelor of Science in National Security program, students have the benefit of learning from a military professional expertly versed in his material—and with experience above and below sea level.
During his 20-year career with the United States Navy as a submarine warfare officer, Sloan handled such job responsibilities as intelligence focused on Russian submarine operations, advising on nuclear strikes from U.S. Strategic Command, and nuclear arms inspection under the Strategic Arms Reduction Treaty. Since his retirement from the Navy in 2010, he's worked as a federal civilian with the U.S. Army, informing weapons of mass destruction (WMD) policy at the Pentagon from 2010 to 2017; and now working as a nuclear target integrator with the Nuclear Operations Division of the U.S. Army Nuclear and Countering Weapons of Mass Destruction Agency (USANCA).
The aptitude and attention necessary to manage these responsibilities would be enough for most national security professionals. But for Sloan, the need to educate intermingled with the duty to protect. A year before retiring from the Navy, the graduate of the University of San Diego (BA, Political Science), Creighton University (MA, International Relations), and American Military University (MA, Homeland Security and Terrorism Studies) began teaching graduate-level National Security Studies courses at Trinity Washington University, and continued to do so until his host program was discontinued in 2017.
Thankfully, a former colleague from Trinity recommended Sloan to Excelsior College that same year. Now, he's brought his decades of experience to students enrolled in Excelsior's Introduction to Security Studies and National Security Ethics and Diversity courses, and their ongoing engagement is now one the most rewarding experiences of his career.
"It's always the students. Always," says Sloan, who now resides in Alexandria, Virginia. "They make it interesting and worthwhile. Excelsior has been great in that the students tend to be professional, and often military folks. I understand them, what they do, and why they do it. They always have great stories to tell."
Now, these students are giving Sloan stories to tell, thanks to the subject matter exchanged through Excelsior's convenient online courses. According to the longtime military strategist, his web-based classrooms are full of learners trying to maintain personal and professional lives in the busiest of conditions. "I've had students on the front lines of Syria and Iraq running around [South] Korea, and who knows where else," he says. "Excelsior makes it possible for them to have full lives and still get a good education."
Amid these challenging situations, there's Sloan, helping to conceive careers or enhance professional interests.
"I just had a student tell me that the discussions in my Ethics class helped steer him in his choice for his next career," says Sloan. "That sort of impact is a bit humbling."
More from Keith Sloan:
Job-hunting tips
Get smart on your area of expertise; network; and, as hard as it is to swallow, realize you will likely have to do your time and work your way up in your field. As Sloan notes, "No one starts as CEO."
Time management tips
Be disciplined. Don't procrastinate. Think of your time and budget it like you do money. "In the end," says Sloan, "it's far more valuable." 
Best field-related advice he's ever received
Don't be complacent. Keep learning, keep growing, and don't get stagnant or lazy. "If you do," says Sloan, "you risk becoming irrelevant."
Best field-relevant book, podcast, or e-related pub
The Defense News Early Bird Brief. Professor Sloan receives the email every workday, and it provides a long list of links to articles on security issues.
One thing learned as a faculty member he wishes he'd known as a college student
Don't sweat grades. "Learn for learning's sake and try to always improve on your work and yourself," says Sloan. "The diploma may be a means to an end, but the education is an end."
 One piece of advice for future Excelsior students
Take advantage of the learning opportunities. Don't just focus on the degree—focus on the learning. "As a professor, I learn things every time I teach a class," says Sloan. "It would not be much fun if I didn't."