Leading and Inspiring Others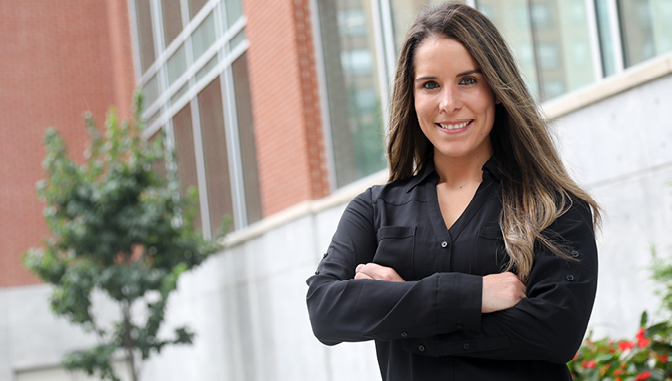 Nicole Lopez Uses Her Master's in Criminal Justice in Her Role as a U.S. Deputy Marshal
When she was young, Nicole Lopez drew a picture of herself as a police officer. She made the vision a reality years later, when at 21, she became a border protection officer with the Department of Homeland Security. Two years after that, she became a Deputy U.S. Marshal for the Department of Justice. To move up in her career, Lopez decided to go back to school with Excelsior College. Now, with a master's degree in criminal justice, she can better fulfill her role as a supervisor and hopes to inspire the next generation of women in law enforcement.
As a deputy U.S. marshal, Lopez's jobs vary from fugitive investigations to witness and judicial protection. She and other marshals also help state and local officers with whatever activities they may need support in as well. "You can't have your guard down. And sometimes you feel like your back is against the wall," she says, explaining how stressful it can be to spend so much time in the field. Lopez is also a less-than-lethal instructor, which means she is qualified to use and teach others how to use less-than-lethal force in physical situations with criminals. "It can be anything from a taser to a baton to pepper spray to just tactical moves," she says, adding that deputies need to take the training annually.
Being goal-oriented, Lopez told herself she wanted to be a supervisor once she hit eight years with the Department of Justice. Upper management often trusted her with supervisory roles, and so she felt it was the area she wanted to enter. As she wasn't a full supervisor yet, she wanted to return to school to be fully prepared for the role. One of her co-workers was pursuing his undergraduate degree with Excelsior and Lopez felt it was a great opportunity. "I never thought I'd be able to go back. And it scared me a little bit when I was signing up. But I was like, 'I've been wanting to do this. This is the next step in my career path,'" Lopez recalls.
Lopez became a supervisor while she was going to school for her master's, and says it is different than being a deputy, who are usually in the field more. Since earning her degree, Lopez has overseen a team in her district's asset forfeiture unit and civil division. "What that means is in that division, we seize, manage, and destroy assets, basically, that have been ill-gained from different criminal investigations," she explains. The job entails budgeting and finance, which aligns with courses Lopez took with Excelsior. "I can actually talk to my chiefs and upper-management and use what [I learned] in my courses…and I'm applying it to my job. It was pretty cool just to get to do that," she says.
Sometimes Lopez faces challenges in the workplace, too, particularly that she is one of approximately 80 female deputies nationwide. In particular, she is the only female deputy marshal in northern California and the San Francisco division where she is based out of. "I think being in that sort of environment, you've got to pick up your game. Because a lot of the time you're surrounded by males," she says. Lopez adds that in addition, most of the management positions are filled by males so it was important for her to work hard throughout her time in the training academy. She was determined to prove her worth, however, and her instructors noticed, saying how she was going to "be something" in the agency.
Lopez thinks females should express more interest in and enter law enforcement. It is starting to happen, she points out, because more and more females are appearing in local and state law enforcement positions. Lopez says even 30 years ago it would not have been the same situation, but now things are improving. She helps out with recruiting and encourages kids, from elementary school age through college age, to see law enforcement as a career. "They see this little female, and they're like, 'You're a deputy United States marshal? I've never even heard of one, much less you're female. How did you do it?'" she says, referring to peoples' reactions to seeing a 5'2" woman talking about law enforcement. "It's setting goals and maintaining that and crushing everything that you do…it's going to be challenging, but it's possible. Look at me. And they're inspired by that."
Lopez encourages anybody looking to go back to school, too. She believes education is important in each person's life and can make a big impact in one's future. "I think having some sort of foundation to grow on, it's going to help you in your career or your life," she says, adding that she wouldn't be a supervisor deputy U.S. marshal if it wasn't for her degree from Excelsior.
Since taking on the supervisor position and earning her master's degree, Lopez's plans are to grow and learn in her role. For now, Lopez loves what she does. When asked what she would do if she had the power to change the world, she said she's doing it. "I think being a United States marshal—a lot of people don't see it, but when you're working it, you're putting these bad guys in jail…," she says. "And it's like, one little person at a time."