Meet Our Advisors: Dan Palladino – Academic Advisor for the Technology Degree Programs
Academic advisors are a point of encouragement and support for our students. Many advisors develop a long relationship that helps the students work through the inevitable ups and the downs of life and study. Excelsior Life met up with Dan Palladino, from the Office of Student Success Services to find out more about one of the unsung heroes who gives students the support and guidance they need.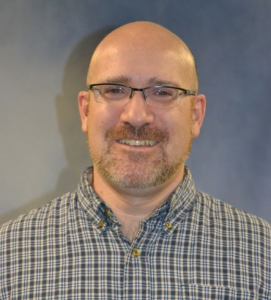 Excelsior: Can you tell us about your interests, home, favorite teams, etc?
Palladino: When I am not advising, I enjoy spending time with my wife (we have been married for two years). We take walks, watch a little TV, and travel. We have also been in the process of moving into our new house. This has been a very long process; we bought the house over a year ago but it was abandoned at that point. It was built 200 years ago so we have carefully been fixing it up while not destroying its original charms. We finally moved in at the beginning of October, and it is fantastic!
When I do not have a house project, I enjoy reading, or fixing or building something in the garage. I also have a classic car that I have done almost everything to (mechanicals, welded in new floor pans, installed new convertible top, repaired the body, and prepped for paint, etc.), so I enjoy driving that in the summer months. I feel that my garage and home improvement interests pair well with advising technology students. I truly enjoy being an advisor. I originally started my advising career as a liberal arts advisor, and found it to be very fulfilling; when a position opened up to be a technology advisor, I applied. It has been a great experience to work with students in the various technical disciplines. I can honestly say that I am learning a lot about the different technology fields, from both the students and the faculty. Everyone seems friendly and happy to share their knowledge.
Excelsior: What is your role at Excelsior College and can you describe a typical day?
Palladino:  My main responsibility is to communicate with students enrolled in technology degree programs about college policy, procedure, and academic planning. These communications are typically done via phone, email, or via the My Excelsior portal. As an academic advisor, I talk to students about what is an ideal course workload given a student's situation, how a student is paying for courses, which courses or exams a student should take each term (to ensure prerequisites are met), how long it will take to complete a degree program, or what other degree program might be a better fit. On a typical day, I take calls and respond to messages from students to discuss these topics and a variety of other items that can arise. I also do outreach for students if there is an issue with their academic status or something that needs to be adjusted in their course plan, or sometimes if I have not had contact with a student for a while. I also update student academic plans as more coursework is completed, and I work with faculty program directors as necessary to find solutions when a contingency arises.
Excelsior: What excites you most about your role?
Palladino: The exciting part for me is watching students progress through their degree program. I really like talking to a student and by talking through a problem, such as how to finish their degree in a timely manner, we hit upon a solution that both of us are excited about…In those moments, it truly feels like a connection has been made and a problem has been overcome!
Excelsior: When do you feel that you went the extra mile to help a student?
Palladino: I try to do my best to do whatever I can to advocate for a student. I had a student who was overseas. She would call to get advisement on what courses to take next before each term, and often the call would disconnect in the middle of the conversation. I would follow up via email and we would go back and forth on email for a few days to finish the planning for the next term. It took a lot of time, but she did graduate. She came to Commencement and we met! Another time I had a student who needed a second degree. He already had a degree from an institution in Puerto Rico, but he needed a technology degree for his job, and needed it quickly. The course descriptions from his other institution were in Spanish, so I worked with an advisor in another unit to translate them, then worked with my director to determine which ones could be used toward his technology degree. Then he asked if we could apply more of his credit. He provided more information on some of his courses, and I worked with the faculty program director. It took quite a bit of time and effort, but it got the student a little bit closer to his goal.
Excelsior: What piece of advice would give to a student?
Palladino: Stay in touch with your advisor to ensure that you are taking the best courses in the best order, and make sure you have time to successfully complete the course load you have planned for a given term.
Excelsior: Who is the one person either in business or in history, who inspires you the most and why?
Palladino: I don't think I am able to narrow this down to one person. I am inspired by people who have the courage and grit to achieve success. There are many people in history and in business who I could name. Conversely there are people that I know and meet during a day that inspire me. I often get inspired and then re-inspired as I talk to students and hear the different challenges each has faced during the pursuit of their degree.
Excelsior: What is the most memorable thing that you have ever done?
Palladino: The most memorable thing I have done was when I traveled to Europe for the first time when I was 18. I went as part of a collegiate wind ensemble made up of young people from all over the U.S. I played the French horn. We traveled to several different countries and performed once or twice each day. It was memorable because it was my first time abroad and we did so many different things. It was an exciting experience!