Not Too Late to Hit the Restart Button
Michelle Tochiki, a military spouse, pursues her educational dreams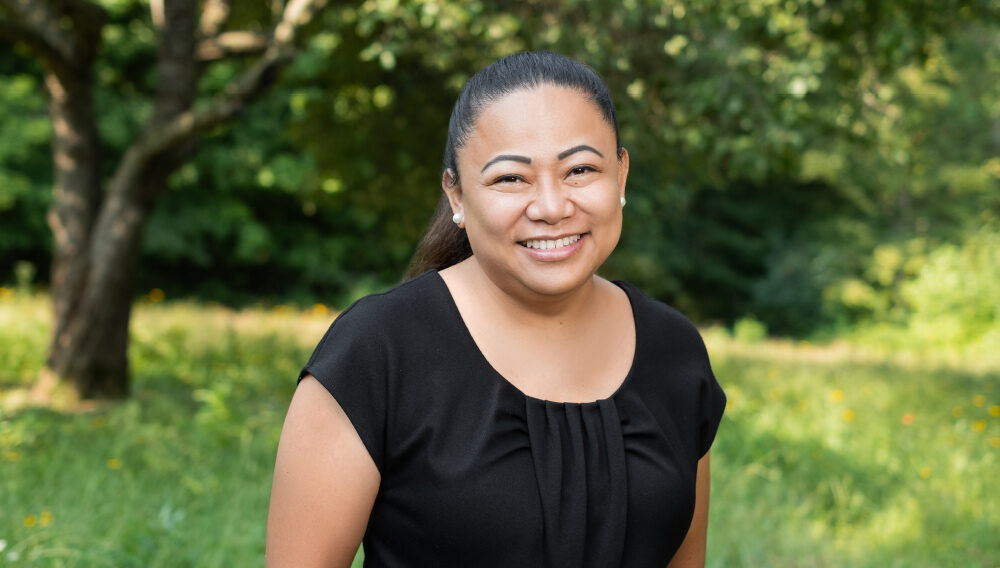 Michelle Tochiki, of McCordsville, Indiana, has never been to bootcamp and has never experienced hand-to-hand combat. Still, she knows what it is like to serve. She is a military wife and understands what it means to sacrifice for her country. She left her career, put her dream of earning a degree on hold, and took care of her two children while her husband has pursued his military career.
But when it came time to restart her career, she found Excelsior College. Tochiki earned a Bachelor of Science in Liberal Arts in May 2015 and will earn an MBA in September 2021.
Her educational journey has run parallel to her husband's Army career. While stationed in Germany with her husband, Tochiki heard about Excelsior College. At the time, she was taking online classes with a university in Hawaii, but the school wanted her to start attending in person. That was impossible, so, unfortunately, she had to give up her economics major. She decided to switch to pursuing a liberal arts degree with Excelsior and earned her degree much faster than she anticipated. The business courses within the liberal arts program have prepared Tochiki for a career in human resources.
One benefit of being a military spouse, says Tochiki, is the ability to work from home. This has been invaluable to her while working in human resources. However, the opportunity to work from home also has its downside. Tochiki's specialized area of human resources is data analytics, and sometimes it has been hard to find a remote job. "I had to give up my career, you know, to move around. Not every company in every state has the need for a data analyst," she says. So, Tochiki is ready for her husband to retire so she can maintain a steady career as an HR data analyst at her current place of work, a workers' compensation insurance company called AF Group. Her job entails auditing and simplifying data for executives at the company.
Tochiki believes Excelsior's MBA program will help her achieve a promotion at work. "It could better align me to our team, to the growth of the company. And with the MBA, it will help me to step up into a supervisory or manager role," says Tochiki. She says earning an MBA has always been a dream of hers and now that it falls in with her career, it just made sense to pursue it. She also wants to set a good example for her children. "It's always like I want to be better off than my parents. And hopefully, we are paving the way for [our children] to be better than us."
Tochiki believes other military spouses can better themselves, too, by earning higher degrees. She says it might be difficult to manage your studies, family, and career at times, but it is worth earning your degree in the end. She says it's important to celebrate milestones, like she does with her family. When she finished every term, she went out to eat with her family. "The little wins matter," she says.
With a daughter on the way to college and a husband retiring after 20 years in the military, Tochiki admits that life is going to be different now. But with her soon-to-be two degrees, a steady career, and a more permanent living arrangement, Tochiki thinks she can finally take a deep breath. "I'd like to go vacation somewhere. Maybe Australia or Japan. Not think of anything, you know, no school, and definitely not take my work with me."
More from Michelle Tochiki
On Being a Military Spouse
"One thing that a lot of people don't realize is that as a husband or a wife, being in the military means that the whole family is in the military. It affects the children; it affects me for the 20 years that he's going to be in."
Tips for Maintaining Work/School/Life Balance:
"Mental health is important. There's a lot of resources. I talked to my neighbors, I talked to my family, my husband. Family support. I can't stress it enough. It's very important. Because there are times that I tell my husband I'm sorry there wasn't dinner today because everything is due today."
On Work Experience:
"I think we need to experience work in the field that you enjoy, or the fields that you like to grow into, because that way, you actually see the discrepancies that are at work, and learn, then make changes. Because without that experience, you have no clue what to fix."
On the Future:
"I really like to see myself as a director in the next two years. I know that my superiors believe in me and with the MBA, I know that's really going to help me push up in the company…I always wanted to be called a doctor, and I'm looking to pursue a doctorate but would like to breathe a little for now."