Office Support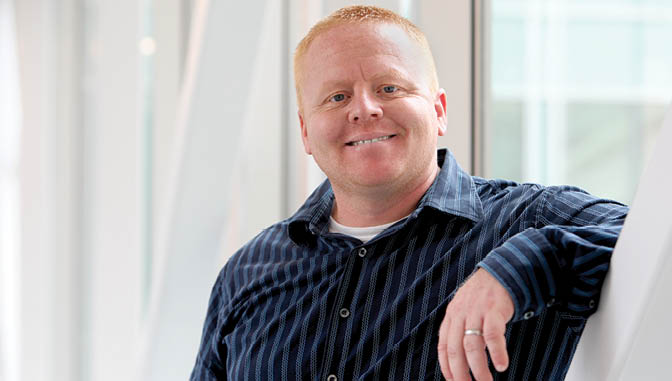 Robert McCormick Uses His Management Degree to Meet the Needs of His Co-workers
Robert McCormick, a yeoman with the U.S. Navy centered out of Newport, Rhode Island, is what many might consider an "Office Manager," but he's forged a role far greater than maintaining filing systems or preparing payroll. McCormick has gained a valuable understanding of business administration and with a Master of Science in Management from Excelsior College, he has been able to become a more capable and compassionate leader.
McCormick, of South Kingstown, Rhode Island, joined the Navy largely because military service is a proud tradition carried throughout each generation of his family. He remembers the exciting and admirable stories from his father's and grandfather's times in service and says, "I wanted to not just carry the torch of service in my family, but create stories for myself to tell future generations."
While serving as active duty, McCormick decided to take college courses to further his education. He heard about Excelsior through a service educational advisor and decided to pursue a bachelor's degree with the college. "I just thought it was good to go to school and become a more knowledgeable person," he says. He earned a Bachelor of Science in Liberal Arts in October 2016. While taking courses for his bachelor's, he realized his passion for management and the human aspect of business and chose to pursue management, earning a Master of Science in Management in May 2019.
Now, McCormick, along with a team, supports more than 600 military members with their travel and pay needs, in addition to carrying out staffing needs and other necessary corporate administrative functions. Sometimes it can be hard to work with so many different personalities, but that's what makes it worthwhile, says McCormick. "You get to know them. And you genuinely care about them and want to do the right thing. It's really a rewarding thing to do," he says.
His time is split between answering trade-specific questions from customers and from coworkers, and with projecting future business leads and assigning appropriate actions to meet them. McCormick says, however, that sometimes business administration comes with little reward and high expectations. "I find validation in watching those who I've helped develop professionally become experts at their craft and eventually receive public recognition or a promotion," he says, noting that seeing others succeed is his greatest source of fulfillment.
McCormick says he wouldn't be where he is today unless he had pursued his degrees and adds that he has no intention of stopping. "I still want to keep going. I want to keep learning," he says. His father pushed him to keep studying, and his wife and 7-year-old son were his reasons for not giving up, because he wanted to make the best life for them. He says, "The best way that you can plan for your future is investing in yourself and making yourself better. And I want to make myself better for my kid."
McCormick has advice for fellow servicemembers and veterans who want to invest in their futures, too. If they are looking to return to school with Excelsior College, McCormick reminds them to have the internal drive to do so. "You have to have that drive to really pace yourself and keep up with it and not have someone there telling you to do the next thing," he says adding that it's important to understand going back to school is a challenge, but you must remain motivated.
Thanks to his motivation, McCormick has been able to complete a degree that's allowed him to better perform in his job and now, he's looking to the future. He thinks he would have a positive impact as an educator, so he's looking to earn his teaching certificate to teach high school students. He sees similarities between managing and teaching. "It's dealing with people and getting them ready to perform and be a better person," he says.