Being the Change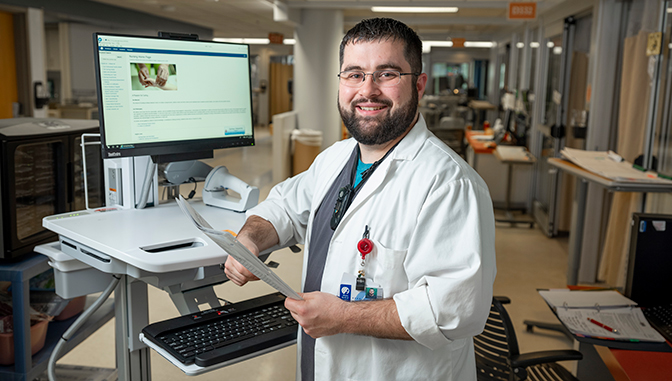 Zachary DeBartolo uses his nursing informatics degree to offer innovative ideas in health care
To Zachary DeBartolo, nursing is more than a job or a career, it is a calling. He believes nursing is a way to not only care for others, but to also deliver cutting edge information that can be used to change the way we look at and function in the medical community. With such a unique perspective, DeBartolo decided to pursue a Master of Science in Nursing Informatics with Excelsior College and intends to inspire change in health care.
DeBartolo, of Glenmont, New York, has been a jack-of-all-trades, which he says has made him choose the path he has and has allowed him to develop skills necessary for what he does. "I've honed the skills over time, but I'm always on…to find solutions to problems and see things in a completely different way than most," he says. He has been a dishwasher, short order cook, farmer, excavator operator, and singer at Carnegie Hall, but the most impactful opportunity came when he was a missionary in South Dakota working with the Blackfeet, Arapaho, and Lakota Sioux Native American tribes. It was when doing missionary work that DeBartolo realized he had a bigger calling to help people and decided to begin pursuing nursing.
DeBartolo's path into the world of health care was not easy. While he initially received a scholarship to study nursing, when he was diagnosed with Chrohn's disease and nearly died, he was unable to continue with school and lost his scholarship. As he recovered from his illness, he was forced to look for educational opportunities elsewhere and moved to Alaska, but a poor economic climate forced the college to rescind a new scholarship. He decided to return to New York, finish his LPN, and then earn an associate degree in nursing at Maria College in Albany, New York.
He became a 24-hour, round the clock nurse, as he found various concurrent positions within multiple organizations and institutions as a bedside chronic vent unit RN, ICU RN, night RN supervisor, RN unit manager, product specialist for respiratory devices, and an RN consultant. With such a diverse background and complete continuum of care experience, he decided there must be more to be done to address the issues in the health care system. This moved him to pursue a master's of nursing informatics degree with Excelsior College in 2016, which he earned two years later.
Excelsior's Master of Science in Nursing Informatics is designed for RNs who wish to the improve the health of people and communities and improve patient safety by using information technology, computer science, and nursing science. Excelsior's online courses, practical experiences, and curriculum prepare students to know how to use data and information to respond to health care problems, improve client care and organizational operations, and make and communicate information-based decisions in a variety of health organizations.
This online program was perfect for DeBartolo, who had begun working night shifts in the ICU at Albany Medical Center and rotating shifts at other various institutions, all while caring for his daughter with special needs. With such a hectic and sporadic schedule, the "learn on your own time" idea was just what DeBartolo needed. And he says Excelsior's informatics program was extremely beneficial: "I loved the informatics program. I would say best value for the dollar on my education. I can't even express, again, the amount of cognitive change on my perspective of everything…It explained many of the intricacies as to why health care is what it is, how we got here, and where it might potentially go. It opened my eyes to more possibilities and a bigger picture." He considers himself a nurse innovator and explores nursing trends, like new technology that could help in the ICU, for example.
Nursing encompasses all areas of health care, from bedside to management, he says, with informatics being the connective tissue. DeBartolo explains, "Behind the scenes, we're innovating the processes that nurses need to do in the day to day…So aside from bedside and aside from working behind the computer, you use [nursing informatics] in management, taking all of those tools that you've used throughout the years of experience, to learning how to manage people, how to manage the patients, how to actually run the unit, the best way possible."
DeBartolo has implemented new initiatives in various areas of radiology, maternity, fetal medicine, clinics, outpatient, chemistry and laboratory microbiology, and pharmacy. Furthermore, with a personally developed analytics program he has identified ways medical institutions can save upwards of a million dollars. So far DeBartolo has kept the rights to his intellectual property but hopes to sell his ideas to local interested facilities.
DeBartolo says his thought process has changed since he has completed the nursing informatics program. He says he better understands how educational and governmental systems work in relation to health care and believes he has a larger role to play in the world of nursing care. He feels that now he must be a catalyst for change, which he says is through innovation. He says to think bigger, be the change you want to see in the world, and don't limit yourself. "If you make yourself unlimited, you'll be unlimited; if you're seeing there isn't an opportunity created, then fill the opportunity and create another."