Excelsior College was Selected as One of bestcolleges.com's Best Online Administration Management Programs in the Nation
Ranked the best for student outcomes and affordability, according to BestColleges
Albany, NY — Excelsior College has been recognized as the 2019 Best Online Associate in Administration Management program in the nation by BestColleges, a leading provider of independent college rankings, college planning resources, and higher education research. The annual ranking highlights accredited, nonprofit institutions that have developed quality online administration management programs that focus on student outcomes.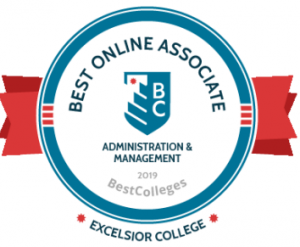 BestColleges identified 25 schools that rank among the best colleges to obtain an Associate in Administration Management degree. Stephanie Snider, director of BestColleges, said, "We're thrilled to have Excelsior College leading this list, and we commend them for establishing this exceptional online program that focuses on academic success while remaining affordable and flexible."
Excelsior College's Associate in Applied Science in Administrative/Management Studies gives students the knowledge and skills needed for business support roles. This is relevant as data indicates 10 percent growth in business and financial operations occupations through 2026 and graduates should be career-ready with practical training using the most common office software applications. This associate degree program is especially suited to military servicemembers with certain military occupational ratings or specialties.
Dr. John Caron, provost and vice president of academic affairs at Excelsior College, indicated, "The Associate in Applied Science in Administrative Management Studies has been developed in conjunction with industry experts and scholar-practitioners to provide the most up-to-date and practical business education that will ensure today's managers possess the most relevant competencies and tools that they need to excel in their chosen career. Recognition by BestColleges is a testament to the quality of our online Associate in Applied Science in Administrative/Management Studies program and the importance of providing a pathway to the world of business for adult learners."
The BestColleges ranking methodology focuses on academics and learner support, affordability, and online programming with schools evaluated on several noteworthy data points aggregated from the Integrated Postsecondary Education Data System (IPEDS) and College Navigator, both of which are hosted by the National Center for Education Statistics. Schools considered for associate degree program rankings must be accredited public or private, nonprofit institutions that have submitted annual data reports to the NCES. With this methodology, BestColleges' goal is to objectively assess relative quality based on academic outcomes, cost of programs, and the breadth and depth of online program offerings.
###
Media Contact:
Alicia Jacobs, ajacobs@excelsior.edu, 518-464-8531
For more information or BestColleges inquiries, contact: contact@bestcolleges.com
ABOUT EXCELSIOR COLLEGE
Excelsior College (excelsior.edu) is a regionally accredited, not-for-profit online college focused on helping adults complete their degrees and advance their careers. The college contributes to the development of a diverse, educated, and career-ready society by valuing lifelong learning with an emphasis on serving individuals historically underrepresented in higher education. Founded in 1971, Excelsior meets students where they are — academically and geographically — removing obstacles to the educational goals of adults pursuing continuing education and degree completion. Our pillars include innovation, flexibility, academic excellence, and integrity. Learn more at excelsior.edu.
About BestColleges
BestColleges empowers students to make smarter educational decisions and find schools that best fit their needs through proprietary research, user-friendly guides, and hundreds of unique college rankings. As a trusted education advisor, it provides college planning, financial aid, and career resources to help students realize life goals and overcome educational challenges as they prepare for careers after college.