Advance Your Nursing Career with Online RN Programs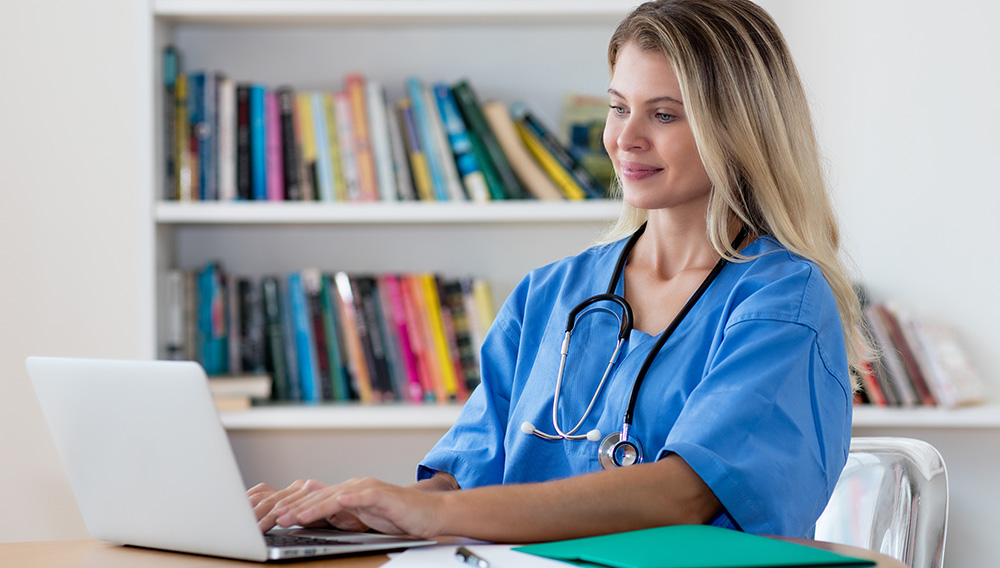 There is a natural evolution in a nurse's career, one that often requires further education. Online degree programs are key to that evolution. Nurses can earn the education they need to qualify for more challenging jobs with better pay.
Excelsior College provides 100% online RN programs that help nurses achieve their goals while maintaining their current job. This includes those who want to earn a bachelor's degree or move on to earning a master's degree.
The U.S. Bureau of Labor Statistics  projects  there will be almost 222,000 more nurses by 2029. In New York, the median salary reached $87,330 in May 2019. These trends demonstrate the value of earning a higher degree and competing for the best jobs.
Excelsior College Online RN Programs
The online RN programs at Excelsior College for registered nurses rank among the school's most popular degrees. The nursing programs divide into two major areas at the undergraduate and graduate levels.
RN to BS in Nursing Program
The Excelsior College online RN to BS in Nursing program allows working RNs to earn their degree while scheduling coursework around busy professional and personal schedules. Excelsior College also offers one of the most generous credit transfer policies in the United States. Students can earn college credit through the completion of UExcel exams and transfer credits earned from other accredited academic institutions.
The program offers nursing students a well-rounded general education in the arts and sciences, including the humanities, social science, history, the natural sciences, and math. In the nursing program, students learn how to apply nursing and arts and sciences knowledge to real-world situations that involve providing care for individuals, families, and communities. Students also develop strong critical thinking skills and nursing judgment.
RN to Master's Degree in Nursing
Excelsior College also offers dual degree programs that allow RNs with an associate degree to earn a Masters of Science in a nursing specialty. These programs give nurses a seamless transition to the highest level of nursing education.
Excelsior College offers three specialties in its dual degree programs:
RN to Master of Science in Nursing Education: This program prepares graduates to become educators in academic and service settings. Students study nurse educator theories, teaching strategies, and curriculum development. They also learn how to best employ technology that supports better learning outcomes for students.
RN to Master of Science in Leadership and Administration of Health Care Systems: Graduates of this program are prepared to take leadership roles in health care operations. They help plan and implement strategies in hospitals, community health centers, academic institutions, IT companies, and the pharmaceutical industry.
RN to Master of Science in Nursing Informatics: This program teaches graduates to understand nursing best practices for information technology, data science, and nursing science that are fundamental to the health care industry. They study how to leverage technology that improves patient outcomes and makes health care operations more efficient. Graduates have the expertise to make data-driven clinical and administrative decisions.
Qualifications for Online RN Programs
To qualify for Excelsior College nursing programs, nurses must already hold an RN license. Prospective students will need to submit an active and unencumbered U.S. RN license with an expiration date.
For the RN to BS in Nursing program, nurses must submit an official transcript showing completion of an associate degree in nursing or an RN diploma. Nurses must have earned the degree or diploma from a New York State (NYSED) approved program, a program with specialty accreditation, or a regionally accredited institution.
Applicants to RN to MS programs must fill out an MS Capstone requirements form.
With the impressive employment growth, rising pay, and specialized opportunities available for nurses, there's never been a better time to explore the possibilities of online RN programs at Excelsior and how they can improve your career.