Q & A with Ashley Picillo, Founder of Point Seven Group and Advisor for the Cannabis Control Certificate Program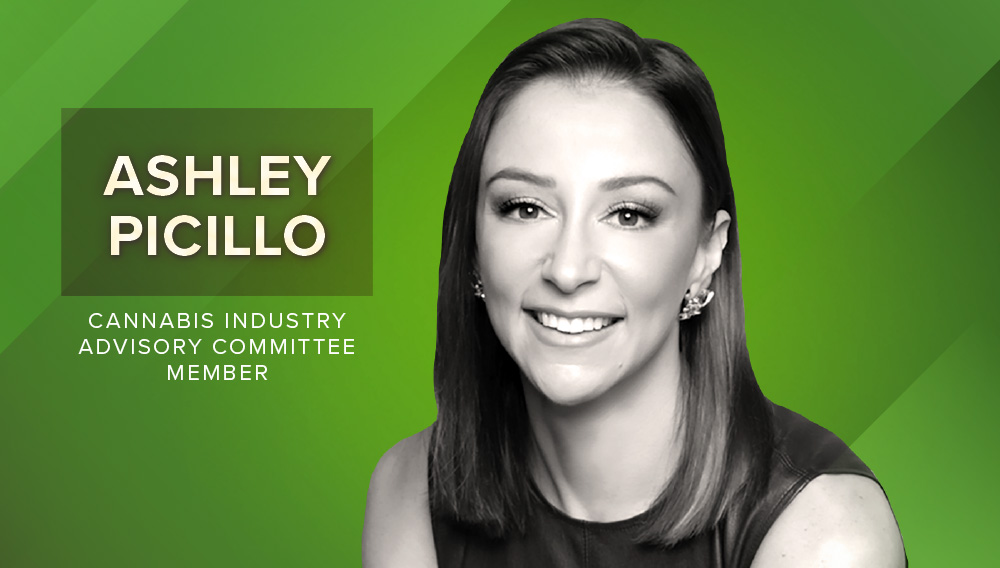 The Cannabis Industrial Advisory Committee (CBC-IAC) is an essential component in the creation of Excelsior College's  Graduate Certificate in Cannabis Control program. Members review and advise the dean of the School of Graduate Studies and Excelsior College on the industry relevancy and fresh perspective of the program, ensuring the cannabis control curriculum remains current and meaningful.
As part of a new blog post series, we will be introducing our IAC members and ask them questions about themselves, their background in the cannabis industry, and their advice to individuals looking to work in cannabis.
Ashley Picillo's Background
Picillo entered the regulated cannabis market in spring 2014, joining one of the largest vertically integrated cannabis businesses in Colorado as the head of marketing, operations, and sales. She oversaw the day-to-day operations, including five dispensaries, a high-volume extraction facility, a 23,000 square foot cultivation facility, and 70+ employees. Picillo developed, documented, and implemented the majority of the company's standard operating procedures (SOPs), created detailed forecasting models and calculated the facility's overall production capacity.
Picillo recognized that Colorado was quickly becoming a model in the cannabis industry for other states and founded Point Seven Group (Point7) in 2016 to offer management consulting services to new operators facing the learning curve she had experienced just two years prior. Since then, Point7 has rapidly expanded its headquarters in Colorado, and satellite offices in California and Ohio, supporting clients worldwide. Today, Point7 specializes in business strategy, licensing acquisition, facility optimization and operations, go-to-market planning, financial modeling, regulatory compliance, and company expansion.
Q & A with Ashley Picillo
Q: What's something unique about you that others would find interesting?
A: After graduating from business school, I decided to accept a teaching position in Hawaii where I earned my master's degree in education. While seemingly unrelated to business, I truly believe my time spent as a teacher prepared me well for running my own company. Like entrepreneurs, teachers are expert jugglers and need to learn how to manage many different personalities and methods of learning. It was the most challenging job I have ever had, and I am endlessly grateful for my days spent in a classroom.
 Q: Do you hold any certifications? If so, which one(s)?
A: Professional degrees include BS in Business Administration and Master of Arts in Education. I am also a Tory Burch Fellow, certified as a women-owned business via WBENC, and have been certified previously to use the cannabis track-and-trace system METRC.
Q: Which cannabis industry organizations are you affiliated with?
A: Our company is a member of NCIA, CCIA, MoCannTrade, CannaBiz Connection, MMBAFL, and Ohio Cannabis and Hemp Chamber of Commerce. We contribute to Students for Sensible Drug Policy (SSDP) and The Last Prisoner Project. As far as non-cannabis organizations go, we are a member of 1% for the Planet, Entrepreneurs Organization (EO) and are accredited as a women-owned business (WBENC).
Q: In your own words, how do you think Excelsior's program will benefit students?
A: Cannabis is a rapidly evolving and growing industry with exceptional professional opportunities ranging from agriculture, through science, engineering, and business services. Students worldwide can benefit from this program in the long term by being prepared for professional opportunities.
Q: What do you hope students will take away from Excelsior's program?
A: My hope is that students recognize a) that there are many possibilities within this rising sector, b) that cannabis is a powerful medicinal therapy benefiting patients worldwide, and c) that we have a responsibility as an industry and community to educate the world about cannabis — including and most importantly — the dark history surrounding this plant and the many social injustices that have happened throughout this industry, and community's history.
Q: What is a piece of advice you'd offer someone getting into the industry?
A: I would encourage every person entering the space to take the time to learn the history of cannabis prohibition and the serious consequences of the War on Drugs.
Q: What is one thing you wish you had known before entering the industry?
A: I did not have a deep understanding of cannabis, or cannabis history, before finding my way into this industry. While I was able to learn quickly, I wish I had more context before starting in my first full-time role as I believe I would have had far more compassion for patients using cannabis therapies, and for the many people who were harmed by cannabis laws.
We are grateful for Ashley Picillo's relevant expertise and the strong skills she brings to her advisory role for our Graduate Certificate in Cannabis Control. See our program page for more information about how you can become a student.
*This interview has been edited for length and clarity.