Tech Hero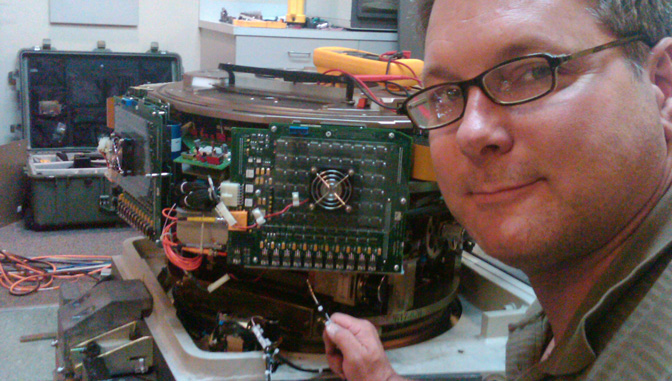 Jesse Bradley's Technology Degree Helps Him Do a Job that Effects People's Lives
When we're young, many of us don't know what we want to be when we grow up. Not true for Jesse Bradley. Bradley knew he wanted to be an electronics technician when he was in high school and enlisted in the Coast Guard specifically to follow that path. When he retired from service, he knew he needed to improve his education, so he returned to school and earned an Associate of Science in Technology in 2018 from Excelsior College. Now he works independently and travels the country as a service technician.
Bradley, of Port Orchard, Washington, works for Heidelberg Engineering, which designs, manufactures, and distributes ophthalmic diagnostic instruments. Bradley's office is essentially his car. He travels 90 percent of the time, installing and servicing laser cameras for retina scanning in ophthalmology centers, clinics, and hospitals across the United States. Doctors use the camera to scan the back of the eyeball, where the retina is, to look for different diseases that could be present in the eye.
From the road, Bradley sets his own schedule, calling customers and arranging service visits. "I am the office," says Bradley, of his professional life on the road. "I am totally autonomous to the company. I am my own boss, I submit my expenses and timecard on Friday. And I do it online. And I talk to my boss maybe once or twice a week," he says, adding that he doesn't travel on the weekends.
Bradley has been a service technician since 2001. The best thing about his job, says Bradley, is that he gets to be the hero to the customers. "They're very, very gracious…They go, wow, it [the camera] works great now. And, you know, sometimes they actually say, 'hey, man, you're my hero.' And I feel good," he says. This compliment fits right in with the job, says Bradley, because a person needs a bit of an ego to be successful in this profession. "I have to feel that I'm in control. I have a high level of competence of what I'm doing because I'm going in and working on a medical device that is going to affect people's lives," he says.
Prior to working in the medical device field, Bradley was an electronics technician in the Coast Guard for 20 years and then got a job with a manufacturer for radiation therapy equipment. "They like military people because of their microwave energy training and experience working on radar systems," he says. He held that job for 12 years, but then, as he grew into his 50s, he realized he needed to pursue higher education. "It's harder to find an electronic job without a degree, because you got to compete against all those young guys who are in their 30s with college degrees," he says. Bradley says attending Excelsior was great because the online format worked with his style of learning and fit right into his lifestyle.
Although he clearly enjoys his work, Bradley says this isn't the end of the road for him career-wise; he'd like to become a technical instructor, whether training adults in the field or in a classroom. With his degree from Excelsior, he feels he is able to accomplish any goal. "The moment I had that electronic instrumentation degree from Excelsior, I started getting pings on Monster and Indeed job sites. So, it made a real big difference," he says. He is in the process of finishing his bachelor's degree and when he's done, he'll be able to tell his four children who graduated from college that he has, too. "I'm trying to keep up with them I guess," he says. Learn about Excelsior's bachelor's in technology degrees.
More from Jesse Bradley
How to be successful in his profession:
"The interpersonal skills with the customer I learned from leadership school work and the military…going through leadership training has helped me be more confident about doing what I need to do."
On continuing your education:
"It's never too late to learn. There's always a small course or seminar you can go to, to just keep your mind on learning something. And I would encourage people who are in the military to take advantage of the military's education program. You know, pay for college credits and everything."
On a beneficial Excelsior course:
"Technology and Society, which was a great class that really opened my eyes. It's scary what technology is going to do to our [society]. We're going to use the technology we have now and say what can we do in 10 years with it? But the weird thing is, you can stop and look around right now and go, 'oh my gosh, I can actually see that happening here now.'"