Two Recent Excelsior College Graduates Achieved Their Educational Goals Through Pizza Hut Partnership
Albany, NY – Recently, 488 graduates of the more than 6,000 students who earned degrees this year from Excelsior College attended Commencement at the Empire State Plaza Convention Center. Two of this year's graduates included employees from Pizza Hut: Rebecca Heidt, area coach from Pottstown, Pa., and Douglas Fitch, territory coach from Hurricane, W. Va.
The Life Unboxed EDU program, powered by Excelsior College, provides discounted college tuition to Pizza Hut employees and their immediate family members. Life Unboxed EDU allows employees to apply their on-the-job management-level training courses as college credits.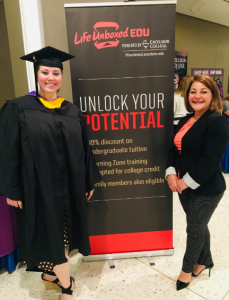 Heidt achieved her educational goals through the Excelsior College partnership, earning a Bachelor of Science in Business. She shares, "Life Unboxed EDU with Pizza Hut is a fantastic way to connect to the team from a schooling standpoint. The program taught me time management and self-motivation. I would not be an area coach now without it. The Excelsior program allowed my dreams and goals to be accomplished while working a full-time job."
Fitch, who earned a Bachelor of Professional Studies, explained, "Life Unboxed EDU and Excelsior provided me an opportunity to reach a goal I always wanted but thought I would never accomplish. By providing a jump-start with hours of training and work experience, it put my degree within reach. By taking one course every eight weeks, I was amazed to watch the classes chip away. Excelsior was always helpful and went out of their way to help me reach my goal. Today, I can say I am a college graduate!"
Excelsior College prides itself on being a credit aggregator and encourages students to transfer in any and all previous college credits to help make earning a degree more obtainable.
In 2015, Excelsior College was chosen as Pizza Hut's education partner for Life Unboxed EDU due to its ability to understand the needs of adult learners who are balancing education with careers, families, and other responsibilities. "This partnership illustrates Pizza Hut's investment in the education needs of their workforce," said Dawn Gerrain, chief marketing and business development officer. "We are proud to celebrate with the two most recent graduates and the 45 employees from Pizza Hut who had participated in this program."
Between accepting previous college credits and the credits earned through Life Unboxed EDU, earning a degree has become more obtainable for members of the Pizza Hut organization. By way of the Pizza Hut partnership, 47 Pizza Hut employees and 3 family members have graduated from Excelsior College, and 79 employees are currently working toward a degree. Life Unboxed EDU is just one way that Pizza Hut is helping its team members unlock their potential and become their best.
For more information, visit https://www.excelsior.edu/partner/pizza-hut/
###
Media Contact: Alicia Jacobs                                                                        (518) 464-8531
ABOUT EXCELSIOR COLLEGE
Excelsior College (excelsior.edu) is a regionally accredited, not-for-profit online college focused on helping adults complete their degrees and advance their careers. The college contributes to the development of a diverse, educated, and career-ready society by valuing lifelong learning with an emphasis on serving individuals historically underrepresented in higher education. Founded in 1971, Excelsior meets students where they are – academically and geographically – removing obstacles to the educational goals of adults pursuing continuing education and degree completion. Our pillars include innovation, flexibility, academic excellence, and integrity. Learn more at excelsior.edu.