Two-Time Graduate Kane Tomlin Becomes President of the Alumni Association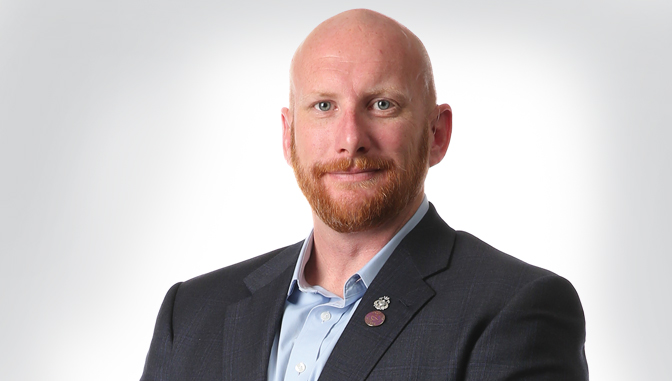 ---
As an executive consultant with the Florida Department of Transportation, a professor of applied cybersecurity for Tallahassee Community College, and an instructor of national security for Excelsior College, Kane Tomlin is familiar with leading teams and seeing projects through to completion. That experience plus his extensive background in project management and two degrees from Excelsior College make him a good fit for the role of president of the Excelsior College Alumni Association.
Tomlin, of Tallahassee, Florida, has been a member of the Alumni Leadership Council since 2015 and became president of the Alumni Association in July 2019. Tomlin has been managing projects in information technology, military operations, and law enforcement for 20 years. He is a former special programs administrator for the Florida Department of Law Enforcement and is one of the original subject matter experts for the CompTIA Project Management Certification exam. He is a PMI-certified project management professional, a certified technical trainer, a certified e-business professional, a CompTIA certified project manager, a cyber certified expert, and a certified security professional.
Many people would be surprised to know that Tomlin is also a retired master diver from the U.S. Army. That's not the most interesting thing about him, though, he says. Tomlin and his wife are building an elderly dog rescue in their home city for older dogs who are often overlooked at shelters. Given that you can often find Tomlin enjoying bonfires with his wife and dogs in their backyard, it's no wonder he has a soft spot for canines.
"I've met some truly huge leaders in their fields. Being able to text a question to a rocket scientist, or a chief nurse, or a retired CEO … Excelsior alumni make up some of the smartest and hardest-working people I have ever met."
–Kane Tomlin
Tomlin started college in 1998 at Texas A&M, and after changing schools a few times while working and trying to finish his degree, he enlisted after 9/11. In 2006, Tomlin discovered Excelsior College while he was on active duty in the Army and enrolled as soon as he learned he was only a few credits away from finishing his degree. He earned a Bachelor of Science in Business in 2012.
Although it took him 14 years to earn his undergraduate degree, he earned a Master of Science in Criminal Justice just two years later in 2014. Tomlin went on to earn a doctorate in strategic security from the Henley-Putnam School of Strategic Security at National American University, a post-graduate certificate in leadership development from the University of Louisville, and a post-graduate certificate in project management from Florida International University.
As president of the Excelsior College Alumni Association, Tomlin also leads the Alumni Leadership Council and is an ex-officio member of the Excelsior College Board of Trustees. He will serve a two-year term.
Here's more from Tomlin on his experience with the College and his interest in the Alumni Leadership Council.
What impact did the College have for you? It would not be an understatement to say Excelsior changed my life. Once I re-enrolled in college, I was promoted faster, and I was encouraged to complete my master's and doctorate, and then to enter academia and begin teaching. I would never have thought of myself as a college professor prior to Excelsior. After I left the service, I was also able to find rewarding and lucrative work fairly easily, which I attribute in no small part to having multiple degrees from Excelsior on my resume.
How did you become involved with the Alumni Leadership Council? I received an alumni email and noticed a link at the bottom to apply for the ALC (then called the Alumni Advisory Board) and I decided that it would be pretty cool to give back to the College once I had some extra free time after my master's was complete. During my phone interview, I got to know the other members of the ALC, and then I really got excited about possibly being selected. My first Commencement was when I met the other ALC members in person and from that moment on, I felt like a part of an awesome family of Excelsior alumni. The members of the ALC compose a dream team.
What motivates you to keep engaged with the College? I think staying engaged with Excelsior College is a huge win-win. My personal network has expanded, and I've met some truly huge leaders in their fields. Being able to text a question to a rocket scientist, or a chief nurse, or a retired CEO, or countless others I've met on the ALC is immensely rewarding personally and professionally. Excelsior alumni make up some of the smartest and hardest-working people I have ever met. Selfishly, I gain a great deal of insight and mentorship by being able to interact with them. I also think the College and ALC benefits from my involvement and desire to give back to our community.
What's the best career advice you've received? My Dive School commander, Captain Shawn English, used to tell us all the time to "choose the harder right, over the easier wrong." It might sound cliché, but he lived it every day. His advice and example have inspired me for my entire Army career and beyond. He was killed in action on December 3, 2006, but I hope I've made him proud since.
---