Unique Nursing Career Paths: 12 Nursing Jobs That Go Beyond Hospitals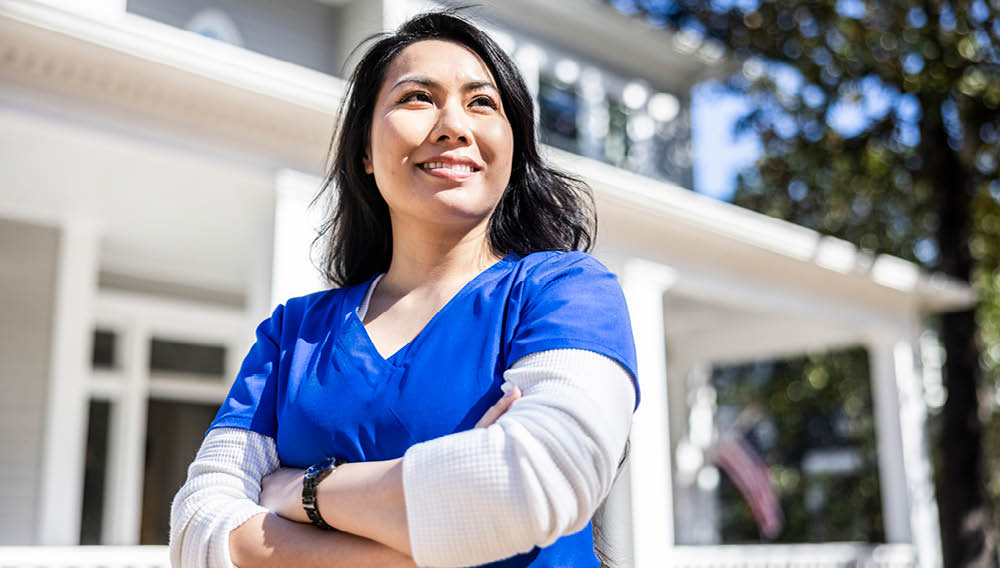 The modern health care field is wonderfully diverse and dynamic. Critical services are delivered in a variety of settings, ranging from hospitals and specialty clinics to homes or virtual platforms.
This breadth expands access for patients but is also highly beneficial from the perspective of health care employees, who enjoy many opportunities to serve according to their unique skills, talents, and interests. This is especially evident in nursing—a diverse field that is bursting with opportunity.
Perhaps you're interested in nursing but don't want to work in a hospital. Not a problem—there are plenty of other nursing career paths available. In this guide, we will highlight this range of options, plus strategies to use when seeking these unique jobs.
Nursing Career Paths
Nursing career paths are more varied and nuanced than many people realize. These include not only the level of nursing attained (licensed practical nurse vs. registered nurse vs. advanced practice registered nurse, for example), but also, where care is provided and the makeup of the targeted patient population. A significant share of nurses will eventually become RNs, but where they go can vary.
Nursing Career Objectives
As you explore a myriad of professional opportunities, be mindful of your long-term nursing career objectives. Identifying these early will help you develop the specific skills required in your preferred niche.
Is there a particular patient demographic you're excited about working with? Or are you determined to help patients dealing with specific health concerns? Use these inclinations to shape highly personal objectives which, in turn, may determine your career trajectory and provide insight into the level of education you require. Informatics, for example, typically calls for a Master of Science in Nursing, as does nursing education.
How to Start a Nursing Career
Once you've identified your "why" for nursing, you'll be ready to embark on an exciting career path. This begins with extensive training and continues with licensure, hands-on experience, and eventually, moves into a specialty or environment you find compelling. Follow these steps to get started:
Obtain a Nursing License
The first step is to pass the National Council Licensure Examination (NCLEX-RN) and become a registered nurse. This rigorous test verifies that you have the range of skills and medical understanding necessary to provide an exceptional level of care. Assuming you pass, you will need to consult with your state's board to determine how to get licensed or periodically renew your license.
Earn a Nursing Degree from an Accredited Nursing Program
No matter which area of nursing you hope to pursue, you will need to gain a strong foundation through an accredited nursing program. If you hope to enter a particular specialty, a Bachelor of Science in Nursing will be your best bet. Some specialties may also call for a master's degree, especially if you intend to take on leadership roles.
Find a Mentor
A mentor is particularly important if you plan to enter a particular niche or work in a setting other than a hospital. This experienced individual can provide valuable insight into the realities of specific clinical environments while also providing encouragement and support as you embark on your professional journey.
Start Applying for Nursing Jobs
If you have a specific vision for where or in what capacity you want to work, be prepared to research and apply for several jobs before you find the right fit. Don't be afraid to search outside of the box to find jobs in unexpected locations or niches.
Nursing Jobs That Aren't in a Hospital
You love the idea of working as a nurse but prefer to care for patients outside of a hospital setting. Thankfully, a variety of settings and positions allows you to live out your passion. We've highlighted a few of the most compelling below:
1. Home Health Nurse
Often, patients who require extensive care remain in their homes, where they receive daily assistance from home health nurses. This role may involve administering medication, taking vitals, and providing services that preserve the comfort and dignity of patients who may be homebound or lacking mobility. Virtual services may also be required, plus oversight for nursing aides and other home health workers.
2. Certified Nurse Midwife (CNM)
Primarily focused on reproductive health and family planning, certified nurse midwives provide targeted care. This is not to be confused with the role of a certified midwife, who, while requiring similar certification training, only applies to professionals who lack a registered nursing license. While some CNMs work in hospitals, they are more commonly found in outpatient clinics. There, CNMs educate and support female patients, often as they navigate pregnancy, childbirth, and postpartum challenges.
3. School Nurse
If you're passionate about education but don't want to teach or take on administrative tasks, school-based nursing could be a wonderful alternative. This position involves general care for students and staff members, who can count on nurses for assistance with both minor health concerns and major illnesses or injuries. This is a compelling opportunity to work directly with children while facilitating healthy habits and a safe school environment.
4. Travel Nurse
An increasingly popular option for nurses seeking the best pay and the most flexible scheduling, travel nursing involves temporary positions, typically in areas of high need. This may mean working in hospitals, where the need for assistance may be most urgent, but many travel nurses are able to find temporary work at specialty clinics or other locations. Travel nurses must be capable of quickly adapting and thriving in new environments, where they may serve for a few weeks or months before moving on.
5. Aesthetic Nurse
Cosmetic procedures are a major part of the modern medical industry and, as in any area of health care, these patients depend on targeted and empathetic care from RNs. These nurses may find work in medical spas, dermatology offices, or other outpatient settings. Many are responsible for pre-and post-op care, although a typical day on the job may also involve administering noninvasive treatments while helping patients feel more confident.
6. Hospice Nurse
While working in a hospice can be emotionally challenging, there's a strong sense of personal satisfaction that comes with helping patients find peace and comfort when they need it most. Hospice nurses are committed to supporting patients in their final moments and providing support for grieving family members. Empathy is a core part of this position, which also calls for an in-depth understanding of palliative care.
7. Flight Nurse
While ambulances are among the most frequently relied upon modes of transportation for patients in need, some may need to travel farther or faster to secure life-saving procedures from specialized facilities. While they're in transit via helicopters or other aircraft, they receive targeted care from flight nurses. Sometimes referred to as transport nurses, these professionals may perform resuscitation techniques or administer medications to keep patients as stable as possible until they reach the hospital.
8. Public Health Nurse
Focused on programs and initiatives that promote better health and wellness across entire communities, public health nurses are often employed by government agencies, community health centers, or nonprofit organizations. They play a critical role in educating the public on critical health issues and may also advocate for improved access to health care services, often working on behalf of underserved populations. This is one of the best opportunities for nurses who prefer to move away from working in a clinical capacity.
9. Occupational Health Nurse
There is a strong need for health and safety initiatives in the modern workplace, where employees are exposed to a variety of hazards. This is the setting of choice for occupational health nurses, who blend a thorough understanding of health care and business or industrial practices.
This extensive knowledge allows occupational health nurses to advocate for the best interests of employers and employees alike. They know what it takes to keep workers safe but also can promote workplace practices or habits that will improve the efficiency and profitability of the organizations they serve.
10. Ambulatory Care Nurse
Some patients require in-depth treatments but need not be confined to hospitals or other in-patient settings. In these situations, the best middle ground involves ambulatory care, in which health concerns are primarily addressed at outpatient centers.
Because patients often return to these locations regularly, nurses can develop stronger rapport and relationships with them over time. In addition to measuring vitals and reviewing lab results, ambulatory care nurses also educate their patients and help them adopt long-term healthy habits.
11. Nurse Navigator
Many patients find the modern health care system overwhelming to navigate. From their perspective, it would be a lot easier to seek diagnoses and treatments if they enjoyed access to their own personal roadmap. This is the exact role played by the nurse navigator: an expert capable of guiding patients through the most complex aspects of the health care system so they can focus on recovery instead of stressing about their care.
12. Correctional Care Nurse
Patients deserve quality care no matter where they reside or what personal circumstances they face. This is a central tenet of correctional care nursing, in which RNs provide quality care for incarcerated populations. They work in a variety of correctional facilities, including juvenile detention centers, immigration detention centers, and federal or state prisons. There, they address a wide range of physical and mental health concerns, including both chronic conditions and acute illnesses or injuries.
Learn More Today!
Nurses can make a difference in almost any environment, but they're far more impactful when equipped with their BS in Nursing. A variety of employers value this degree, which can provide a significant edge for RNs moving into new specialties or seeking the most in-demand job opportunities.
If you are ready to move forward in your career and earn your bachelor's degree, you are the perfect candidate for Excelsior University's LPN to Bachelor of Science in Nursing program or RN to BS in Nursing Program. Excelsior also offers graduate-level opportunities so you can specialize in areas you find compelling. Reach out today to learn more.