The Other Side of Dentistry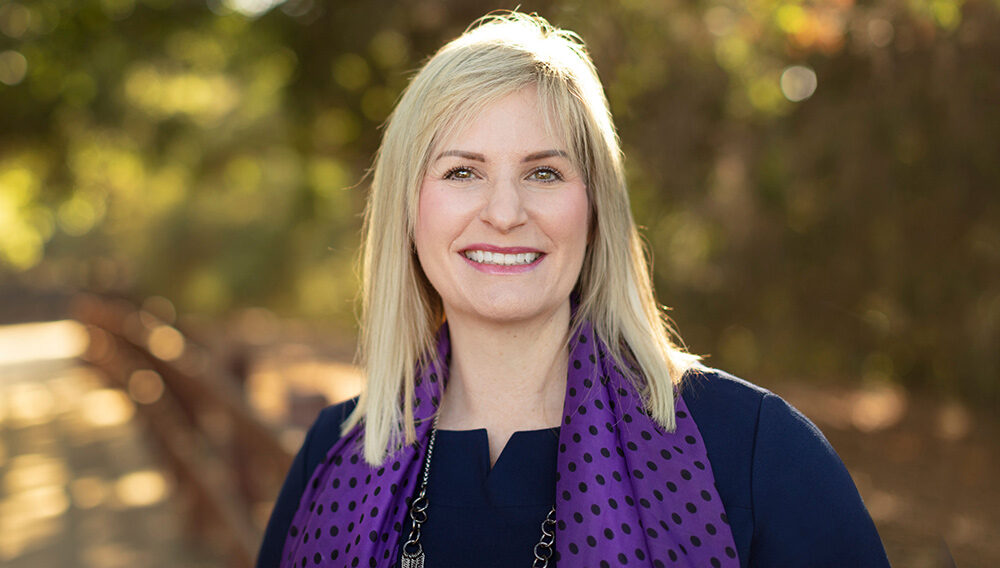 Virtual Internship Program Steers Merideth Sweeney Toward Her Dream Job
In spring 2020, Excelsior College student Merideth Sweeney of Woodland Hills, California, began a virtual internship with Posturedontics, a dental ergonomics company focused on evidence-based ergonomic therapies for dental professionals. Little did she know that the internship would connect her to a new career. Through this internship, she met dentist Michael Goldberg of Practice Perfect Systems, a health care practice management consulting firm based in California.
When her internship through Excelsior came to an end in November 2020, Goldberg asked Sweeney to join his firm. Sweeney, a former dental hygienist, now works with Goldberg in the company's marketing department, helping dental practices build and grow their businesses. She focuses on developing and marketing resources for other companies to turn to when they have questions about dental practices. "We are taking all the biggest dental problems that dentists are facing right now," she says. "We are picking things that we actually believe in, that we believe will help, to solve the issues that are facing dental practices."
Sweeney knows the dental field. For 20 years, she was a dental hygienist until a severe injury left her unable to work for two years. It was then that she decided it was time to return to school to pursue a different path to support herself. She returned to Excelsior College where she had previously earned a bachelor's in health sciences to obtain a master's in health care administration. She's on track to finish the program in February 2021.
Sweeney's studies and experiences in Excelsior's Master of Science in Health Care Administration program fit in with her current role with Practice Perfect Systems. "I like [that] I'm in marketing. I love the psychology behind how someone decides to purchase an item…I like to influence people or inspire people to believe in the things that I do," she says, referring to being able to help other companies choose the service best for them.
So far, Sweeney has used much of what she has learned—particularly new knowledge about one-on-one coaching—in her role. She's already put some of her knowledge to the test by writing content for an online employee handbook that other dental companies can reference for answers to common best practice questions. And at Goldberg's suggestion, in January 2021, Sweeney started a three-to-six-month leadership program with John Maxwell, a popular and influential leadership expert. Sweeney says she's hoping to glean several things out of the program: "becoming more comfortable speaking in front of groups, being able to communicate my message easier, not to be so intimidated, and also to learn how to delegate more."
Sweeney advises others that to land a job outside of clinical dentistry, it's important to increase your education in administration or marketing. Because Sweeney took a virtual internship while pursuing her master's degree with Excelsior, she was able to contact the company that would eventually become her dream job and is now helping other dental companies succeed.
More from Merideth Sweeney:
What is the best piece of business advice you have ever received?
The best piece of business advice I have ever received is to hire personnel based on their attitude first and then for skills and traits… An employee's attitude and behavior are tell-tale signs of their productivity level, how well they work with their fellow employees, and the regard for their organization. Evaluating these characteristics is possible by hiring employees on a short-term basis and giving them a project to complete.
What are the most important traits/skills for someone to succeed in your field?
Some of the essential traits/skills for someone to succeed in the consulting field is the curiosity to learn, seeing the big picture, being open-minded to incorporating business ideas and innovations originating outside the dental industry, and effective communication/relationship building. There needs to be a desire to learn and improve your skills because business changes daily, and the need to pivot and adapt is crucial.
Best book/podcast/e-newsletter that is relevant to your industry?
Dentistry's Morning Briefing e-newsletter by Dentistry IQ magazine is a daily roundup of timely content related to the dental industry and links to informative posts and articles. Practice Perfect Systems' consulting niche focuses on dental sleep medicine, so the podcast by Jamison Spencer, DMD, MS, called The Airway, Sleep & TMD is timely and relevant.